printer friendly version
Robots in the workforce
Second Quarter 2021
Robotics & Mechatronics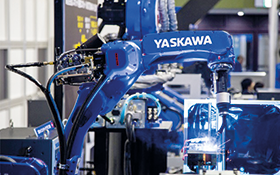 Ever since robots were introduced in the science fiction genre, there has been a fear that machines will take over and that soon the days of humans being at the top of the food chain will be gone.This fear-mongering has persisted with notions of robots overthrowing the workforce and humans being enslaved to the almighty lords of automation and binary code. Even though it is true that many industries have embraced robotics, the reality is far removed from the plot of a Philip K Dick novel.
Much like every industrial revolution before it, the fourth revolution has brought changes in how we work by driving productivity, efficiency and output to levels never seen before, mainly through the use of artificial intelligence and automation. According to the market research firm Tractica, it was forecast that the annual global revenue for artificial intelligence products and services would grow from $643,7 million in 2016 to $36,8 billion in 2025.
Yaskawa Southern Africa's managing director, Andrew Crackett, believes the increase in the use of robotics is actually creating new opportunities for employees rather than decreasing them. "Yaskawa has implemented several projects at labour-intensive organisations to streamline operations," he says. "Rather than see a reduction in staff, however, we've actually witnessed the employees being assigned to other areas or new positions. By freeing up resources from repetitive tasks that robots can handle, they are now able to be upskilled and deployed to areas and tasks that require human cognitive reasoning."
Unlike the world of Blade Runner, robots do not possess the power of the human mind. They are capable of performing what they're programmed to do – reliably and consistently. But for this to happen, they require someone with reasoning and problem-solving skills to implement these functions. At the end of the day, robots will always require quality assurance, operators and support staff.
Apart from repetitive tasks, robots can assist with strenuous – and sometimes dangerous – functions that take place in factories. Palletising is a prime example. Previously, human workers were responsible for the packing and loading of boxes onto pallets for shipment or storage. It was a labour-intensive exercise where workers could tire or even be injured in the process, especially with the lifting and moving of heavier items. Now, this is a task that can be handled through robotic automation.
Not only will robots help prevent unnecessary injuries and dangers in this regard, but they also remove the need for many hands to touch the same surface. In current times, this is particularly useful as the world tries to be more health conscious and we move towards becoming a touchless society.
But robots aren't the alpha and omega of factories, as explained by Crackett. "One of the common misconceptions that everyone has about robots is that they handle the entire manufacturing process – from start to finish – without intervention," he says.
A robot is a tool just like any other type of machinery. It can be designed and programmed to execute fit-for-purpose functions, but it also has limitations and there are areas where humans will still predominate.
"The human eye, as an example, is able to identify an object's location far quicker than a robot's 3D vision ever will," Crackett explains. "It's about recognising the strengths and weaknesses of both humans and machines, so that we're able to divide tasks more adequately to achieve better results."
Ultimately, the factory of the future will not be a fleet of sentient robots operating like Skynet. Rather it will be an innovative hybrid model where human-machine collaboration will be at the core of its operations. Maybe science fiction is actually called fiction for a reason.
For more information contact Brenda Herrero, Yaskawa Southern Africa, +27 11 608 3182, brenda@yaskawa.za.com, www.yaskawa.za.com
Further reading:
The benefits of collaborative robots
Second Quarter 2021, SMC Corporation South Africa , Editor's Choice, Robotics & Mechatronics
While robotics led the way for the rapid growth of automation, cobots are the democratisation of robotics technology. They eliminate the cost and complex programming that robots usually require while providing much greater flexibility.
Read more...
---
Streamlined food deliveries
First Quarter 2021, Omron Electronics , Robotics & Mechatronics
It's part of a larger experiment called the Six City Strategy 'New solutions in city logistics' project, which is looking at possible options for last mile deliveries in Finnish cities. It's looking for 
...
Read more...
---
The challenges and opportunities in robotics
First Quarter 2021 , Robotics & Mechatronics
With the high levels of unemployment in South Africa, it is essential to identify where there are skills shortages and to encourage learners to study in those fields that present employment opportunities. 
...
Read more...
---
Selecting a mobile robot for heavy loads
First Quarter 2021, Omron Electronics , Robotics & Mechatronics
Five questions to ask when selecting autonomous material transport technology for industrial applications.
Read more...
---
Changing the automotive industry with robots
Fourth Quarter 2020 , Robotics & Mechatronics
When it comes to industrial robotics, there's no doubt that its greatest impact is in the automotive industry. The technology has given manufacturers a competitive advantage – improving the quality of 
...
Read more...
---
The role of pick and place robots
Fourth Quarter 2020 , Robotics & Mechatronics
As automation became widely accepted and implemented throughout various industries, robotics took it one step further with robots designed for specific applications, such as handling, packaging and 
...
Read more...
---
Mobile robot with 1500 kg payload capacity
Fourth Quarter 2020, Omron Electronics , Robotics & Mechatronics
The 1500 kg payload capacity enables transportation of large automotive components such as car chassis and voluminous pallet size payloads − items that would have traditionally been moved using forklifts. 
...
Read more...
---
Reducing business downtime with robots
Third Quarter 2020 , Robotics & Mechatronics
In a world that is always connected and moving at a blistering speed, businesses cannot afford to have extensive periods of downtime. As efficiency becomes a primary driver of business, industries are 
...
Read more...
---
Gimatic builds on its mechatronics expertise
Third Quarter 2020, Gimatic , Robotics & Mechatronics
Gimatic is a leading global manufacturer of pneumatic and electric grippers for End Of Arm Tooling used in industrial automation. The company specialises in the production of vacuum cups (flat and bellow), 
...
Read more...
---
The future of collaborative robots
Third Quarter 2020, Omron Electronics , Editor's Choice, Robotics & Mechatronics
Collaborative robots (cobots) that can work safely in the same environment as people have an important role in enabling flexible manufacturing and creating a competitive advantage for companies. A new 
...
Read more...
---