printer friendly version
Power transmission solutions in the mining sector
Second Quarter 2021
Electrical switching & drive systems & components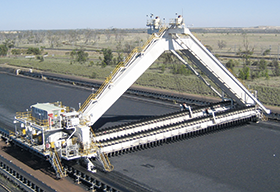 BMG's range of Tsubaki back stop cam clutches, which is suitable for high or low speed applications, meets the requirements of current mining legislation and has many critical features not found in conventional models. The high-torque, high-speed Tsubaki BS-F series, designed for high-speed inclined and long overland belt conveyors and bucket elevators, is particularly well suited for mining applications. The narrow width I-beam torque arm is a drop-in replacement to conventional anti-roll-back devices, which allows for quick and easy on-site installation. This design also enables the replacement of an old backstop with the new BS-F design, without the need for modification to the existing layout.
Although this series has a narrower width than other models, the downsized unit exceeds the requirements of high speed inclined belt conveyors, with the benefits of space-saving and reduced installation time.
A common cause of conventional backstop failure is oil leakage. Tsubaki has eliminated this risk in the BS-F series by designing the backstop to operate with grease and a specially designed labyrinth seal. The absence of an oil level gauge creates a more reliable safety device.
Other important features of this series include a non-roll-over cam and roller design, which offers higher backstop torque capacities and lower running temperatures than conventional anti-roll-back devices. Added to this, a flexible labyrinth seal mechanism prevents the ingress of dust and water in abrasive conditions and a double-lip oil seal and multi-temperature grease enable safe operation at a wide ambient temperature range from -40 to 65°C.
The cam and roller cage orbit at low speed, continually conveying grease internally from the bottom to the top of the mechanism. The constant circulation of grease minimises internal friction and reduces operating temperature for dependable operation. Maintenance intervals are between 7500 and 8000 hours and the effective service life of the units is also significantly extended compared with conventional oil-filled units.
For extended service life, correct lubrication methods and dust prevention care are critical. BMG recommends the use of a maintenance kit and Tsubaki-approved EP-free grease for easy and effective maintenance of the BSF series. The company offers customers a complementary Tsubaki maintenance kit with BSF backstops larger than a 200 mm shaft, which allows for easy servicing of the unit during operation, without the need for removal from the shaft.
BMG also supplies a wide range of customised Tsubaki reclaimer chains, designed and manufactured with various options, to suit specific requirements of reclaimers used in the mining sector. According to BMG's Tsubaki product specialist, Gavin Kirstein, reclaimer chains should provide the longest service life to achieve the best overall value. Chain must have large bearing areas, high hardness and deep case depth, to provide optimum performance. "Tsubaki engineers have implemented these principles while retrofitting many reclaiming conveyors with chain and sprockets, achieving longer service life than OEM chains. Due to their complex requirements, reclaimer chains are manufactured on a made-to-order basis and are designed and manufactured to meet the specific, unique requirements of each site," he says.
Tsubaki has developed new reclaimer chains with outboard rollers that prevent the build-up of abrasive particles between bushes and rollers, solving the problem of premature wear. A new labyrinth construction, with improved anti-dust capabilities, prevents debris from infiltrating the outboard rollers and chain wear areas. In addition, the outboard rollers are sealed for life and require no additional maintenance.
Tsubaki customisable large size conveyor chains are also available from BMG, with a selection of base materials, corrosion resistant coatings, attachments and rollers.
Apart from the mining sector, BMG's cam clutches are used for belt conveyors for materials handling, metals, timber, pulp and wood chip, as well as for bucket elevators for cement and grain. These units are also installed to enhance performance of large drift conveyors and screw pumps.
BMG stocks a wide variety of the Tsubaki backstops locally and test runs every unit before delivery. This is a major advantage, as the current industry norm is up to 16 weeks delivery. The complete range of Tsubaki power transmission components is available from BMG's national branch network, which offers a technical advisory and 24 hour backup service.
For more information contactCarlo Beukes, BMG, +27 11 620 7558, carlob@bmgworld.net, www.bmgworld.net
Credit(s)
Further reading:
A very smart material
Second Quarter 2021 , Editor's Choice, Electrical switching & drive systems & components
Shape memory materials (SMMs) are strong, lightweight materials that have the ability to recover their original shape after being deformed if a stimulus is applied. They can be programmed to remember 
...
Read more...
---
Siemens controls for vaccine production
Second Quarter 2021, Siemens Digital Industries , Electrical switching & drive systems & components
The biotechnology company, BioNTech, converted an existing facility in Marburg, Germany for the production of the Covid-19 vaccine in a record time with assistance from Siemens. Through collaboration 
...
Read more...
---
Control automation excellence
Second Quarter 2021 , Electrical switching & drive systems & components
SEW-EURODRIVE's MOVI-C® is a unique automation control system that sets a new benchmark in control automation, embracing Industry 4.0 technology. Part of the company's innovative Generation C advanced 
...
Read more...
---
Taking soft-starters to the next level
Second Quarter 2021, Zest WEG Group Africa , Electrical switching & drive systems & components
The new WEG SSW900 soft-starters are the ideal choice for complete motor control and protection. These units allow quick and simple access to application information and configuration settings in any 
...
Read more...
---
HydraForce electro-proportional valves
Second Quarter 2021, Bearing Man Group T/A BMG , Hydraulic systems & components
BMG supplies a wide range of HydraForce electro-proportional valves, which are suitable for use in many applications in agriculture, construction, materials handling, fluid conveyance, mining and quarrying. 
...
Read more...
---
Breathers and spin-on elements
Second Quarter 2021, Bearing Man Group T/A BMG , Hydraulic systems & components
BMG's fluid technology filtration solutions comprise a wide range of fluid power components and systems, which are supported by the team's broad technical capabilities to ensure fluids operate within 
...
Read more...
---
BMG contributes to YES programme
Second Quarter 2021, Bearing Man Group T/A BMG , News & events
BMG – part of the Engineering Solutions Group (ESG) of Invicta Holdings – is participating in South Africa's Youth Employment Service (YES) Programme, which is a joint initiative between the government 
...
Read more...
---
Product-specific packaging with PC-based control
Second Quarter 2021, Beckhoff Automation , Electrical switching & drive systems & components
Kern in Konolfingen, Switzerland, is a family business founded more than 70 years ago and originally rose to success with enveloping machines. However, the market for enveloping machines is declining. 
...
Read more...
---
Total drive solution for iron ore project
Second Quarter 2021 , Electrical switching & drive systems & components
Bauer Geared Motors recently delivered a total drive solution including five large-sized 750 kW industrial gearboxes and two 185 kW units for the Tippler upgrade project at the Saldanha Iron Ore Export 
...
Read more...
---
Flameproof switchgear
Second Quarter 2021, Becker Mining South Africa , Electrical switching & drive systems & components
Becker Mining South Africa's Energy Distribution division manufactures customised switchgear, designed for the efficient distribution of electrical power, energy co-generation, rectification and traction.  
...
Read more...
---