printer friendly version
New integrated solutions for ­industrial robots
3rd Quarter 2016
Robotics & Mechatronics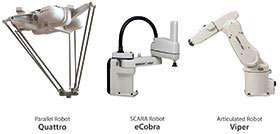 Omron has launched 49 new best-in-class robots worldwide. The robots are integrated with Omron's family of sensors, safety components and award-winning NX/NJ series machine automation controllers to simplify the implementation of robots in a production environment.
These flexible and agile solutions are ideally suited to the local food and beverage, automotive and high technology industries. Evert Janse Van Vuuren elaborates: "The programming software used for the Adept Robots, Adept Ace, has an integrated setup wizard, guiding the user through the configuration setup, allowing fast, easy and user-friendly configuration for pick-and-place sequences for many of the application scenarios pertaining to the South African market. These include pick-and-place applications from stationary platforms, belt camera part picking, fixed camera part picking and static pick and place applications. In many applications relating to pick and place, with or without camera or belt tracking, no complex coding is necessary due to the setup wizard automatic code generator."
A major benefit of this launch is that it provides industrial robot models achieving both high speed performance and reliability. The release of the three robot families – SCARA, Delta and Articulated – brings high speed performance and reliability to the mechanical side of the Omron solution. All the robots can be controlled by a common integrated development environment, which enables the flexible use of robot types in line with required applications.
It also enables comprehensive linkage with control products, such as PLCs, as Omron industrial robot solutions seamlessly link all robots with the machine control environment managed by the Sysmac automation platform. This improves the total throughput of the most demanding production lines, overtaking the limitations of the traditional framework that uses conventional robots.
What's more, the integrated software environment facilitates design and development. The Automation Control Environment (ACE) contains useful application-oriented wizards that significantly minimise the amount of programming code. The users have access to a powerful 3D emulation tool that significantly reduces the time to validate new automated processes. Vision guided robotics applications are completely supported by the ACE PackXpert for packaging lines.
Omron's unique combination of software and control architecture addresses the factory automation challenges of producing a high variety mix of products with short product lifecycles that require rapid production line changeovers. The common controls, integrated software architecture and development environment meet current and future needs for ease of process design, flexible operation and predictable maintenance. This global launch demonstrates Omron's ongoing focus on innovative solutions that advance manufacturing and productivity through integration of robots with sensing, control, motion and safety capabilities.
For more information contact Omron Electronics, +27 (0)11 579 2600, info.sa@eu.omron.com, www.industrial.omron.co.za
Credit(s)
Further reading:
Thousands of robots swarm together
Second Quarter 2020 , Editor's Choice, Robotics & Mechatronics
Harvard engineers have created a robotic system consisting of a swarm of 1024 small robots called Kilobots that can collaborate and organise themselves into complex shapes.
Read more...
---
Robots in the time of COVID-19
Second Quarter 2020, Yaskawa Southern Africa , Robotics & Mechatronics
COVID-19 has swept through the lives of people across the globe, disrupted all industries and brought the world's economy to a grinding halt. As the world moves towards a different tomorrow, future-orientated 
...
Read more...
---
Eighteen synchronous NC axes
Second Quarter 2020, Beckhoff Automation , Editor's Choice, Robotics & Mechatronics
Swedish equipment manufacturer, Ecmec, has developed a high-tech machine for a supplier to the automobile industry that can complete several process steps simultaneously without having to remount the 
...
Read more...
---
Robots in South Africa
Second Quarter 2020, Yaskawa Southern Africa , Editor's Choice, Robotics & Mechatronics
Manufacturers In South Africa experience significant challenges and there are many obstacles that prevent industries from pushing forward into a new era of automation and robotic solutions. Due to the 
...
Read more...
---
Automation with robotics
Second Quarter 2020, Omron Electronics , Robotics & Mechatronics
BOLÇİ Bolu Chocolate produces over 200 tons of chocolate items each month. The company needed to meet its promise of delivering chocolate products that are 'untouched by human hand'. Omron and Innovas 
...
Read more...
---
Tailor-made mobile robotics revolutionise the automotive industry
Second Quarter 2020, Omron Electronics , Robotics & Mechatronics
Continuous optimisation of production and logistics processes
Depending on the BMW plant, up to 1600 vehicles are produced each day. With such production volumes, continuous optimisation and efficiency 
...
Read more...
---
AGVs for automated production
First Quarter 2020, SICK Automation Southern Africa , Robotics & Mechatronics
Automated and flexible production processes are the answer to increasing quantities, smaller batch sizes, and high production speeds. Automated guided vehicle (AGVs) systems and their smaller relatives, 
...
Read more...
---
Moving into 2020 with Festo digitalised products
First Quarter 2020, Festo , Robotics & Mechatronics
Industry 4.0 is rapidly automating the modern working world and helping the machine and system building sector reach new heights.
Read more...
---
Factory harmony
First Quarter 2020, Omron Electronics , Editor's Choice, Robotics & Mechatronics
A promising model for the new harmony on the factory floor is based on intelligent, integrated and interactive design of tomorrow's manufacturing processes.
Read more...
---
Robot with air-water actuators has fluid motion
Fourth Quarter 2019 , Editor's Choice, Robotics & Mechatronics
Hydraulics and pneumatics are widely used for power transmission: hydraulics for moving heavy loads with highly controlled motion, and pneumatics for lighter loads and rapid, repetitive motions. Many 
...
Read more...
---