printer friendly version
Garlock seals and sealing systems
Fourth Quarter 2019
Shaft power components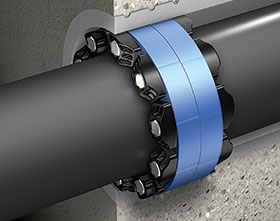 BMG supplies and supports the full range of Garlock seals and sealing systems, including specialist fluid sealing products for the oil and gas industry. "BMG's Garlock seals and sealing systems, which meet stringent safety and emission compliance standards in the hydrocarbon processing sector, are enhanced by customised solutions for efficient plant operation and maintenance. Sealing services extend from simple solutions to critical applications, ensuring safe, sustainable and dependable sealing integrity in every application," explains Marc Gravett, BMG's business unit manager, Seals and Gaskets division. "BMG's Garlock products and technical expertise – including on-site maintenance, emission monitoring and repair programmes – ensures reduced operational costs, improved efficiency, minimal downtime and uninterrupted production."
Garlock products, which have been developed especially for the oil and gas industry, include Klozure oil seals, Gylon and Gylon Epix gaskets, pipeline isolation products and Link-Seal modular seals. Garlock expansion joints and Klozure oil seals ensure that fluids run smoothly, making the transition of loading or offloading of gas and liquid safe and efficient in offshore buoy applications.
Garlock Klozure oil seals and bearing isolators are designed to retain lubricants, but exclude contaminants like moisture, dust and dirt from penetrating the primary seal or bearing houses. These components play an important role in protecting bearings, preventing downtime and extending the service life of the system, even in arduous operating conditions. Klozure oil seals are available from BMG in numerous shaft sizes, materials and designs, including solid and split configurations.
Seals with a reverse bevel lip allow installation in either direction without rollover and stainless steel garter and finger spring configurations provide tension to create an effective seal against the shaft. Klozure oil seals with a Gylon lip material offer reduced creep and cold flow, compared with the standard PTFE material. Gylon sealing products are used for many applications in hydrocarbon refineries, including flanged connections and tube and shell heat exchanger flanges. Gylon gaskets are suitable for media like hydrocarbons, acids, caustics and solvents.
Newly-developed Gylon Epix gaskets are manufactured from the same PTFE material as standard Gylon products, but with one universal thickness of 2,4 mm. The consolidation of two thicknesses into one product reduces the need for users to stock gaskets with multiple thicknesses. These colour-coded gaskets, which have been designed for increased compressibility and conformability, improve performance in misaligned flanges and are suitable for a broader range of applications than conventional PTFE gaskets used in worn and pitted flanges.
This range features a hexagonal surface profile that combines the torque retention and blowout of a thin gasket and the conformability of a thicker gasket, for optimum sealing performance. The patented profile surface design reduces the contact area during initial compression to concentrate the compressive force of the flange for improved sealability. Various high-performance sheet materials in this range are suitable for use in different applications, including acids, steam, chlorine, water, solvents, gases, refrigerants and hydrocarbons.
Garlock pipeline isolation products include new ElectroStop fittings that complement PSI/Pikotek isolation joints, to ensure the security of flange connections by providing electrical isolation, extreme temperature electrical isolation and high integrity sealing. ElectroStop monolithic isolation fittings provide a positive leak-proof, long-lasting block against the flow of electric current in all piping systems. They eliminate short circuits and provide a maintenance-free welded in-line isolation joint in below-ground pipe systems.
Many applications involve connections where the pipe is penetrating a wall, floor or ceiling, and sealability is required between the pipe and the penetrated surface. In these through-wall piping applications, BMG recommends the use of Link-Seal modular seals. Link-Seal – suitable for ductile iron, pre-stressed concrete and metal or plastic pipe, conduit and cables – effects a hydrostatic seal capable of holding 40 kPa between the pipe and the penetration cylinder through which the pipe passes.
BMG's full range of Garlock seals and sealing systems include metallic and Gylon gaskets, oil seals, bearing isolators, expansion joints and butterfly valves. Components extend from a standard sealing ring, available from BMG's stock and ready to install, to customised designs, which are fabricated to specific requirements.
Garlock sealing products, with a user-friendly design and advanced materials, ensure dependable sealing in all sectors. These industries include chemical and petrochemical, pulp and paper, power generation, electronics, food and pharmaceuticals, as well as steel mills, mining and OEMs. All Garlock seals and sealing systems undergo stringent field and in-house testing to ensure safe and reliable use, as well as extended service life in all industries.
Credit(s)
Further reading:
HydraForce electro-proportional valves
Second Quarter 2021, Bearing Man Group T/A BMG , Hydraulic systems & components
BMG supplies a wide range of HydraForce electro-proportional valves, which are suitable for use in many applications in agriculture, construction, materials handling, fluid conveyance, mining and quarrying. 
...
Read more...
---
The unforeseen costs of counterfeit bearings
Second Quarter 2021 , Shaft power components
Downtime, consequential damage, reduced lifespan, poor performance and safety are just some of the dangers of using counterfeit bearings, which are increasingly prevalent across South African industry, 
...
Read more...
---
Breathers and spin-on elements
Second Quarter 2021, Bearing Man Group T/A BMG , Hydraulic systems & components
BMG's fluid technology filtration solutions comprise a wide range of fluid power components and systems, which are supported by the team's broad technical capabilities to ensure fluids operate within 
...
Read more...
---
BMG contributes to YES programme
Second Quarter 2021, Bearing Man Group T/A BMG , News & events
BMG – part of the Engineering Solutions Group (ESG) of Invicta Holdings – is participating in South Africa's Youth Employment Service (YES) Programme, which is a joint initiative between the government 
...
Read more...
---
SKF bearings help Mars Rover collect rock
Second Quarter 2021, SKF South Africa , Editor's Choice, Shaft power components
Enabling the Mars Rover's core operations in the harsh environment on Mars are Kaydon RealiSlim thin-section ball bearings, designed and manufactured by SKF at the company's global thin-section bearing 
...
Read more...
---
Power transmission solutions in the mining sector
Second Quarter 2021, Bearing Man Group T/A BMG , Electrical switching & drive systems & components
BMG's range of Tsubaki back stop cam clutches, which is suitable for high or low speed applications, meets the requirements of current mining legislation and has many critical features not found in conventional 
...
Read more...
---
Swagefast lockbolt pins and collars
Second Quarter 2021, Bearing Man Group T/A BMG , Other technologies
BMG's locally manufactured Swagefast lockbolt pins and collars ensure increased productivity and reliability in heavy duty, high vibration applications, especially where structural integrity is critical 
...
Read more...
---
Lubrication-free roller chain
First Quarter 2021, Bearing Man Group T/A BMG , Shaft power components
BMG's extensive range of Tsubaki chain products encompasses the Lambda lubrication-free roller chain series, which has been designed for industries where clean working environments are required and where 
...
Read more...
---
Counting their chickens before they hatch
First Quarter 2021, SKF South Africa , Shaft power components
The introduction of food line (blue line) bearing units by SKF, in collaboration with its Authorised Distributor, Bearing Services (BSA) Polokwane, has reduced downtime and increased plant reliability 
...
Read more...
---
Torsionally flexible couplings
First Quarter 2021, Bearing Man Group T/A BMG , Shaft power components
BMG's new reinforced Fenner Triflex couplings, with forged steel flanges, provide an integrated solution for the safe and efficient transfer of torque, even in extreme conditions. "These durable couplings 
...
Read more...
---