printer friendly version
Underwater robot with a unique fin
Third Quarter 2019 Editor's Choice Robotics & Mechatronics
Nature impressively teaches us what the ideal propulsion systems for certain types of movement in water looks like. The BionicFinWave was inspired by the undulating fin movements executed by marine animals such as the polyclad or the cuttlefish. With this form of propulsion, the underwater robot manoeuvres itself autonomously through a system of acrylic glass tubing. This project provides impulses for future work with autonomous robots in the process industry.
With this technology carrier, Festo is once more creating impulses for future work with autonomous robots and new drive technologies for use in fluid media. Concepts like the BionicFinWave could possibly be further developed for tasks such as inspection, measurements or data acquisition, for example for water and wastewater technology or other areas of the process industry. The knowledge gained in this project could also be used for methods in the manufacturing of soft robotics components.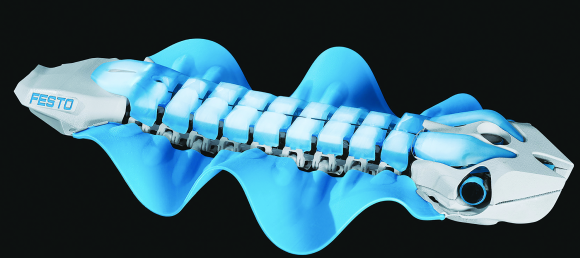 Swimming like the natural model
The longitudinal fins of the polyclad and the cuttlefish extend from the head to the tail along their backs, their undersides or the two sides of their torsos. To move through the water, the animals use their fins to generate a continuous wave that progresses along the entire length of their bodies. This so-called undulation forces the water backwards, thereby producing a forward thrust. The BionicFinWave also uses this principle to manoeuvre itself forward or backwards.
This has enabled Festo to technically realise a fin drive unit that is particularly suitable for slow, precise motion and causes less turbulence in the water than a conventional screw propulsion drive, for example. While it moves through the tube system, the autonomous underwater robot can communicate with the outside world via radio and transmit data such as temperature and pressure sensor readings to a tablet.
Flexible silicone fins as integral components
The two lateral fins of the 370 mm long BionicFinWave are moulded entirely from silicone and dispense with reinforcement struts and other supporting elements. They are therefore extremely flexible and can realistically emulate the gently flowing movements of their biological model. To carry out the movement, each of the two fins is attached to nine small lever arms with a deflection angle of 45 degrees. These are driven by two servo motors housed within the body of the underwater robot. Two flat crankshafts transmit the forces to the arms so that the two fins can move independently of each other. By this means, they can simultaneously generate different wave patterns. To swim in a curve, for example, the outer fin moves faster than the inner one – as with the treads of an excavator.
The BionicFinWave moves upwards or downwards by bending its body in the desired direction. To make the crankshafts suitably flexible, universal joints are located between the lever segments. The crankshafts, together with the joints and piston rod, are made from plastic as integral components in a 3D printing process.
An optimally designed body with integrated onboard electronics
The remaining body elements of the BionicFinWave, which weighs only 430 g, are also 3D-printed. This enables the complex geometry to be realised. With their cavities, the body elements function as floats. At the same time, the waterproof cavities offer a safe location for the entire control and regulation technology within a very small space. A pressure sensor and ultrasound sensors constantly register the BionicFinWave's distance to the walls and its depth in the water, thereby preventing collisions with the tube system. This autonomous and safe navigation required the development of compact, efficient and waterproof or water-resistant components that can be coordinated and regulated by means of appropriate software.
For more information contact Kershia Beharie, Festo, 086 003 3786, kershia.beharie@festo.com, www.festo.co.za
Credit(s)
Further reading:
Moving into 2020 with Festo digitalised products
First Quarter 2020, Festo , Robotics & Mechatronics
Industry 4.0 is rapidly automating the modern working world and helping the machine and system building sector reach new heights.
Read more...
---
Addressing evolving hydraulics challenges
Fourth Quarter 2019 , Editor's Choice, Hydraulic systems & components
Using materials science and design technologies, Gates' engineers come up with innovative hydraulic hose solutions for ever-changing needs and challenges.
Read more...
---
Control for additive manufacturing
Fourth Quarter 2019, Beckhoff Automation , Editor's Choice, Electrical switching & drive systems & components
Colossus plans to manufacture large functional or decorative objects such as outdoor furniture and ornaments with a new 3D printer that processes recycled plastics, and this creates further special 
...
Read more...
---
On the way towards fully electrified mining machines
Fourth Quarter 2019, Parker Hannifin - Sales Company South Africa , Editor's Choice, Electrical switching & drive systems & components
The more time humans spend working in mining conditions, and near mining vehicles, the more likely they are to be injured, contract illnesses or die in accidents. According to the UN's International 
...
Read more...
---
The Bloodhound
Fourth Quarter 2019, Bloodhound Technologies , Editor's Choice, News & events
The Bloodhound project is back on track. The British team developing a car capable of reaching 1600 kmph is in South Africa for several weeks of high-speed testing on the dry desert track at Hakskeenpan 
...
Read more...
---
BionicOpter
Fourth Quarter 2019, Festo , News & events
Each year Guinness World Records presents thousands of exciting records from all over the world. Festo's BionicOpter will be included in the 2020 edition. The 'Robots' chapter presents the most amazing 
...
Read more...
---
Robot with air-water actuators has fluid motion
Fourth Quarter 2019 , Editor's Choice, Robotics & Mechatronics
Hydraulics and pneumatics are widely used for power transmission: hydraulics for moving heavy loads with highly controlled motion, and pneumatics for lighter loads and rapid, repetitive motions. Many 
...
Read more...
---
Future-proof chair lift system
Fourth Quarter 2019, Siemens Digital Industries , Editor's Choice, Electrical switching & drive systems & components
At Snow Space, a winter sports resort near Salzburg, Bergbahnen Wagrain operates the Sonntagskogelbahn 2, a chair lift for taking skiing enthusiasts to the piste. New innovative drive technology guarantees 
...
Read more...
---
Rescue from the sky
Fourth Quarter 2019, Siemens Digital Industries , Editor's Choice, Other technologies
Zipline International designs and builds autonomous flying drones that transport medical supplies in hard to reach regions. The company uses design solutions from Siemens PLM Software. This enables the 
...
Read more...
---
Does edge computing have the edge?
Third Quarter 2019, Omron Electronics , Editor's Choice, Other technologies
Implementing artificial intelligence in industrial manufacturing.
Read more...
---