printer friendly version
Focusing on bearings
1 February 2020 Shaft power components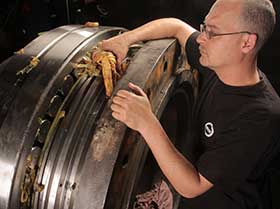 BMG's comprehensive range of bearings extends from precision miniature bearings used in machine tools and electronics applications, to giant size bearings that meet the demands of steel and mining industries.
"To enhance performance of bearings and for added protection, BMG has developed specialised sealing systems for bearing housings, to suit specific operating conditions," says business unit manager, Wayne Holton. "Added to this, associated bearing maintenance products include installation and removal tools, induction heaters, adaptor and withdrawal sleeves, as well as lubricants, lubricators and lubrication systems."
"The company's Technical Resources division is committed to enhancing process plant operating reliability in every industrial sector. Specialist services encompass technical applications consulting, product and system design, on-site process analysis, product quality control and assurance, as well as condition monitoring services."
On-site services, like product commissioning, conveyor belt splicing, product maintenance inspections and troubleshooting, are enhanced by large bearing and gear fitting.
Linear motion systems
With the growing trend to move away from manual machine operation to specialised mechanisation as part of cost-saving programmes, BMG has made an investment in expanding its range to satisfy demand in economical and highly complex applications.
The company's IKO branded linear motion products have been carefully selected for excellent accuracy and smooth linear motion, easy integration, energy saving and environmental protection.
BMG's linear motion systems and associated products include linear guides, runner blocks, rails, ball screws, bushings and shafts, designed for high speed, high precision performance and to meet the rigorous requirements of technologically advanced engineering.
This range is designed for use in diverse applications, including OEMs, the machine tool sector, automotive plants, design houses, packaging, beverage plants, robotics, brick and glass manufacturing, paper, pulp and wood industries, as well as for measuring systems.
Key to precision instruments are linear guides, which are used in conjunction with compact ball screws that are locked onto a platform and linked to a servo motor, to produce linear motion. The primary function of the guides is to allow the platform to maintain high precision, high rigidity and high load motion.
Standard components are suitable for machine tools, cranes and steel, as well as medical and laboratory systems, while specialised components are required for more demanding applications, like industrial robots, offshore rigs and aerospace.
Timken housed units
BMG's portfolio of Timken housed units is designed for reliable sealing, ensuring enhanced bearing protection in harsh operating conditions, including debris-filled, contaminated or high moisture environments. The robust housed series includes plummer and solid block housing units.
Timken uses the highest quality materials in the manufacture of these units, to meet the stringent requirements for cleanliness, machinability and performance required in demanding operating conditions.
Timken Blue Brute, a spherical roller bearing with solid block housed units, is manufactured with cast steel housings that have three times the tensile strength of cast iron housings. This is an important advantage in harsh applications where there are heavy loads and excessive vibration. These robust spherical roller housed units enable the bearing to be replaced into the same housing many times, which offers substantial cost savings.
Without a properly aligned shaft, the service life of most housed units is reduced. However, this series is designed to run efficiently on misaligned shafts up to 1,5°. There are three standard sealing options available in the Timken Blue Brute range - teflon labyrinth seals, triple lip nitrile rubber seals and triple lip urethane seals.
In steel, mining, pulp and paper, aggregate, cement and forestry, particulates are a challenge, hence the steel auxiliary covers are treated with black oxide for corrosion resistance and added protection against contamination. Locating rings provide the flexibility to fix or float the roller bearings in the housing. Optional end caps, which are easy to install and remove, prevent damage to the bearing.
Re-manufacturing and repair
In partnership with Timken, BMG's bearings division is able to offer a complete bearing re-manufacturing and repair service, where used bearings are reconditioned to original specifications for optimum performance and extended service life.
This repair service includes a customised assessment, analysis, re-manufacturing and preventative maintenance programme for the bearings and auxiliary components used in all industries. The value of re-manufacturing is enormous in that it ensures substantial savings in downtime and reduced replacement costs. A reconditioned bearing can result in significant cost savings and time when compared with purchasing a new one.
Efficient refurbishing options, using the most sophisticated processes and equipment, are offered for all brands, types and size of bearings. BMG works closely with a customer's maintenance team to analyse the condition of bearings and to assess when a bearing needs to be serviced.
When preventative maintenance programmes complement reconditioning, bearings are capable of reaching their fullest potential.
Credit(s)
Further reading:
Air operated diaphragm pumps
Bearing Man Group T/A BMG Electrical switching & drive systems & components
BMG's range of Ingersoll Rand ARO fluid management equipment comprises FDA-compliant air operated diaphragm pumps that provide solutions for the food and beverage sector, as well as in pharmaceutical 
...
Read more...
---
Bearing solution for demanding applications
Shaft power components
The latest bearing solution for arduous and demanding industries has been launched by Bearings International (BI). The new Rexnord RN series of metric bearings offers cutting edge design with unmatched 
...
Read more...
---
Power transmission components
Bearing Man Group T/A BMG Shaft power components
BMG's comprehensive range of Tsubaki encompasses pin gear drive units that replace conventional gear rack systems. Tsubaki standard series (steel) and the S series (stainless steel) pin gear drive units 
...
Read more...
---
Spherical roller bearings for continuous casting
Shaft power components
The bearings used in continuous casting machines have to endure arduous operating conditions that include high temperatures, heavy loads, ultra-low speeds, water/water vapour and scale. As a result, bearing 
...
Read more...
---
New B2C online shopping platform for engineering consumables
Bearing Man Group T/A BMG News & events
BMG's online shopping platform now encompasses a newly launched E-commerce service, designed especially for consumers, to boost their buying experience of engineering consumables.
Read more...
---
Energy from the power of the moon
SKF South Africa Editor's Choice Shaft power components
It is intended to help reduce climate-damaging CO
2
emissions, slow down global warming and thus build a more sustainable future for generations to come. With the help of modern technology from SKF, 
...
Read more...
---
Spindle screw pumps
Bearing Man Group T/A BMG Shaft power components
BMG supplies and supports the full range of SEIM spindle screw pumps, flow meters and in-line relief valves. "These robust pumps and related products – which are manufactured to stringent quality specifications 
...
Read more...
---
Complete solutions for the mining value chain
Shaft power components
Bearings International (BI) has products for the entire mining value chain, from the beginning of mining operations to their end of life. This encompasses all types of mining operations, from opencast 
...
Read more...
---
Common gear problems to look out for
Shaft power components
Like any mechanical element, gears are subject to wear and if this is not addressed, even failure. Callum Ford, national marketing manager at Lubrication Engineers (LE) South Africa, says that during 
...
Read more...
---
Components for submerged chain conveyors
Bearing Man Group T/A BMG Shaft power components
BMG's extensive power transmission range encompasses HEKO conveyor components, including round link chains which have been designed for dependable use in many harsh environments. "High wear-resistant 
...
Read more...
---