printer friendly version
On the way towards fully electrified mining machines
Fourth Quarter 2019 Editor's Choice Electrical switching & drive systems & components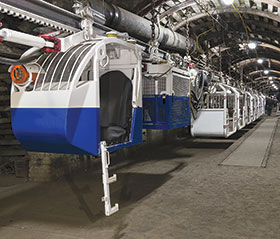 There is virtually no room for error when it comes to mining construction machines. Used almost exclusively underground, often in small, restricted areas, the machines and their exhaust emissions directly impact construction workers. Any solution employed to reduce emissions requires as little human intervention as possible due to the harsh conditions and poor accessibility.
The more time humans spend working in mining conditions, and near mining vehicles, the more likely they are to be injured, contract illnesses or die in accidents. According to the UN's International Labour Organization, the mining industry employs 1% of the world's workforce but is responsible for 8% of fatal accidents in the workplace. A study published by Occupational and Environmental Medicine found that diesel emissions can cause fatal lung cancer at a rate up to 38 times what is accepted as the normal occupational risk.
With this in mind, construction machine builders are actively searching for solutions to reduce emissions immediately, with the greater goal of automating their machines so that humans are entirely removed from the process. Not only will this save lives, but it will greatly reduce the cost of the average underground mining worksite.
Mining machines are heading in a new direction. The aim of the industry is to construct new fleets of fully electrified machines. The focus will be to increase total machine efficiency by reducing energy losses in all hydraulic subsystems, including the drive line. By doing this, it will allow the machines to increase performance with less power, extending duty cycles and the time spent on the job between charges. By moving in this direction, companies can optimise four specific areas of their mining operations.
A fully electrified fleet means that fewer operators will be needed, which means lower ventilation costs and lower risk to human life. Mining machines will not cost as much to maintain and the cost of fuelling them would drop dramatically, resulting in lower operational costs. There will be a safer working environment with higher equipment utilisation.
To pave the way for these new fleets, energy losses from diesel powered machines will need to be reduced. To cut the losses down, existing hydraulic parts will need to be replaced by more efficient ones. The result will be a fully electrified fleet providing greater efficiency levels at a reduced cost. With a fully electrified fleet, estimated energy savings of up to 50% can be made on ventilation versus diesel-driven machines.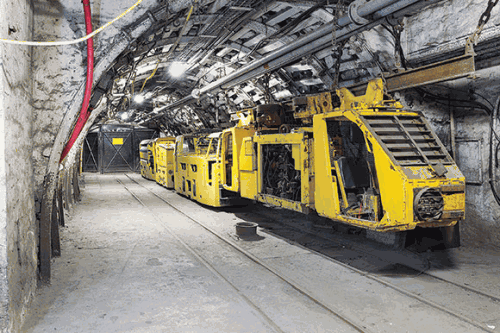 As mining machines become fully automated, they will also become fully electrical. The ability to control them from the surface will require a combination of cameras and sensors that will take the place of the human operator. Until now, human operators have used their senses, knowledge and experience of the type of work being done. Sensors will make the process much more efficient and will include a range of cameras, speed sensors, angle sensors, pressure sensors and position sensors.
These machines will require fully electrical steer- and brake-by-wire solutions, allowing manufacturers to make them lighter, safer and more compact by removing as many mechanical components as possible. There are several industries already using this approach.
Parker Hannifin offers solutions to mobile construction machine builders and mining companies that work to decrease human involvement. Offering a safe working environment as well as higher equipment utilisation and lower operational costs, mining technology and smart machines represent the future of the industry. Parker Hannifin's vehicle electrification technologies include vehicle traction systems, auxiliary systems and hydraulic implements.
In vehicle systems, power density is a key design factor. The torque density and speed capabilities of Parker's GVM internal permanent magnet AC (PMAC) motors, combined with voltage-matched GVI inverters, provide the speed and torque required to achieve breakthrough performance in a variety of vehicle platforms, including construction platforms, to advance vehicle traction systems available to design engineers. Parker can assist in the development process of electrified machines with baseline testing and energy mapping for optimised sizing of components and systems across a range of battery voltages and control systems.
In the case of hydraulic implements, through the combination of electric motor-inverter systems with hydraulic pumps, in addition to an onboard battery system, the user is able to achieve significant fuel savings, with the ability to operate equipment with the internal combustion engine off, and to capture energy from the vehicle.
Credit(s)
Further reading:
A very smart material
Second Quarter 2021 , Editor's Choice, Electrical switching & drive systems & components
Shape memory materials (SMMs) are strong, lightweight materials that have the ability to recover their original shape after being deformed if a stimulus is applied. They can be programmed to remember 
...
Read more...
---
The benefits of collaborative robots
Second Quarter 2021, SMC Corporation South Africa , Editor's Choice, Robotics & Mechatronics
While robotics led the way for the rapid growth of automation, cobots are the democratisation of robotics technology. They eliminate the cost and complex programming that robots usually require while providing much greater flexibility.
Read more...
---
Fast, safe transport on the factory floor
Second Quarter 2021, Omron Electronics , Editor's Choice
The Philips site in Klagenfurt produces over 23 million linear cutting elements for hair and beard trimmers each year. These beard trimmers use lift-and-trim technology: the beard hair is first lifted 
...
Read more...
---
SKF bearings help Mars Rover collect rock
Second Quarter 2021, SKF South Africa , Editor's Choice, Shaft power components
Enabling the Mars Rover's core operations in the harsh environment on Mars are Kaydon RealiSlim thin-section ball bearings, designed and manufactured by SKF at the company's global thin-section bearing 
...
Read more...
---
Forklift products and technologies
Second Quarter 2021, Parker Hannifin - Sales Company South Africa , Hydraulic systems & components
The lift truck industry is growing not only in volume, but in sophistication. The demand for friendly interfaces, predictable performance, increased productivity, IIoT connectivity and environmental safety 
...
Read more...
---
Hacking for a difference
Second Quarter 2021, RS Components SA , Editor's Choice, News & events
The annual Geekulcha Hackathon recently saw more than 100 coders, developers and programmers challenge each other in an online contest.The event has become a highlight in the African developer world. 
...
Read more...
---
Energy efficiency in the chemical industry
Second Quarter 2021, Danfoss , Editor's Choice
Danfoss has widespread experience and expertise in refrigeration and in controlling the speed of AC motors in all main chemicals sectors: petrochemicals, basic inorganics, polymers, specialty and 
...
Read more...
---
Mars helicopter makes history
Second Quarter 2021, DNH Tradeserve , Editor's Choice
This is the first time in the history of powered, unmanned spaceflight that a device has flown in a controlled manner on another planet – with the help of DC motors from maxon motor. The helicopter flew 
...
Read more...
---
Land Cruiser wet brakes for mining
First Quarter 2021, Axiom Hydraulics , Editor's Choice, Hydraulic systems & components
Unfortunately, the vehicle's OEM brakes are not built for mining; they compromise safety while suffering frequent and expensive maintenance. Simply put, the brakes were never designed for use in the highly 
...
Read more...
---
PC-based control technology for next-generation telescope
First Quarter 2021, Beckhoff Automation , Editor's Choice, Electrical switching & drive systems & components
Key factors were the advantages of EtherCAT for site-wide real-time communication connecting all telescope functions. Various embedded PCs and AM8000 servomotors were also tested and specified, among 
...
Read more...
---