printer friendly version
Comprehensive range of pneumatic control valves
Third Quarter 2004
Pneumatic systems & components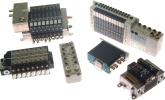 The upgrade of Bosch Rexroth's valve terminal systems (VTS), including the release of a refined high flow (HF) series, means more compact, modular units that can be installed and expanded with greater ease. Available in South Africa through Tectra Automation, the new range gives Tectra a comprehensive range of control valves.
The previous, bulky VTS range had to be wired up and separately linked to cylinders, installation and configuration have now been significantly simplified. Within the last two years, the range has been expanded to include the HF04, the LP04 and the TC range of VTS. Mainly used in machines, jigs and fixtures, where there are a number of cylinders that need to be operated, both the HF04 and LP04 have been specifically developed for pneumatic valve terminal systems, which are suitable for use in the automation industry.
Applications with high flow requirements and space constraints would be suitable for the smallest component in the series, the HF04. Its manifold design uses aluminium end plates and reliable electrical connections, making the system insensitive to vibrations and temperature fluctuations.
The HF04 valve is suitable for various industries, including automation, general mechanics, paper manufacturing and printing. Even though both the LP04 and HP04 valves systems are compact, the flow rate is high and power consumption is still low. However, the LP04 has been designed with an additional sub plate, making it even more compact than the HP04. One system can have anything between four and 16 valves. VTS can be used in vacuum and process-control applications in the semiconductor and electronic industries.
Tectra Automation director, Emil Berning, points out that the first local LP04 valve contract, worth R50 000, will see the new German technology installed on computer numerical control (CNC) machines. The TC range has been designed to achieve high flow rates. Within the range, the TC 08 is able to attain an 800 litre per minute flow rate, while the TC 15 is capable of achieving a 1500 litres per minute.
VTS systems can operate with a bus system, a communication protocol that reduces the quantity of wiring used by combining them into one system. Options include Profibus, CAN Open, Interbus, Device Net and AS-i bus. By moving away from single components, installation time and costs of pneumatic components are significantly reduced.
A unique advantage offered by Bosch Rexroth's VTS range is the DDL system, which performs advanced diagnostic analysis. At production plants, it is essential to ensure that the systems function efficiently and accurately. As a result, in the event of a breakdown, relevant information is regarded as crucial as it forms part of the maintenance process. The DDL system facilitates the basic operating of the valve units while also offering detailed monitoring of the electrical control system.
The system does this by examining individual valves, using various criteria, such as tolerance of the supply voltage, recognition of the solenoid coil and short-circuit display. With this information, the control system is able to generate and display appropriate clear text messages. The DDL system is suitable for plant in which the bus master controls a number of valves from a central point. The product can be integrated into a valve system or sold as a separate unit.
For more information contact Emil Berning, technical director, Tectra Automation, +27 (0) 11 971 9400, emilb@tectra.co.za, www.tectra.co.za
Credit(s)
Further reading:
Compressed air purity analyser
Second Quarter 2021, Artic Driers International , Pneumatic systems & components
Compressed air treatment using filters and dryers is an effective barrier to airline contamination. Until recently, auditing the compressed air quality in a system was difficult, but clients and professional 
...
Read more...
---
Critical compressed air on platinum mine
Second Quarter 2021 , Pneumatic systems & components
The mining industry is a vital cog in the economic workings of South Africa, in particular platinum mines, of which the country has significant reserves, that are among the largest worldwide. Yet, if 
...
Read more...
---
Tectra Automation contracted for PG Bison's MFB press upgrade
Second Quarter 2021, Tectra Automation , Pneumatic systems & components
Tectra Automation has provided all the pneumatic and vacuum equipment required for the installation and commissioning of PG Bison's sixth melamine-faced board (MFB) press. The press, which came online 
...
Read more...
---
Festo at the heart of absolute automation
Second Quarter 2021, Festo , Pneumatic systems & components
Festo is renowned as one of the leading pneumatic automation suppliers. Over the years, the company has also set the pace in both Process and Electric Automation. This is backed by its proven record of 
...
Read more...
---
Highly flexible pick and place with digitised pneumatics from Festo
First Quarter 2021, Festo , Pneumatic systems & components
A wide range of products, functions and complete solution packages are integrated into the Festo Motion Terminal. One of these products is Motion Apps, which heralds a new Industry 4.0 era. Motion Apps 
...
Read more...
---
Smart positioners of the future
First Quarter 2021 , Pneumatic systems & components
SMC's new range of smart positioners was designed to pair perfectly with a variety of process control valves and actuators.
Read more...
---
Automated cake cutting
First Quarter 2021, Tectra Automation , Electrical switching & drive systems & components
Tectra Automation has engineered a unique automated cake cutting system for Brenell Quality Desserts in Pietermaritzburg. The company was looking for an automated solution that would be more productive, 
...
Read more...
---
Thirty years of linear motion technology
Fourth Quarter 2020, Tectra Automation , News & events
This year, factory automation specialist Bosch Rexroth celebrates 30 years of linear motion technology and innovation. Constantly updating its range of innovative linear axes, the company has a product 
...
Read more...
---
Locally built air dryers for hospitals
Fourth Quarter 2020, Artic Driers International , Pneumatic systems & components
Artic Driers recently partnered with an NGO (non-governmental organisation) called Save-P to develop a locally designed compressed air dryer and filter bank providing breathing-quality air for hospitals 
...
Read more...
---
Efficient pneumatic performance with multifunctional sensor
Fourth Quarter 2020, SICK Automation Southern Africa , Pneumatic systems & components
SICK Automation's recently introduced multifunctional FTMg (flow thermal meter for gases) flow sensor detects pneumatic system leakages well before pressure loss causes machine failure. It is engineered 
...
Read more...
---