printer friendly version
New possibilities for compressed air preparation
Second Quarter 2004
Pneumatic systems & components
The MS Series of Air Service Units from Festo opens up numerous individual possibilities for compressed air preparation that enhances the optimal functioning of pneumatic components. Tailor made for every conceivable purpose; the MS Series offers numerous variants to provide a broad spectrum of applications in all branches of industry.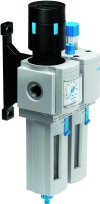 One of the 11 standard combinations – ex stock
Thanks to individual, easily combinable modules, stock levels are reduced and ordering simplified to one product series. At the same time, flexible assembly options are enabled by the configurable nature of the MS Series.
0 seconds
"Compressed air - correctly prepared and controlled - acts as a source of energy in the same way oxygen does for the body," explains Festo technical manager, Adrian Buddingh. "Just like the speed and depth of human breathing can dictate the amount of energy supplied, compressed air acts as a bridge between energy and executive functions in machines."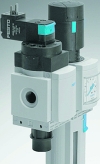 20 seconds
The prerequisite for the long lasting functioning of a pneumatic system is the correct air preparation, Buddingh explains. This is not just a matter of drying the air and filtering out oil and contaminants, but rather a question of deciding on the required quality of compressed air for a clean, cost-effective solution. This philosophy lies at the heart of the new MS Series design.

40 seconds
"The South African market can expect a Series Upgrade on our MS range of service units that will add local intelligence in the form of new sensors added to these units," reveals Buddingh. "In addition to a flow sensor, the MS 6 series will have a level sensor for detecting condensate build-up and a differential pressure sensor for picking up dirt and dust."
60 seconds
In addition to the 10 pre-assembled combinations available from Festo, the MS Series can be combined with individual function modules for adaptation to particular applications. Irrespective of whether it is a standard or combined unit, the combinational features of the MS Series make innumerable functions and variations possible.
Through features like integrated pressure gauges, the MS Series also offers significant space savings, while suitable tubing and fittings facilitate more reliable and quicker installation. Security is ensured via an integrated locking option, allowing the manually operated on/off valve to be secured with up to six padlocks. The MS regulator family can also be locked as standard and prevents tampering with the working pressure set. The entire regulator family features a standard non-return valve that allows exhausting of the regulator at the input side.
In addition to its visually appealing, award-winning external design, the MS Series incorporates filters from 40 µm to 0,01 µm, active carbon filters and membrane dryers. Flow characteristic values are close to the physically achievable maximum.
Further reading:
Compressed air purity analyser
Second Quarter 2021, Artic Driers International , Pneumatic systems & components
Compressed air treatment using filters and dryers is an effective barrier to airline contamination. Until recently, auditing the compressed air quality in a system was difficult, but clients and professional 
...
Read more...
---
Critical compressed air on platinum mine
Second Quarter 2021 , Pneumatic systems & components
The mining industry is a vital cog in the economic workings of South Africa, in particular platinum mines, of which the country has significant reserves, that are among the largest worldwide. Yet, if 
...
Read more...
---
Tectra Automation contracted for PG Bison's MFB press upgrade
Second Quarter 2021, Tectra Automation , Pneumatic systems & components
Tectra Automation has provided all the pneumatic and vacuum equipment required for the installation and commissioning of PG Bison's sixth melamine-faced board (MFB) press. The press, which came online 
...
Read more...
---
Festo at the heart of absolute automation
Second Quarter 2021, Festo , Pneumatic systems & components
Festo is renowned as one of the leading pneumatic automation suppliers. Over the years, the company has also set the pace in both Process and Electric Automation. This is backed by its proven record of 
...
Read more...
---
Highly flexible pick and place with digitised pneumatics from Festo
First Quarter 2021, Festo , Pneumatic systems & components
A wide range of products, functions and complete solution packages are integrated into the Festo Motion Terminal. One of these products is Motion Apps, which heralds a new Industry 4.0 era. Motion Apps 
...
Read more...
---
Smart positioners of the future
First Quarter 2021 , Pneumatic systems & components
SMC's new range of smart positioners was designed to pair perfectly with a variety of process control valves and actuators.
Read more...
---
Locally built air dryers for hospitals
Fourth Quarter 2020, Artic Driers International , Pneumatic systems & components
Artic Driers recently partnered with an NGO (non-governmental organisation) called Save-P to develop a locally designed compressed air dryer and filter bank providing breathing-quality air for hospitals 
...
Read more...
---
Efficient pneumatic performance with multifunctional sensor
Fourth Quarter 2020, SICK Automation Southern Africa , Pneumatic systems & components
SICK Automation's recently introduced multifunctional FTMg (flow thermal meter for gases) flow sensor detects pneumatic system leakages well before pressure loss causes machine failure. It is engineered 
...
Read more...
---
Festo Motion Terminal VTEM bolsters productivity
Third Quarter 2020, Festo , Pneumatic systems & components
The world's first valve to be controlled by apps.
Read more...
---
SMC launches wireless valve bank in SA
Third Quarter 2020 , Pneumatic systems & components
In response to customer demand for a reliable communication system, which could limit the number of cables needed to communicate between multiple valve banks/field sensors and a PLC, a wireless communication 
...
Read more...
---