printer friendly version
Innovation boosts bearing life
1st Quarter 2009
Shaft power components
Bearing manufacturer SKF has introduced new high-capacity cylindrical roller bearings (HCCRB) offering increased load carrying capacity and longer life in wind turbines.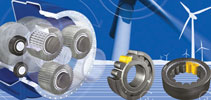 SKF's new HCCRB bearings have been well received by wind turbine manufacturers
The new bearings are targeted at all the classical cylindrical bearing positions in wind turbine gearboxes where non-separate mounting is acceptable – mainly in planetary wheels.
Increased performance
The unique feature of this HCCRB is that load carrying capacity has been increased substantially while maintaining the boundary and internal dimensions of standard cylindrical roller bearings. This means that the new design combines the load carrying capacity of a full complement bearing with the benefits of a caged bearing. As well as higher carrying capacity the new designs offer increased life. Calculations show that in one particular application the SKF Explorer version of the HCCRB will increase bearing rating life by 35% when compared to the standard full complement version, and 43% when compared to a standard caged version.
According to the ISO 281 standard there are two ways to increase the load carrying capacity while maintaining standardised boundary dimensions:
* Increase the dimensions of the rollers and maintain the same number of rollers.
* Increase the number of rollers and maintain the roller dimensions.
Increase dimensions
This method presents other technical problems because increasing roller dimensions reduces the inner and outer ring thicknesses and also the width of the side flanges. This results in reduced ring stiffness and flange strength which in turn increases the risk of reduced bearing life due to increased wear, fretting corrosion and ring creep or even ring fracture.
Increase roller count
This method offers theoretical improvements. The design that allows the maximum number of rollers is the full complement design. With this design, the maximum number of rollers is placed between the rings leaving no space for a cage and this type of bearing is available from a number of bearing suppliers. Such bearings have limitations because the rollers are always in direct contact with each other, causing sliding and increased friction and heat generation. Under certain circumstances, such as higher speeds, this can lead to wear and premature bearing failure.
Bearings with cages (the vast majority of bearings produced worldwide), do not have this problem because the rollers sit in cage pockets that prevent contact. However, the addition of the cage takes up space which reduces the maximum number of rollers possible.
New cage design
SKF achieved the HCCRB's unique feature by a completely new window type cage design that resulted in two versions:
* An outer ring shoulder guided cage (code JA).
* An inner ring shoulder guided cage (code JB).
With these cages an additional one or two rollers per row can be accommodated. Even more rollers can be fitted in customised bearings. The rollers deliver the additional carrying capacity, while the cage increases bearing life and overall performance compared to a full complement version.
Test results
The new cage designs were tested in prototype HCCRB bearings for more than one year in many different tests to fully evaluate their capabilities and compare them with bearings fitted with standard cages and full complement bearings. All tests showed no limitations of the new bearing designs compared to standard designs. In fact the new cage designs provide the following additional benefits:
* Improved oil flow by decreased cross section of the cage resulting in reduced heat generation.
* Lower weight resulting in reduced inertia.
* Reduced slip in low load conditions providing reduced risk of smearing.
For more information contact Samantha Joubert, SKF South Africa, +27 (0)11 821 3500, [email protected], www.skf.co.za
Credit(s)
Further reading:
Are counterfeit bearings a growing concern in South Africa?
Bearing Man Group T/A BMG Shaft power components
The incidence of counterfeit bearings is definitely on the increase in South Africa. In fact, the Hawks team recently discovered a large quantity of fake bearings valued at over R5 million stored in a 
...
Read more...
---
Ball screws with nut cooling
Editor's Choice Shaft power components
The machine tool industry uses ball screws to convert the rotary motion of an electric motor into linear motion. Very often, the positioning accuracy, as well as the travel speed and acceleration, have 
...
Read more...
---
Match and Tag for high accuracy in paired chain
Bearing Man Group T/A BMG Shaft power components
Modern machinery often requires chains of precisely the same length to be used in pairs or other multiples. For these applications, BMG specialists recommend Tsubaki Match & Tag chains, which guarantee 
...
Read more...
---
Draw-wire mechanisms for encoders
ifm - South Africa Shaft power components
Draw-wire mechanisms for encoders are the ideal choice when positions must be accurately determined over straight lines. Examples of their use range from short distances, for example with scissor lifts 
...
Read more...
---
New series of metric roller bearings
Bearing Man Group T/A BMG Shaft power components
BMG's bearings portfolio extends from precision miniature bearings used in machine tools and electronics applications to giant-size bearings that meet high demands in steel and mining. This range has 
...
Read more...
---
Coupling considerations for designers
Shaft power components
For designers, spending time selecting the perfect coupling may be low on the priority list. However, ensuring an efficient and reliable connection between two shafts is paramount for system reliability 
...
Read more...
---
Bearings drive cost-saving in food plants
Shaft power components
NSK's Life-Lube bearing units are proving increasingly popular in the food and beverage industry and with good reason. These advanced bearings combine the corrosion-resistant properties of Silver-Lube 
...
Read more...
---
High strength friction transmission belts
Bearing Man Group T/A BMG Shaft power components
BMG supplies a wide range of power transmission components designed to enhance efficiency and safety in the food and beverage sector. Included in this portfolio are Fenner high strength friction transmission 
...
Read more...
---
Power transmission solutions for the sugar sector
Bearing Man Group T/A BMG Shaft power components
BMG plays a critical role in the sugar sector, not only during the operational period of sugar production, but also in off-crop seasons, when maintenance and refurbishment on sugar farms and at mills 
...
Read more...
---
New optimised quick coupling series
Parker Hannifin - Sales Company South Africa Shaft power components
Parker Hannifin has launched the new optimised FEM Quick Coupling Series which offers an increased working pressure up to 350 bar and a decreased pressure drop for better flow properties. The revised 
...
Read more...
---