printer friendly version
Aluminium profiles for COVID-19 protection screens
1 May 2020 Other technologies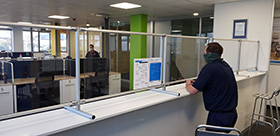 Rexroth aluminium profiles from Tectra Automation are used to safeguard personnel across a range of industries and numerous applications. The durable composition of these profiles and their adaptability to suit any application makes them ideal to help prevent the transmission of Covid-19 from airborne particles. This is done by using the profile and screen as a barrier between customers and shop personnel or between colleagues in a work environment.
As these profiles are assembled with T-slotted joining grooves, and do not require welding, they can be fixed or mobile, U- or L-shaped, and are not limited to size. The system's modularity and adaptability allows for an easy upgrade from an L-shaped to a U-shaped enclosure in minimal time.
Constructed of acrylic, toughened glass or polycarbonate material, the screens ensure durability and provide a reliable protective barrier to keep people from getting too close. Screens are additionally anodised treated, which creates a high resistance to chemicals that are used to clean and sanitise surfaces. With these features, they are suitable for various settings practising social distancing.
"The adaptability means it can be used in numerous retail outlets, from pharmacies to grocery stores – practically any place to help provide distance between employees and shoppers," comments Jonathan Narainsamy, product manager at Tectra Automation. "This reduces the risk of transmitting the coronavirus in work environments or businesses that deal directly with the public."
For more information contact Jonathan Narainsamy, Tectra Automation, +27 11 971 9400, jonathan.narainsamy@boschrexroth.co.za, www.boschrexroth.africa/company/tectra-automation
Credit(s)
Further reading:
Schneider Electric brings digital competence to mining applications
First Quarter 2020, Schneider Electric South Africa , Other technologies
Schneider Electric is dedicated to the deployment of digital technologies in mining to address the rising pressures on business sustainability and reduced energy consumption. "The organisation has 
...
Read more...
---
Gearmotors for electrified monorail system
First Quarter 2020 , Other technologies
A leading systems integrator for the automotive industry has adapted a Maxolution electrified monorail system (EMS) and 23 HK Series gear units for overhead trolley systems, from SEW-Eurodrive, for a 
...
Read more...
---
3D printing of face masks
First Quarter 2020 , Other technologies
SEW-Eurodrive has joined a nationwide campaign to use 3D printing technology to produce much needed face masks and shields for healthcare workers and first responders. Since the announcement of a national 
...
Read more...
---
Pressure measurement converter for harsh industrial conditions
First Quarter 2020, Instrotech , Other technologies
Instrotech is offering Kobold's PNK pressure measurement converter, used for the electrical remote transmission of pressure. For use in heavy machinery, engines, shipbuilding and automotive engineering, 
...
Read more...
---
Three lubrication myths
First Quarter 2020 , Other technologies
As specialists in lubrication reliability solutions, the team at Lubrication Engineers (LE) South Africa frequently comes up against myths relating to lubricants. "People believe things or are taught 
...
Read more...
---
Top 5 industrial automation trends in 2020
First Quarter 2020 , Other technologies
1. Deploying IIoT edge 2.0 solutions
The edge of IIoT enabled architectures is becoming increasingly important due to their role in digital transformation strategies. Initially focused on delivering 
...
Read more...
---
Food grade chain hoists
First Quarter 2020, Becker Mining South Africa , Other technologies
New to Becker's range of Kito hoists are food grade electric chain hoists, designed for safe lifting applications in contaminant controlled and corrosive processing environments, where pristine cleanliness 
...
Read more...
---
Digital factory revenues to jump to US$375 billion by 2030
First Quarter 2020 , Other technologies
Technology investments in the industrial and manufacturing sector are set to skyrocket, jumping from $59 billion in 2019 to $375 billion in 2030. Including hardware revenues, that figure climbs to over 
...
Read more...
---
Why are half of IIoT deployments failing?
First Quarter 2020 , Other technologies
The global Industrial IIoT business is arriving at a tipping point, with the industry reaching a connectivity milestone next year that will pave the way for market-changing events like the proliferation 
...
Read more...
---
How real is augmented reality?
First Quarter 2020, Absolute Perspectives , Other technologies
The early morning air was cold when we arrived at the mine for an underground visit. Our hosts were keen to show us the practical challenges of the drilling and blasting operation, and the many ways in 
...
Read more...
---