printer friendly version
Bosch Rexroth appoints distributor in Tanzania
Second Quarter 2020
News & events
Hytec Services Africa (HSA) has awarded distribution rights in Tanzania to Magare. The company, which supplies services to general industry and the mining sector, will distribute all Bosch Rexroth products throughout Tanzania. Numerous companies were evaluated against a set of pre-determined criteria to establish the best potential business partner. "Magare has a division specialising in mechanical and electrical component sales and services the same customer base as Hytec Services Africa," says Africa development manager, Louis Potter. "These factors, among others, perfectly position the company to be a distributor for the full product range from Bosch Rexroth."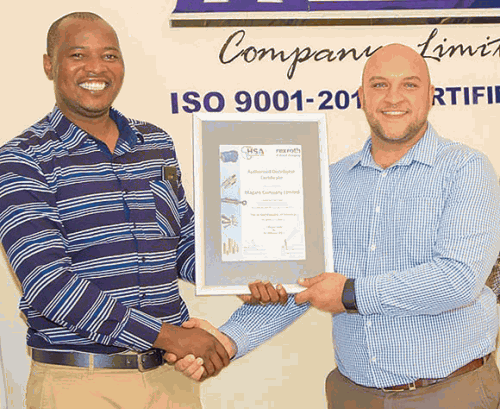 From l: Mabula Magangila, managing director, Magare; Louis Potter, development manager, HSA.
Tanzania has a large mining industry with a broad array of needs and HSA's goal is to provide specialist solutions to address these specific customer requirements. Potter says: "We have developed good relationships with the larger mining groups to the point that more attention closer to home became necessary. Magare is the perfect in-country partner for us to 'Move now, Drive tomorrow, Shape Africa'."
The company will perform a sales service with specialist support from South Africa. "We intend building on this relationship through knowledge transfer to ultimately include service and repair capabilities in the future. These long-term partnership investments enable Bosch Rexroth to take its products, services and expertise into the broader African market and strengthen its position as a leading international fluid power and automation company," Potter concludes.
For more information contact Louis Potter, Hytec Services Africa, +27 11 573 5460, louis.potter@boschrexroth.co.za, www.boschrexroth.africa
Further reading:
SEW-Eurodrive's new head office and factory
Fourth Quarter 2020, SEW-Eurodrive , News & events
SEW-Eurodrive has commenced construction of a new R200 million head office and factory in Everton, Johannesburg in order to accommodate the company's growth. The 25 000 sqm building is being constructed 
...
Read more...
---
Thirty years of linear motion technology
Fourth Quarter 2020, Tectra Automation , News & events
This year, factory automation specialist Bosch Rexroth celebrates 30 years of linear motion technology and innovation. Constantly updating its range of innovative linear axes, the company has a product 
...
Read more...
---
ABB and BI extend partnership to high-efficiency IE3 motors
Fourth Quarter 2020 , News & events
Low-voltage IE3 motors from ABB Africa will now be distributed by Bearings International (BI). This is an extension of the existing partnership between the two companies, with BI already a distributor 
...
Read more...
---
Festo helps young South Africans realise their dreams
Fourth Quarter 2020, Festo South Africa , News & events
Festo has been a leading worldwide supplier of automation technology and a performance leader in industrial training and education programmes for almost half a century. The company is more than just an 
...
Read more...
---
Hydraulics training course with CPD points
Third Quarter 2020 , News & events
The Bosch Rexroth South Africa Group training department has received its first CESA-validated CPD points for its three day hydraulics training course. Already merSETA accredited, the course has now been 
...
Read more...
---
Siemens joins forces with the National Ventilator Project
Third Quarter 2020, Siemens Digital Industries , News & events
Siemens has been a long-standing partner of the CSIR in South Africa and has co-operated in various fields of research, including manufacturing and mining. The CSIR, in collaboration with a number of 
...
Read more...
---
HAW has the stockholding to meet customer demand
Third Quarter 2020 , News & events
Hydraulic and Automation Warehouse has taken measures to assist with seamless production for its customers' operations with its new large stockholding of products. The company increased its stockholding 
...
Read more...
---
Hytec opens branch in Lephalale
Third Quarter 2020 , News & events
Hytec South Africa, a member of the Bosch Rexroth South Africa Group, officially opened its new branch in Lephalale, Limpopo in January 2020. The branch will provide a fast turnaround service, supply 
...
Read more...
---
FIRST Lego League goes from strength to strength
Third Quarter 2020 , News & events
FIRST (for inspiration and recognition of science and technology) is an international organisation that aims to generate an interest in mathematics, science and technology through the use of robotics 
...
Read more...
---
Energy efficient mining for a better tomorrow
Third Quarter 2020, Danfoss , News & events
Never has there been more of a need for the mining industry to adopt energy efficient measures as part of a successful transition towards a low carbon future. The mining sector needs to rethink its traditional 
...
Read more...
---