printer friendly version
A new world of automation
1 July 2020 Editor's Choice Other technologies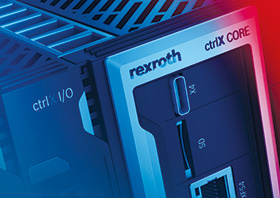 With ctrlX AUTOMATION, Bosch Rexroth is presenting the most open automation platform on the market, reducing engineering time and effort by between 30% and 50%. With this new platform, Bosch Rexroth has eradicated the traditional boundaries between machine control systems, IT and the Internet of Things. Centralised and decentralised automation topologies can now be created flexibly with the scalable platform. Thanks to a Linux real-time operating system, open standards, app programming technology, web-based engineering and a comprehensive IoT connection, ctrlX AUTOMATION reduces the engineering time and effort by 30 to 50%.
Nowadays, mechanical engineering is software development. The new ctrlX AUTOMATION platform is Bosch Rexroth's answer to this market requirement. It encompasses the latest engineering software technologies and all PLC and motion tasks. Software functions are combinable in any number of ways with ready-made, customised and customisable apps. These apps can be created in a variety of programming languages such as C++, script languages such as Python, or new graphical languages such as Blockly. This gives machine manufacturers new-found freedom.
ctrlX AUTOMATION offers users a choice: they decide whether to program in IEC 61131, PLCopen or G-Code, or in conventional high-level or Internet languages. This liberates machine manufacturers from dependency on the availability of PLC specialists and proprietary systems.
Configuration and commissioning of the automation components is completely web-based, eliminating the need to install software. Within minutes of switching the system on, the software is programmed. A completely virtual ctrlX AUTOMATION system environment is available, enabling programming without hardware. System functionalities can be extended at any time via the user's own process functions, apps and open source software. In total, ctrlX AUTOMATION cuts the engineering time and effort by 30 to 50%, which significantly reduces time to market for new machines.
More than 30 direct connection options and communication standards offer maximum networking flexibility for economical end-to-end connectivity from field level up to the cloud. ctrlX AUTOMATION is also equipped for future communication standards such as TSN and 5G, making it the best system on the market in terms of networking capability.
ctrlX AUTOMATION is based on a new generation of multicore processors which provide sufficient processing power for almost all automation tasks. These high performance CPUs can be integrated into embedded PCs and industrial PCs or directly into drives. The all new hardware and software module will cover all automation tasks – from simple control applications and IoT solutions to high performance motion control.
ctrlX will be available in South Africa through Tectra Automation, a Bosch Rexroth South Africa Group company, towards the end of 2020.
For more information contact Wiets Pretorius, Tectra Automation, +27 11 971 9400, wiets.pretorius@boschrexroth.co.za, www.boschrexroth.africa
Credit(s)
Further reading:
maxon drives are heading to the Red Planet
Third Quarter 2020, DNH Tradeserve , Editor's Choice
NASA is sending its fifth rover to Mars. Its main mission is to collect soil samples that will be analysed on Earth at a later time. The rover will also carry a helicopter that will perform the first flights on the Red Planet. maxon's precision DC and BLDC motors will be used for numerous mission-critical tasks.
Read more...
---
The new mobility: how sensors control the cobots of the future
Third Quarter 2020, SICK Automation Southern Africa , Editor's Choice
The ongoing development of small, powerful and flexibly positionable robots that can collaborate with humans is progressing in leaps and bounds. Sensors from SICK Automation are an important component. 
...
Read more...
---
Innovative mobile robots
Third Quarter 2020, Omron Electronics , Editor's Choice
Tailor-made mobile robotics revolutionise human-machine collaboration in the automotive industry.
Read more...
---
From the editor's desk: The future is calling
Third Quarter 2020, Technews Publishing , Editor's Choice
The move to level 2 has brought a feeling of renewal. At last we can start thinking ahead and contemplating the future in this new digital world. SAFPA for one has taken the leap, and has engaged an association 
...
Read more...
---
Milling machines for the aircraft industry
Third Quarter 2020, Beckhoff Automation , Editor's Choice, Electrical switching & drive systems & components
In aircraft construction, exceptional component quality and precision are crucial. However sheet-metal aircraft parts are often very large, making machining and handling problematic. Harmuth CNC-Frästechnik 
...
Read more...
---
The role of hydraulics and pneumatics in smart mining technologies
Third Quarter 2020 , Editor's Choice, Pneumatic systems & components
A Bosch Rexroth South Africa perspective.
Read more...
---
Rethinking pneumatic technology for the factories of the future
Third Quarter 2020, Parker Hannifin - Sales Company South Africa , Editor's Choice, Pneumatic systems & components
As manufacturing continues its rapid journey to digitalisation, one must ask, what will become of conventional technologies? Take pneumatics for example, which remains based on the age old principle of 
...
Read more...
---
Do all wireless solutions solve real industry problems?
Third Quarter 2020, Festo South Africa , Editor's Choice, Pneumatic systems & components
Wireless technology makes use of devices that allow us to communicate without using cables or wires and it plays a role in solving complex engineering problems. With this platform machines can communicate 
...
Read more...
---
The future of collaborative robots
Third Quarter 2020, Omron Electronics , Editor's Choice, Robotics & Mechatronics
Collaborative robots (cobots) that can work safely in the same environment as people have an important role in enabling flexible manufacturing and creating a competitive advantage for companies. A new 
...
Read more...
---
Moving into 2020 with Festo digitalised products
Second Quarter 2020, Festo South Africa , Editor's Choice
HoloLens, mobile phones, 3D printing and smart glasses – the gadgets that captured the public imagination in the blockbuster movie 'Back to the Future' over 30 years ago have now become a reality, all 
...
Read more...
---