printer friendly version
Moving into 2020 with Festo digitalised products
1 August 2020 Editor's Choice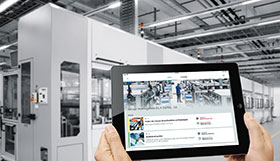 HoloLens, mobile phones, 3D printing and smart glasses – the gadgets that captured the public imagination in the blockbuster movie 'Back to the Future' over 30 years ago have now become a reality, all thanks to digitalisation. Industry 4.0 is rapidly automating the modern working world and helping the machine and system building sector reach new heights.
"At Festo, we support our customers with digital solutions at every step of the value chain and thus also guide them along their digital customer journey," emphasises Kershia Beharie, head of market management at Festo South Africa. "We also make a coherent software infrastructure available for customers, thus reducing their process costs."
Designing software à la carte
Examples of these intelligent software solutions are the Handling Guide Online for fast design and ordering of axis systems, the Festo Design Tool 3D for combining individual components into pneumatic modules, the product key for the clear identification of each component and use as a digital twin, and the app-based products such as the Festo Motion Terminal.
FluidDraw 365 enables designers to build up circuit diagrams more efficiently to document machines and installations fast, and easily conforming to standards. Via an annual subscription, users always have access to the latest version available on the Festo App World.
Condition monitoring in the cloud at the press of a button
With the CPX-IoT gateway, Festo is paving the way for a secure cloud solution, which will enable machine builders and end customers to improve their overall equipment effectiveness. The IoT gateway CPX-IOT connects components and modules from the field level, such as the valve terminal CPX/MPA, the energy monitoring module MSE6-E2M or handling systems, to the Festo Cloud via their OPC UA interface.
The cloud makes it possible to process and monitor the data, which, in turn, enables trend analysis and early warning systems with automatic notifications set up in the event of incidents. The IoT gateway connects the cloud to a controller and ensures that the relevant information is communicated in the right format at the right time.
With the IoT gateway CPX-IoT, it is possible to have preconfigured dashboards for each Festo component – with additional customisation. The dashboard is viewed in a Web browser and includes diagrams and traffic lights. Specific widgets – user interface components and graphs for energy monitoring and preventive maintenance, as well as key performance indicators for the process and the improvement of overall equipment effectiveness – provide clarity. The condition monitoring solution improves error diagnostics and fault identification, creates transparency regarding energy consumption, delivers clear information in graphical format and offers historical data.
Digital maintenance management
Predictive plant maintenance is a time-consuming process, which, for the most part, is still documented using pen and paper. With Smartenance, Festo's digital maintenance manager, this process becomes easier, faster and safer. The software enables precise scheduling and analysis of plant maintenance. Therefore, it provides quick and easy access to digital maintenance for production managers and system operators, available for download as an app. Smartenance is the first purely digital product from Festo. It is available to download as a mobile app for smartphones and tablets in the Apple and Google app stores.
The dashboard for production managers is conveniently available in a Web browser. Smartenance enables end customers to schedule, monitor and evaluate system maintenance. A digital maintenance schedule makes maintenance easier, quicker and more reliable. Reciprocal checking by system operators and production managers provides more excellent reliability and eliminates many processes and the need for coordination.
Smart products
With smart digital solutions, Festo has combined its extensive knowledge of industrial applications with the latest developments in information technology to realise online applications for industrial automation practice. Festo is also using digital communication to support its customers throughout their digital journey. This digital journey guides customers reliably and comprehensively through the Festo portfolio, from information procurement and configuration through ordering and delivery to commissioning and maintenance, or even to the technical training offered by Festo Didactic.
For more information contact Kershia Beharie, Festo, +27 86 003 3786, kershia.beharie@festo.com, www.festo.co.za
Credit(s)
Further reading:
maxon drives are heading to the Red Planet
Third Quarter 2020, DNH Tradeserve , Editor's Choice
NASA is sending its fifth rover to Mars. Its main mission is to collect soil samples that will be analysed on Earth at a later time. The rover will also carry a helicopter that will perform the first flights on the Red Planet. maxon's precision DC and BLDC motors will be used for numerous mission-critical tasks.
Read more...
---
The new mobility: how sensors control the cobots of the future
Third Quarter 2020, SICK Automation Southern Africa , Editor's Choice
The ongoing development of small, powerful and flexibly positionable robots that can collaborate with humans is progressing in leaps and bounds. Sensors from SICK Automation are an important component. 
...
Read more...
---
Innovative mobile robots
Third Quarter 2020, Omron Electronics , Editor's Choice
Tailor-made mobile robotics revolutionise human-machine collaboration in the automotive industry.
Read more...
---
From the editor's desk: The future is calling
Third Quarter 2020, Technews Publishing , Editor's Choice
The move to level 2 has brought a feeling of renewal. At last we can start thinking ahead and contemplating the future in this new digital world. SAFPA for one has taken the leap, and has engaged an association 
...
Read more...
---
Milling machines for the aircraft industry
Third Quarter 2020, Beckhoff Automation , Editor's Choice, Electrical switching & drive systems & components
In aircraft construction, exceptional component quality and precision are crucial. However sheet-metal aircraft parts are often very large, making machining and handling problematic. Harmuth CNC-Frästechnik 
...
Read more...
---
The role of hydraulics and pneumatics in smart mining technologies
Third Quarter 2020 , Editor's Choice, Pneumatic systems & components
A Bosch Rexroth South Africa perspective.
Read more...
---
Rethinking pneumatic technology for the factories of the future
Third Quarter 2020, Parker Hannifin - Sales Company South Africa , Editor's Choice, Pneumatic systems & components
As manufacturing continues its rapid journey to digitalisation, one must ask, what will become of conventional technologies? Take pneumatics for example, which remains based on the age old principle of 
...
Read more...
---
Do all wireless solutions solve real industry problems?
Third Quarter 2020, Festo South Africa , Editor's Choice, Pneumatic systems & components
Wireless technology makes use of devices that allow us to communicate without using cables or wires and it plays a role in solving complex engineering problems. With this platform machines can communicate 
...
Read more...
---
The future of collaborative robots
Third Quarter 2020, Omron Electronics , Editor's Choice, Robotics & Mechatronics
Collaborative robots (cobots) that can work safely in the same environment as people have an important role in enabling flexible manufacturing and creating a competitive advantage for companies. A new 
...
Read more...
---
Simplified access to HIV tests
Second Quarter 2020 , Editor's Choice
Roche has developed the Cobas Plasma Separation Card (PSC), a new technology that simplifies and improves the examination and monitoring of HIV patients, particularly in remote areas. For the first time, 
...
Read more...
---