printer friendly version
Robots in the medical arena
1 August 2020 Editor's Choice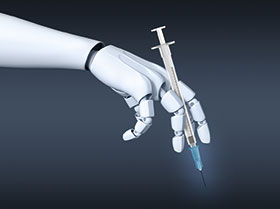 The Coronavirus outbreak has highlighted use cases for mobile robotics to successfully disinfect, monitor, surveil and handle and deliver materials. These proven use cases will propel the overall mobile robotics market to $23 billion by 2021, states global tech market advisory firm, ABI Research.
"Crises shift perceptions on what is possible regarding investment and transformative action on the part of both private and government actors. By the time the COVID-19 pandemic has passed, robots will be mainstreamed across a range of applications and markets," says Rian Whitton, senior analyst at ABI Research.
The virus has been a good opportunity for companies to display robots for public applications. One of the more popular has been deploying mobile unmanned platforms with UV light to disinfect facilities. Danish company UVD Robots is reaping the benefits of this opportunity and is scaling up deployments of robots to disinfect hospitals. US-based Germ Falcon is offering a similar UV disinfection solution for aircraft, while Chinese TMiRob is deploying disinfection robots in Wuhan. "Automating disinfection is a key part of maintaining health and safety and could be one of the major bright spots in the response to COVID-19," Whitton points out.
Drones have also been deployed to enforce curfews and surveil areas for security purposes. This represents a big opportunity for aerospace and drone companies to increase sales to government agencies. ABI Research expects the small drone delivery market to reach $414 million by 2021 and $10.4 billion by 2030.
In the short term, to enforce quarantine mandates, governments will need to increase their security apparatuses, as well as the productivity of their medical agencies. Robots will be key to achieving that through disinfection, monitoring and surveillance. Furthermore, the shutting down of households and even ships represents a chance for robot delivery companies (for both land and air) to display their worth. The drone delivery market could take its experience with transporting supplies in the developing world and scale up their operations in the most affected countries.
Long-term, COVID-19 is leading to a significant reassessment of the global manufacturing supply chain. America's dependence on Chinese imports for basic equipment and medicines is becoming a contentious issue and government representatives are already interpreting the crisis as a chance to revitalise the campaign to reshore more manufacturing capacity to the domestic market. If this translates into more significant measures by governments to diversify or reshore the manufacturing of key goods, this could bode very well for the robotics industry, as such changes would require big increases in capex and productivity improvements within developed countries.
COVID-19 represents a disaster for robotics vendors building solutions for developed markets in manufacturing, industry and the supply chain. But for vendors targeting markets closer to government, such as health, security and defence, it represents a big opportunity. Whitton recommends that "industrial players develop customised solutions for non-manufacturing use cases or look to build comprehensive solutions for enabling a scale-up in medical supply manufacturing. For mobile robotics vendors and software companies targeting more nascent markets, this represents a big chance to highlight the importance of robotics for dealing with national emergencies, as well as mitigating the economic shock."
For more information contact ABI Research, +44 203 326, 0140, www.abiresearch.com
Further reading:
maxon drives are heading to the Red Planet
Third Quarter 2020, DNH Tradeserve , Editor's Choice
NASA is sending its fifth rover to Mars. Its main mission is to collect soil samples that will be analysed on Earth at a later time. The rover will also carry a helicopter that will perform the first flights on the Red Planet. maxon's precision DC and BLDC motors will be used for numerous mission-critical tasks.
Read more...
---
The new mobility: how sensors control the cobots of the future
Third Quarter 2020, SICK Automation Southern Africa , Editor's Choice
The ongoing development of small, powerful and flexibly positionable robots that can collaborate with humans is progressing in leaps and bounds. Sensors from SICK Automation are an important component. 
...
Read more...
---
Innovative mobile robots
Third Quarter 2020, Omron Electronics , Editor's Choice
Tailor-made mobile robotics revolutionise human-machine collaboration in the automotive industry.
Read more...
---
From the editor's desk: The future is calling
Third Quarter 2020, Technews Publishing , Editor's Choice
The move to level 2 has brought a feeling of renewal. At last we can start thinking ahead and contemplating the future in this new digital world. SAFPA for one has taken the leap, and has engaged an association 
...
Read more...
---
Milling machines for the aircraft industry
Third Quarter 2020, Beckhoff Automation , Editor's Choice, Electrical switching & drive systems & components
In aircraft construction, exceptional component quality and precision are crucial. However sheet-metal aircraft parts are often very large, making machining and handling problematic. Harmuth CNC-Frästechnik 
...
Read more...
---
The role of hydraulics and pneumatics in smart mining technologies
Third Quarter 2020 , Editor's Choice, Pneumatic systems & components
A Bosch Rexroth South Africa perspective.
Read more...
---
Rethinking pneumatic technology for the factories of the future
Third Quarter 2020, Parker Hannifin - Sales Company South Africa , Editor's Choice, Pneumatic systems & components
As manufacturing continues its rapid journey to digitalisation, one must ask, what will become of conventional technologies? Take pneumatics for example, which remains based on the age old principle of 
...
Read more...
---
Do all wireless solutions solve real industry problems?
Third Quarter 2020, Festo South Africa , Editor's Choice, Pneumatic systems & components
Wireless technology makes use of devices that allow us to communicate without using cables or wires and it plays a role in solving complex engineering problems. With this platform machines can communicate 
...
Read more...
---
The future of collaborative robots
Third Quarter 2020, Omron Electronics , Editor's Choice, Robotics & Mechatronics
Collaborative robots (cobots) that can work safely in the same environment as people have an important role in enabling flexible manufacturing and creating a competitive advantage for companies. A new 
...
Read more...
---
Moving into 2020 with Festo digitalised products
Second Quarter 2020, Festo South Africa , Editor's Choice
HoloLens, mobile phones, 3D printing and smart glasses – the gadgets that captured the public imagination in the blockbuster movie 'Back to the Future' over 30 years ago have now become a reality, all 
...
Read more...
---