printer friendly version
Critical support for essential service providers
1 August 2020 Editor's Choice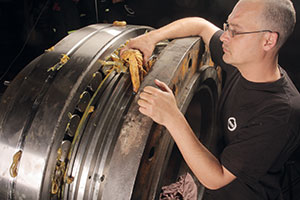 BMG has been authorised to provide engineering components and support services to businesses approved as essential service providers, during the country's COVID-19 lockdown period.
"As a customer-driven business, the BMG team remains committed to making sure industry is able to continue operating as efficiently and as safely as possible during this difficult time. We are pleased to have been given permission from the Companies and Intellectual Property Commission (CIPC) to provide crucial engineering components and support, ensuring continuous operation of services throughout the country," explains Darryn Wright, group marketing executive for Engineering Solutions Group (ESG), part of Invicta Holdings. "We are determined to keep the wheels of industry turning and to help the people of our country by providing critical engineering components.
The team is on hand to assist essential service customers in many sectors, including food and beverage plants, water and waste water treatment facilities, coal mines and petrochemical plants. It also works closely with service providers to power generation and pharmaceutical plants, as well as in agriculture, ports, rail and road facilities.
BMG's distribution centre in Droste Park, Johannesburg, is fully stocked to help and support customers around the country and into Africa for essential equipment and components. "Our brave and committed technical support and field service teams are also on hand to assist our essential service customers in any way we can," he concludes.
For more information contact Darryn Wright, Engineering Solutions Group, +27 11 620 1516, darrynw@bmgworld.net, www.bmgworld.net
Further reading:
maxon drives are heading to the Red Planet
Third Quarter 2020, DNH Tradeserve , Editor's Choice
NASA is sending its fifth rover to Mars. Its main mission is to collect soil samples that will be analysed on Earth at a later time. The rover will also carry a helicopter that will perform the first flights on the Red Planet. maxon's precision DC and BLDC motors will be used for numerous mission-critical tasks.
Read more...
---
The new mobility: how sensors control the cobots of the future
Third Quarter 2020, SICK Automation Southern Africa , Editor's Choice
The ongoing development of small, powerful and flexibly positionable robots that can collaborate with humans is progressing in leaps and bounds. Sensors from SICK Automation are an important component. 
...
Read more...
---
Innovative mobile robots
Third Quarter 2020, Omron Electronics , Editor's Choice
Tailor-made mobile robotics revolutionise human-machine collaboration in the automotive industry.
Read more...
---
From the editor's desk: The future is calling
Third Quarter 2020, Technews Publishing , Editor's Choice
The move to level 2 has brought a feeling of renewal. At last we can start thinking ahead and contemplating the future in this new digital world. SAFPA for one has taken the leap, and has engaged an association 
...
Read more...
---
Milling machines for the aircraft industry
Third Quarter 2020, Beckhoff Automation , Editor's Choice, Electrical switching & drive systems & components
In aircraft construction, exceptional component quality and precision are crucial. However sheet-metal aircraft parts are often very large, making machining and handling problematic. Harmuth CNC-Frästechnik 
...
Read more...
---
The role of hydraulics and pneumatics in smart mining technologies
Third Quarter 2020 , Editor's Choice, Pneumatic systems & components
A Bosch Rexroth South Africa perspective.
Read more...
---
Rethinking pneumatic technology for the factories of the future
Third Quarter 2020, Parker Hannifin Sales Company South , Editor's Choice, Pneumatic systems & components
As manufacturing continues its rapid journey to digitalisation, one must ask, what will become of conventional technologies? Take pneumatics for example, which remains based on the age old principle of 
...
Read more...
---
Do all wireless solutions solve real industry problems?
Third Quarter 2020, Festo South Africa , Editor's Choice, Pneumatic systems & components
Wireless technology makes use of devices that allow us to communicate without using cables or wires and it plays a role in solving complex engineering problems. With this platform machines can communicate 
...
Read more...
---
The future of collaborative robots
Third Quarter 2020, Omron Electronics , Editor's Choice, Robotics & Mechatronics
Collaborative robots (cobots) that can work safely in the same environment as people have an important role in enabling flexible manufacturing and creating a competitive advantage for companies. A new 
...
Read more...
---
Moving into 2020 with Festo digitalised products
Second Quarter 2020, Festo South Africa , Editor's Choice
HoloLens, mobile phones, 3D printing and smart glasses – the gadgets that captured the public imagination in the blockbuster movie 'Back to the Future' over 30 years ago have now become a reality, all 
...
Read more...
---