printer friendly version
Mobile robots for quiet locations
1 August 2020 Editor's Choice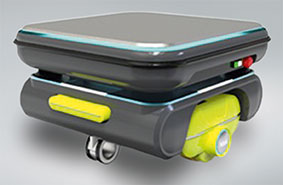 NSK has developed an innovative direct-drive wheel unit aimed at OEMs looking to add mobility to their autonomous or collaborative robots. Specifically designed for use in quiet environments such as hospitals, hotels, offices and libraries, robots fitted with the new wheel unit can efficiently carry and move loads up to 100 kg without disturbing people.
The major obstacle with systems like conventional autonomous guided vehicles used in factories and warehouses is the noise they make. In contrast, the NSK direct-drive wheel unit is much quieter, facilitating use in public spaces and non-manufacturing environments. Settings such as service sector businesses and public facilities require robots that operate quietly to avoid impeding conversations and disturbing people from their tasks.
The quiet nature of NSK's wheel unit is attributed to its gearless structure (direct-drive motor), which leverages the technology behind the company's Megatorque Motor to eliminate the operating noise generated by typical gearboxes. Using the Megatorque Motor as a wheel was a new concept and NSK had to invent ways of employing the system's parts to create the optimal specification at a reasonable cost.
As well as low noise output, the wheel unit is designed for safe operation around people and is ideal for use in service robots, power-assist push carts and other collaborative robot (cobot) applications. A key feature of the design is its 'back-driveability', which makes for easy reversion to push/pull manual operations in the event of an issue.
In use, a newly developed dedicated drive controls two wheel units simultaneously via simple signals. The drive is equipped with sensors measuring wheel rotation, acceleration, tilt and other useful parameters. Signals from the sensors can be output for use by an on-board PC in autonomous robot applications.
The development process has been intensive to ensure the delivery of a high quality, technically competent and functionally robust solution. A broad range of existing technologies was leveraged, including mechatronics, controls and software, with NSK's team of experts tasked with engineering a system that could fulfil a new robotics market. A key part of this work was obtaining the opinions of people who worked in places like hospitals and libraries, to find out what kind of robot would provide the optimum solution for such environments. After all, alongside the desire to drive a new frontier in robotics, NSK also has the ambition of bringing useful robots closer to daily life.
For more information contact Geraldene Govender, NSK South Africa, +27 11 458 3600</nobr>, nsk-sa@nsk.com, www.nsk.com
Further reading:
maxon drives are heading to the Red Planet
Third Quarter 2020, DNH Tradeserve , Editor's Choice
NASA is sending its fifth rover to Mars. Its main mission is to collect soil samples that will be analysed on Earth at a later time. The rover will also carry a helicopter that will perform the first flights on the Red Planet. maxon's precision DC and BLDC motors will be used for numerous mission-critical tasks.
Read more...
---
The new mobility: how sensors control the cobots of the future
Third Quarter 2020, SICK Automation Southern Africa , Editor's Choice
The ongoing development of small, powerful and flexibly positionable robots that can collaborate with humans is progressing in leaps and bounds. Sensors from SICK Automation are an important component. 
...
Read more...
---
Innovative mobile robots
Third Quarter 2020, Omron Electronics , Editor's Choice
Tailor-made mobile robotics revolutionise human-machine collaboration in the automotive industry.
Read more...
---
From the editor's desk: The future is calling
Third Quarter 2020, Technews Publishing , Editor's Choice
The move to level 2 has brought a feeling of renewal. At last we can start thinking ahead and contemplating the future in this new digital world. SAFPA for one has taken the leap, and has engaged an association 
...
Read more...
---
Milling machines for the aircraft industry
Third Quarter 2020, Beckhoff Automation , Editor's Choice, Electrical switching & drive systems & components
In aircraft construction, exceptional component quality and precision are crucial. However sheet-metal aircraft parts are often very large, making machining and handling problematic. Harmuth CNC-Frästechnik 
...
Read more...
---
The role of hydraulics and pneumatics in smart mining technologies
Third Quarter 2020 , Editor's Choice, Pneumatic systems & components
A Bosch Rexroth South Africa perspective.
Read more...
---
Rethinking pneumatic technology for the factories of the future
Third Quarter 2020, Parker Hannifin - Sales Company South Africa , Editor's Choice, Pneumatic systems & components
As manufacturing continues its rapid journey to digitalisation, one must ask, what will become of conventional technologies? Take pneumatics for example, which remains based on the age old principle of 
...
Read more...
---
Do all wireless solutions solve real industry problems?
Third Quarter 2020, Festo South Africa , Editor's Choice, Pneumatic systems & components
Wireless technology makes use of devices that allow us to communicate without using cables or wires and it plays a role in solving complex engineering problems. With this platform machines can communicate 
...
Read more...
---
The future of collaborative robots
Third Quarter 2020, Omron Electronics , Editor's Choice, Robotics & Mechatronics
Collaborative robots (cobots) that can work safely in the same environment as people have an important role in enabling flexible manufacturing and creating a competitive advantage for companies. A new 
...
Read more...
---
Moving into 2020 with Festo digitalised products
Second Quarter 2020, Festo South Africa , Editor's Choice
HoloLens, mobile phones, 3D printing and smart glasses – the gadgets that captured the public imagination in the blockbuster movie 'Back to the Future' over 30 years ago have now become a reality, all 
...
Read more...
---