printer friendly version
State-of-the-art customer portal for Konecranes
Third Quarter 2020
Other technologies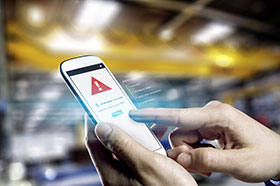 Investing in cranes and lifting systems for a plant or factory is one of the biggest financial undertakings that a company considers. Issues such as operator performance, safety management, maintenance and equipment monitoring are key elements to keep lifting equipment working smoothly and efficiently. Today, through digitisation, maintenance activities, crane usage and condition information can be easily accessed through the konecranes.com customer portal and Truconnect Remote Monitoring.
"Quick, reliable and easy access to your crane information and how that impacts your lifting equipment's safety, performance, maintenance and operation, is critical for positive corrective intervention, and all it takes is sensors and a modem attached to the crane to enable the data to start flowing. Machinery not performing as required, operator errors and delayed crucial maintenance are all issues that can affect safety and increase costs. Equipping cranes with Truconnect and utilising the information on the yourKonecranes app on the website can have a positive impact on safety and productivity," said managing director, Emil Berning.
"The key to the operational success of any crane, fleet of cranes or lifting equipment is the identification of safety or production risks, the establishment of proper preventive maintenance schedules and the correction of operator errors. Today, in our real-time and online world, our customers expect transparency and speed, and we do that through our digital ecosystem to bring safety and productivity improvements to their operations," added Berning.
Truconnect Remote Service
Truconnect is a suite of remote service products and applications to support maintenance operations and drive improvements in safety and productivity. Truconnect Remote Monitoring collects condition, alerts/faults, usage and operating data from the crane control system and sensors on an asset. Remote Monitoring data is aggregated at your konecranes.com site, along with inspection and maintenance data, enabling a comprehensive view and analysis of equipment condition, maintenance and operation.
Collected data varies depending on asset make and model, but typically covers condition and expected service life of critical components, running time, lifted loads, motor starts, work cycles and emergency stops. Additional Truconnect options allow certain assets to be equipped with hoisting brake and/or inverter monitoring.
Truconnect Remote Monitoring notifies you of brake service life, hoist overloads, emergency stops and over-temperature occurrences through text or email alerts, allowing for prompt response.
"Whilst remote connection is available as a standard option on new Konecranes equipment, it can also be installed as a retrofit to existing cranes, even those not made by Konecranes," said Marius Naude. Truconnect is the quickest way to address a non-performance issue on your crane, helping to increase the lifespan of the crane and quickly address and correct operational errors. For example, following prescribed crane stoppage procedures can save on brake pad repair costs, which are an expensive replacement item when you are replacing them four to five times more often than you should be," Naude explained.
yourKonecranes
Whether for a single crane or an entire fleet, the information and data on the yourKonecranes customer portal can be used to make a telling difference on the performance of your equipment and how it is managed. Having all your crane maintenance and usage information in one place makes it easier to manage your high cost capital equipment.
The yourKonecranes customer portal streamlines data access by organising large volumes of information – including inspection and maintenance findings, TruconnecT data, asset lists and service spend – into easy-to-read graphs and charts in a single location.
Each connected asset has its own Truconnect page where you can quickly see a summary of items that require attention, the most significant problem that could affect the safe operation of the crane, and alerts. You can easily dive into more detailed information on crane condition, alerts and operating statistics. Insights can be drawn by observing anomalies, patterns and trends, helping you make informed maintenance decisions.
A valuable feature of yourKonecranes is the Business Review section. Service KPIs, spend information and Truconnect alerts and usage summary can be viewed for any selected time frame. This information is used during our consultative process for an in-depth assessment of the service relationship – looking at progress, feedback and documented value.
Berning commented that in today's difficult climate, the utilisation of advanced technology such as yourKonecranes and Truconnect for providing factual data online in real time helps make maintenance and budgetary scheduling more precise, and therefore more effective.
For more information contact Jan Nel, Konecranes, jan.nel@konecranes.com, www.konecranes.com
Further reading:
Cable carrier systems for extreme applications
Third Quarter 2020, Bearing Man Group T/A BMG , Other technologies
BMG's extensive portfolio of Tsubaki Kabelschlepp cable carrier systems and safety cables includes S/SX steel cable carriers for heavy mechanical loads in harsh environments, including corrosive conditions. 
...
Read more...
---
Control of dust and spills in conveyor systems
Third Quarter 2020 , Other technologies
BLT World's contact-free Airscrape conveyor belt skirting system, developed by Scrapetec, eliminates dust and spills on belts and transfers and minimises maintenance requirements of conveyor systems. 
...
Read more...
---
Simplify your gearbox checks
Third Quarter 2020 , Other technologies
Instead of time-consuming down days to check gearbox oil levels in your plant or mill, Lubrication Engineers (LE) suggests visual on-the-run maintenance checks. Mark Jones, lubrication reliability 
...
Read more...
---
Condition monitoring for bottling and canning
Third Quarter 2020, Bearing Man Group T/A BMG , Other technologies
BMG's Light Materials Handling division has introduced a new condition monitoring system, which has been developed to automatically monitor the coefficient of friction of bottling or canning lines, ensuring 
...
Read more...
---
Simplify your gearbox checks
Third Quarter 2020 , Other technologies
Instead of time consuming down days to check gearbox oil levels in your plant or mill, Lubrication Engineers (LE) suggests visual on-the-run maintenance checks. Mark Jones, lubrication reliability 
...
Read more...
---
Loctite gasket sealant pen
Third Quarter 2020 , Other technologies
Bearings International (BI) offers optimal solutions for virtually all adhesive and sealant requirements in the form of the Loctite brand of adhesives, sealants and surface treatments. An example is the 
...
Read more...
---
SMC brings Industry 4.0 solutions to South Africa
Third Quarter 2020, SMC Corporation South Africa , Other technologies
SMC's wireless valve banks can now communicate wirelessly in IoT applications.
Read more...
---
Enabling the smart factory
Third Quarter 2020, Schneider Electric South Africa , Other technologies
Smart manufacturing practices making use of connected technology hold the power to improve efficiency and optimise factory operations. However the increased use of IIoT comes with the threat of a cyber 
...
Read more...
---
Transformation lessons from the world's first shared smart factory
Third Quarter 2020, Rockwell Automation , Other technologies
Creating a breakthrough business in the digital economy needs a fearless and inventive approach. It pays to be different and so businesses need to think about what they are doing to push the boundaries. 
...
Read more...
---
Efficient machine tools increase productivity
Third Quarter 2020, ifm - South Africa , Other technologies
Machine tools are indispensable in modern production processes. They are mainly used in the automotive industry, mechanical engineering and in drive technology. In practice, the machine tool sector is 
...
Read more...
---