printer friendly version
maxon drives are heading to the Red Planet
17 September 2020 Editor's Choice
maxon's drive systems are very familiar with Mars. its drives have been used in virtually every successful robotic mission over the last three decades. There are now more than 100 of them on the Red Planet and there are likely to be more soon. The launch window for NASA's next mission opened on 22 July. An Atlas V rocket launched the new Perseverance rover on its way to Mars, where it will be searching for signs of previous life on the planet. Its most important job is to take multiple soil samples, seal them in containers and deposit them on the surface of Mars so that a future mission can return them to Earth. Several maxon motors will be used to handle the samples inside the rover. For example, maxon DC motors are installed in the robotic arm, which moves the samples from station to station. maxon motors will also be used for sealing and depositing the sample containers.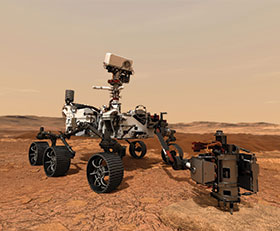 Image copyright NASA/JPL-Caltech.
NASA's Jet Propulsion Laboratory (JPL) is carrying out the mission, and has asked maxon to produce ten drives for the rover. As with almost all previous Mars missions, these drives are based on standard products from maxon's catalogue with modifications. For the first time, NASA is using brushless DC motors, including nine EC 32 flat and one EC 20 flat in combination with a GP 22 UP planetary gearhead. Working closely with JPL specialists, maxon engineers developed the drives over several years and tested them thoroughly to achieve the highest standards of quality. "We've learned a lot from this exciting project," says Robin Phillips, head of the maxon SpaceLab. "We now have very broad expertise in space applications and have established quality assurance processes that meet the expectations of the industry. Customers from other industries such as the medical sector, where requirements are often similar, can also benefit from this know-how." Space missions place the highest demands on drive systems. This includes vibrations during the rocket launch, vacuum during the journey, impacts on landing, and the harsh conditions on the surface of Mars, where temperatures fluctuate between -125°C and +20°C and dust penetrates everywhere.
maxon DC motors control the Mars helicopter
The Perseverance rover is expected to land on Mars on 18 February 2021 – but it won't be alone. A drone helicopter called Ingenuity will be attached to the underside of the rover. It weighs 1,8 kilograms, is solar powered and will perform several short flights, as well as take aerial images. The main goal of this experiment is to test the concept for further drones of this kind. maxon has six brushed DCX motors with a diameter of 10 millimetres controlling the tilt of the rotor blades and the direction of flight. The drives are very light, dynamic and highly energy efficient. These properties are crucial, because every gram counts on the Mars helicopter. Flying on Mars is not easy. The atmosphere is extremely thin, roughly comparable to the conditions on Earth at an altitude of 30 kilometres. The drone helicopter has flown in a simulated test environment in the JPL laboratory. Whether it will lift off on Mars remains to be seen. First, other obstacles, such as the rocket launch, must be successful. "We hope that everything goes well and that we'll soon see our drives in action on Mars," says maxon CEO, Eugen Elmiger. "We're all keeping our fingers crossed."
For more information contact Hans Burri, DNH Tradeserve, +27 11 468 2722, hans.burri@dnhtrade.co.za, www.dnhtrade.co.za
Credit(s)
Further reading:
From the editor's desk: Life after coal
Fourth Quarter 2020 , Editor's Choice
Renewable energy has been around for a while. But as attractive as the concept might have been, the hard reality was always that it just did not make economic sense. I remember not so many years ago doing 
...
Read more...
---
The new mobility: how sensors control the cobots of the future
Third Quarter 2020, SICK Automation Southern Africa , Editor's Choice
The ongoing development of small, powerful and flexibly positionable robots that can collaborate with humans is progressing in leaps and bounds. Sensors from SICK Automation are an important component. 
...
Read more...
---
Innovative mobile robots
Third Quarter 2020, Omron Electronics , Editor's Choice
Tailor-made mobile robotics revolutionise human-machine collaboration in the automotive industry.
Read more...
---
From the editor's desk: The future is calling
Third Quarter 2020 , Editor's Choice
The move to level 2 has brought a feeling of renewal. At last we can start thinking ahead and contemplating the future in this new digital world. SAFPA for one has taken the leap, and has engaged an association 
...
Read more...
---
Milling machines for the aircraft industry
Third Quarter 2020, Beckhoff Automation , Editor's Choice, Electrical switching & drive systems & components
In aircraft construction, exceptional component quality and precision are crucial. However sheet-metal aircraft parts are often very large, making machining and handling problematic. Harmuth CNC-Frästechnik 
...
Read more...
---
The role of hydraulics and pneumatics in smart mining technologies
Third Quarter 2020 , Editor's Choice, Pneumatic systems & components
A Bosch Rexroth South Africa perspective.
Read more...
---
Rethinking pneumatic technology for the factories of the future
Third Quarter 2020, Parker Hannifin - Sales Company South Africa , Editor's Choice, Pneumatic systems & components
As manufacturing continues its rapid journey to digitalisation, one must ask, what will become of conventional technologies? Take pneumatics for example, which remains based on the age old principle of 
...
Read more...
---
Do all wireless solutions solve real industry problems?
Third Quarter 2020, Festo South Africa , Editor's Choice, Pneumatic systems & components
Wireless technology makes use of devices that allow us to communicate without using cables or wires and it plays a role in solving complex engineering problems. With this platform machines can communicate 
...
Read more...
---
The future of collaborative robots
Third Quarter 2020, Omron Electronics , Editor's Choice, Robotics & Mechatronics
Collaborative robots (cobots) that can work safely in the same environment as people have an important role in enabling flexible manufacturing and creating a competitive advantage for companies. A new 
...
Read more...
---
Moving into 2020 with Festo digitalised products
Second Quarter 2020, Festo South Africa , Editor's Choice
HoloLens, mobile phones, 3D printing and smart glasses – the gadgets that captured the public imagination in the blockbuster movie 'Back to the Future' over 30 years ago have now become a reality, all 
...
Read more...
---