printer friendly version
Efficient pneumatic performance with multifunctional sensor
Fourth Quarter 2020
Pneumatic systems & components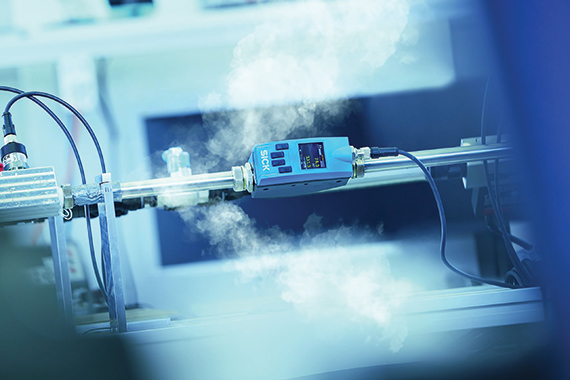 SICK Automation's recently introduced multifunctional FTMg (flow thermal meter for gases) flow sensor detects pneumatic system leakages well before pressure loss causes machine failure. It is engineered to output up to eight process parameters – flow speed, flow volume, cumulative volume, mass flow, cumulative mass, energy consumption, current pressure and temperature – and concurrently measures flow, temperature and the process pressure of non-corrosive gases while detecting leakages.
Available in three nominal pipe diameter sizes and process connections, the simultaneous measurement of flow, pressure and temperature eliminates the need for three sensors. Characterised by a light, compact and user-friendly construction, the sensor's all-in-one design eliminates unnecessary leakage risks in pneumatic systems. The technologically advanced sensor helps reduce the operating costs of producing, supplying and distributing compressed air, leading to more efficient pneumatically operated processes.
The sensor is engineered to provide transparent consumption rates and reports them as kilowatt-hours (kWh) as part of an energy management system according to DIN EN 5001. Standard with both analog and digital outputs, FTMg meets modern day requirements on controller and cloud connectivity using IO-Link or Ethernet with web server and OPC-Unified Architecture (OPC UA). The I/O-Link interface provides the measured values efficiently and all process data can be accessed on a PC, through a mobile end device or an automation system.
True energy consumption transparency for energy management systems according to DIN EN 5000 is achieved through the dynamic calorimetric measurement principle of the sensor. It detects the smallest changes in the consumption system, making it possible to localise unexpected pressure losses. All pressure losses are visualised as either flat or steep edges on the pressure curve, which allows for direct interpretation. Reported in kWh, the measured energy loss is offset against the energy fed into the compressed air supply network, resulting in true energy consumption transparency.
Remote access to the FTMg via an integrated web server is available, which allows for remote reading and visualisation of measurement data from the previous seven days. Additionally, statistical analyses built into the flow meter facilitates setting up basic monitoring functions like detecting spikes or changes in average energy consumption, for example. An Ethernet based variant that transmits data using the OPC UA standard is also available, and enables measurement information to be used for more than condition monitoring or facility management. It can, for example, be used in production- or process-oriented Industry 4.0 applications and dashboards.
The FTMg from SICK has broken new ground with its versatile measurement and analysis technology. In summary, the SICK Automation flow thermal meter for gases enables transparent energy consumption, early leakage detection, and the interpretation and comparison of energy changes and losses. All of these benefits and system productivity improvements result in a short amortisation period for this sensor solution, which is also future-proof because of the connectivity options provided.
Credit(s)
Further reading:
Locally built air dryers for hospitals
Fourth Quarter 2020, Artic Driers International , Pneumatic systems & components
Artic Driers recently partnered with an NGO (non-governmental organisation) called Save-P to develop a locally designed compressed air dryer and filter bank providing breathing-quality air for hospitals 
...
Read more...
---
Festo Motion Terminal VTEM bolsters productivity
Third Quarter 2020, Festo , Pneumatic systems & components
The world's first valve to be controlled by apps.
Read more...
---
The new mobility: how sensors control the cobots of the future
Third Quarter 2020, SICK Automation Southern Africa , Editor's Choice
The ongoing development of small, powerful and flexibly positionable robots that can collaborate with humans is progressing in leaps and bounds. Sensors from SICK Automation are an important component. 
...
Read more...
---
SMC launches wireless valve bank in SA
Third Quarter 2020 , Pneumatic systems & components
In response to customer demand for a reliable communication system, which could limit the number of cables needed to communicate between multiple valve banks/field sensors and a PLC, a wireless communication 
...
Read more...
---
The role of hydraulics and pneumatics in smart mining technologies
Third Quarter 2020 , Editor's Choice, Pneumatic systems & components
A Bosch Rexroth South Africa perspective.
Read more...
---
Quick, easy leak detection
Third Quarter 2020, SKF South Africa , Pneumatic systems & components
Compressed air production is an integral part of manufacturing plants but it is also one of the largest energy consumers. Air leaks amplify the load on a compressor, leading to higher electricity consumption 
...
Read more...
---
Rethinking pneumatic technology for the factories of the future
Third Quarter 2020, Parker Hannifin - Sales Company South Africa , Editor's Choice, Pneumatic systems & components
As manufacturing continues its rapid journey to digitalisation, one must ask, what will become of conventional technologies? Take pneumatics for example, which remains based on the age old principle of 
...
Read more...
---
SA-built air dryer for food and beverage
Third Quarter 2020, Artic Driers International , Pneumatic systems & components
The SA Series of air dryer offers an ideal solution for cleaning and drying compressed air for any food and beverage operation.
Read more...
---
Do all wireless solutions solve real industry problems?
Third Quarter 2020, Festo South Africa , Editor's Choice, Pneumatic systems & components
Wireless technology makes use of devices that allow us to communicate without using cables or wires and it plays a role in solving complex engineering problems. With this platform machines can communicate 
...
Read more...
---
SMC offers services as well as components
Second Quarter 2020 , Pneumatic systems & components
Besides being a leading supplier of industrial automation components, SMC South Africa also offers value-added services. One of these is in-house control panel design and construction. This takes a labour-intensive 
...
Read more...
---