printer friendly version
Addressing the new normal in food manufacturing
Fourth Quarter 2020
Other technologies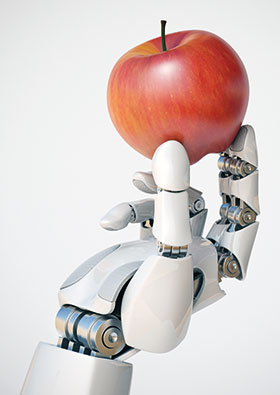 The coronavirus pandemic has posed immense challenges to companies of all sizes across all industries. According to Deloitte Global, food and beverage (F&B) companies are facing significantly reduced consumption as well as disrupted supply chains. 
But how can manufacturers adapt their business strategies and production processes, factories and machinery to the new circumstances – both in terms of the pandemic and in the longer term? The current crisis offers a chance to rethink outdated procedures and to use automation with the aim to boost productivity, efficiency and quality. F&B; companies that want to prepare for the future should be appraising the opportunities and possibilities that innovative robotics, sensor technology and holistic automation approaches provide. This project should consider four key market drivers and perspectives: workforce, product and packaging quality, production flexibility and sustainability.
Automation in this context does not only mean robotics or artificial intelligence, but a well thought out overall structure of fixed, collaborative and mobile robotics; monitoring and control technology; and sensors and vision technology tailored to the respective production requirements. The various stakeholders and market drivers should not be considered in isolation, but as a whole, and integrated into the future production strategy.
Collaboration and factory harmony are key
The first aspect to be considered in this respect is the employees, the workforce perspective of factory automation. Omron Europe's industry manager for Food and Beverage, comments: "At the moment, there are millions of people employed in these sectors. This number has an enormous impact on producers in terms of costs, but also primarily in terms of the health and safety of human resources. The pandemic has led to developments such as social distancing and tighter safety regulations that companies need to adhere to. Automation can help in overcoming this challenge while also improving security and efficiency in the longer term." An example is a cobot or mobile robot solution that can relieve employees from challenging and repetitive tasks so they can focus on more value-added and fulfilling roles.
Daniela Moles, communication expert at Omron Solution Partner LCS Group, explains it as follows: "We carried out a project where we implemented a fully automatic system for the handling of heavy rolls of fabric that weigh up to 30 kilograms. These rolls were previously handled by humans. Automating this exhausting task meant that the company could support its employees while also boosting efficiency and productivity. The value of automation is in the mix of humans plus machines, robots and artificial intelligence. Collaboration is key. While robots show their advantages when it comes to speed and accuracy, human colleagues can take care of business-critical issues, customer communication and daily individual tasks. Regarding the important aspect of return on investment, companies should increasingly focus on releasing the human labour to do value-added tasks, which is absolutely crucial for producers going forward. Collaborative and mobile robots working alongside their human colleagues assisting in lifting or transporting goods, material and also fulfilling tasks employees can't do because of distance or safety rules.
Product quality and traceability play an increasingly important role
Product and production quality as well as traceability are further aspects that are increasingly important for both manufacturers and customers alike. Barcode quality is one example that is a key element in many applications. Regulations from international organisations like ISO or GS1 are widely adopted, but in addition there may be further project-specific specifications driven by suppliers and customers. This leads to a need for reliable systems and tools that ensure a barcode is correct and readable. Solutions can be adapted so they can also check pack design aspects and package integrity and completeness. Alberto Giordani, product and project manager at Omron Solution Partner, Alfacod, explains: "Innovative solutions can understand the quality grade and if it's decreasing before it's too late. They can therefore plan preventive maintenance actions to avoid potentially costly errors. In the food industry, it is useful to check labels while they are printed by a thermal transfer machine with an integrated barcode verifier on the printer. Customers, especially large distribution companies, want to receive only products with the correct information, labelling and barcodes. If this information is wrong or incomplete, they might return the goods or levy a fine on the supplier."
Information taken from the packaging in the form of codes is also becoming increasingly useful for consumers at the point of purchase. When reading the code at a self-scanning system or the retailer, as seen at larger retail stores, they can get information about allergens or other specific ingredients such as gluten. Consumers are, to a greater extent, taking an interest in information such as country of origin. Manufacturers want to engage with consumers via information provided on the item.
There is a close link between automation and traceability, ultimately protecting the brand reputation of the producer and reducing costs. Another simple example is a verification solution using vision systems or RFID, linked into the production management software. This can help to reduce issues connected with false codes or labels.
Flexibility as the engine of future food manufacturing
Whereas in other industries 'batch size 1', also known as 'lot size 1', is one of the trending topics and goals for manufacturers. The food and beverage industry is still very closely connected to volumes, however it should still be a priority to act in an increasingly flexible and agile way, to fulfil growing customer demand and changing regulations.
Mobile robots and flexible production lines provide companies with valuable support. Daniela Moles describes an LCS customer producing coffee pods: "Our customer receives requests for very different pods, such as normal plastic or reusable, eco-friendly, different colours and different sizes. By implementing a fleet of Omron's mobile robots that can manage the fluctuating demand across periods of time or two entirely different requests, we were able to help them to achieve a more flexible environment within the plant. Being able to adapt and evolve will become even more relevant and important in the future."
Many solutions still rely on inflexible conveyor systems, whereas mobile robots provide the manufacturer with the flexibility to move stock and consumables to the required locations at the right time. Cobots are very easy to train, easy to deploy and transportable, making them a useful companion in achieving more flexibility. Omron mobile robots can change routes quickly, dynamically avoiding obstacles or working on different priorities. They can be customised with special add-ons and accessories that allow for even more flexibility. The latest solution from Omron combines cobot and mobile technology to offer a mobile manipulator or MoMa solution.
On the way to sustainable food manufacturing
According to Price Waterhouse Cooper, three quarters of supermarket customers want to buy products with as little packaging as possible. Packaging also protects the item and informs the customer, so it is a balance between differing drivers. It will come as no surprise that flexible plastic or flexible packaging is still expected to grow in the future. For this reason, companies in the F&B; industry must increasingly think about the materials they use for packaging their products.
Automation is closely connected with sustainability. As a simple and widespread example, automation can control temperature and pressures, ensuring a product is correctly packaged and reducing waste and scrap. A more detailed example would be one where a producer must consider multiple variables such as packaging thickness, ambient temperature and packaging film speeds. This approach requires a system to capture data in real time, analyse it and make decisions. If we are able to process and read through this data, we have all the guidelines in order to work better and implement sustainable actions to achieve a sustainable future.
One good example for innovative technology is Omron's Sysmac AI controller, a smart artificial intelligence solution that collects, analyses and utilises data on edge devices within a controller to prolong equipment longevity and detects abnormalities to prevent failures. It combines control functions of manufacturing lines and equipment with AI processing at manufacturing sites in real time.
Real-time insights are driving the food factory of the future
Looking to the future, with the additional experience of the coronavirus pandemic, companies in the food industry are now called upon to take a close look at new systems and technologies that will help them to reduce the workload on employees, increase the quality of their processes and of products, and act more flexibly and sustainably. They need to look out for smart and connected systems, combining robotics, cobots, vision and sensor technology, as well as strong data collection and analytical capabilities, human machine interaction and full traceability to provide them with real-time insights for a successful and customer-focused future.
Credit(s)
Further reading:
Simultaneously measure vibration, bearing vibration and temperature
Comtest Other technologies
Vibration in rotating machinery is the oscillation of a machine and components such as drive motors, pumps and compressors and the bearings, shafts, gears, belts and other elements that make up mechanical 
...
Read more...
---
Real-time oil condition analysis
Hytec Fluid Technology Other technologies
Oil condition analysis equipment that monitors equipment oil in real-time, enabling any anomalies in the oil to be detected at a very early stage, is now available across Africa from Hytec Fluid Technology 
...
Read more...
---
Superconductivity for aircraft
Editor's Choice Other technologies
In 1911, Dutch physicist Heike Kamerlingh Onnes found himself preoccupied with one question: what happens to the electrical conductivity of pure metals at very low temperatures? During an experiment, 
...
Read more...
---
Professional help for personal care
Omron Electronics Robotics & Mechatronics
When a leading global manufacturer of personal care equipment needed a production solution that combined cost reduction with quality improvement, they came to Omron, a trusted partner they had worked 
...
Read more...
---
Reliable preconfigured fail-safe circuit from Festo
Festo South Africa Other technologies
The preconfigured Festo fail-safe circuit in the ready-to-install control cabinet is a safe and low-cost alternative when it comes to fail-safe technology. It replaces a single-acting actuator and guarantees 
...
Read more...
---
Digital twin for oil and gas industry
Other technologies
To achieve zero unplanned downtime in the upstream and downstream oil and gas industries, practical efficiencies using digitisation are essential. The most accurate and efficient digitisation method to 
...
Read more...
---
Mobile robots transport medical vials
Omron Electronics Robotics & Mechatronics
Established in 1937, Madrid-based company, Normon, has been manufacturing high quality medicines for over
80 years
, serving customers in the pharmaceutical and healthcare sectors throughout Europe and 
...
Read more...
---
Cobot boosts production by 15%
Omron Electronics Robotics & Mechatronics
Topcustom, an Italian producer of custom-made bathroom sinks, has recently transformed part of its operations by deploying a collaborative robot (cobot) from Omron. The new cobot is being used to automate 
...
Read more...
---
Robotics and the potential for the lights-out factory
Omron Electronics Editor's Choice Other technologies
However the 100% automated, fully lights-out factory is not a realistic goal for a large proportion of manufacturing businesses currently operating. A key reason is that manufacturing needs people. Human 
...
Read more...
---
New generation of oil condition monitoring technology
Parker Hannifin - Sales Company South Africa Other technologies
Parker Hannifin's innovative oil condition monitoring technology helps marine operators reduce downtime, reduce costs and protect assets. The DIGI Plus offers rapid on-site and on-board oil condition 
...
Read more...
---