printer friendly version
Land Cruiser wet brakes for mining
First Quarter 2021 Editor's Choice Hydraulic systems & components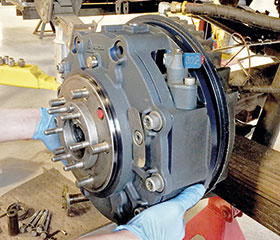 The Toyota Land Cruiser is the vehicle of choice for mining. It is commonly used for moving people, maintenance teams, equipment or emergency response personnel. The toughness of the Land Cruiser is well proven. It is robust, relatively inexpensive, easy to fix, and enjoys excellent parts availability.
Unfortunately, the vehicle's OEM brakes are not built for mining; they compromise safety while suffering frequent and expensive maintenance. Simply put, the brakes were never designed for use in the highly corrosive and abrasive mining world. The linings are exposed to mud, as well as acidic or salty water. The result is brake deterioration and wear. In addition, if the operator forgets to set the parking brake on a steep incline, or if the parking brake is inoperable (a common occurrence), the vehicle can run away. Clearly, a better solution is needed.
Ausco's LC brake system is an ideal alternative. The LC brake is made by Ausco Products in the US. Ausco has a reputation as an expert in brakes for harsh environments. Indeed, it is the number one brake supplier to John Deere and a major supplier to Caterpillar, JCB, CNH, Bell, etc. Ausco manufactures more than thirty different brakes for underground mining equipment worldwide.
The Ausco LC brake is a sealed wet brake system. Similar to other off-highway equipment, the LC uses an oil immersed, multi-disc brake design.
To minimise maintenance and maximise safety, Ausco recognised the need to keep the environment out of the brake. To achieve this, Ausco used its mine-proven Double Grease Barrier sealing system. Experience shows that this is the only sealing system that reliably prevents water and contamination intrusion in mining. Moreover, not only does Ausco's seal design protect the brake, it also protects the axle, as many customers report a dramatic drop in wheel bearing and differential repairs when the LC brake is used.
To keep the brake cool, the LC brake uses an internal cooler that suppresses oil temperatures, even under the heaviest braking conditions. The internal cooler allows the brake to be used at highway speeds, an important feature when a Land Cruiser is required to drive both underground and on-road, for example when used as an ambulance. The LC brake also features high energy capacity carbon linings for maximum life and low maintenance.
The LC features both service and failsafe braking. The service brake works with the OEM master cylinder and booster without the need for intensifiers or other modifications. The failsafe brake ensures that the brake automatically sets to prevent runaways.
The unit comes pre-assembled, ready to drop in and bolt into place. No vehicle modifications or heavy lift equipment are needed for installation or service. The system includes a hose kit that comes with stainless steel lines pre-bent for easy installation. The brakes are designed to allow thirty minute brake replacement for minimal downtime.
The LC brake system also includes a sealed, stainless steel pump pack. The pump kit includes Ausco's patented tow mode, which allows the operator to safely release the failsafe brakes for towing. No jumpers or hand pumps are required, and the system automatically returns to normal operation upon engine startup.
In two recent studies at South African mines, the LC brake outlasted a competitive product by 17:1, lasting 34-36 months compared to the competitor's two-month lifespan.
The Ausco LC brake is approved for both mining and on-road use in South Africa and has SABS 1589 and ECE R13.08 approval. It is now locally available from Axiom Hydraulics in Johannesburg.
For more information contact Lance Tondolo, Axiom Hydraulics, +27 11 334 3068, lance@axiom.org.za, www.axiomsa.co.za
Credit(s)
Further reading:
How to embrace the benefits of smart pneumatics
Third Quarter 2021, Emerson Automation Solutions , Editor's Choice, Pneumatic systems & components
Understand how this challenge creates opportunities
It is important to consider how insights from data can help end-users react to real-time events or even predict the future. For example, the Emerson 
...
Read more...
---
PC-based control runs the stage machinery for Rigoletto
Third Quarter 2021, Beckhoff Automation , Editor's Choice, Electrical switching & drive systems & components
In the production, the court jester Rigoletto becomes a clown. Only the head, encircled by a wide collar, and the hands of the gigantic clown protrude from the lake. Eventually the clown becomes the victim 
...
Read more...
---
Robotics and the potential for the lights-out factory
Third Quarter 2021, Omron Electronics , Editor's Choice, Other technologies
However the 100% automated, fully lights-out factory is not a realistic goal for a large proportion of manufacturing businesses currently operating. A key reason is that manufacturing needs people. Human 
...
Read more...
---
Energy from the power of the moon
Third Quarter 2021, SKF South Africa , Editor's Choice, Shaft power components
It is intended to help reduce climate-damaging CO
2
emissions, slow down global warming and thus build a more sustainable future for generations to come. With the help of modern technology from SKF, 
...
Read more...
---
Electric motors without magnets
Third Quarter 2021 , Editor's Choice, Electrical switching & drive systems & components
Permanent magnets, though, come with their own baggage. 97% of the world's rare earth metal supply comes out of China and state control over such a crucial resource across a number of high-tech industries 
...
Read more...
---
Electro-proportional relief valve
Third Quarter 2021, Axiom Hydraulics , Hydraulic systems & components
The new RPEI provides smooth, precise control of fan speed with full-flow relief to protect the system if the fan motor stalls. It combines an electro-proportional adjustable pilot stage and high-capacity 
...
Read more...
---
A very smart material
Second Quarter 2021 , Editor's Choice, Electrical switching & drive systems & components
Shape memory materials (SMMs) are strong, lightweight materials that have the ability to recover their original shape after being deformed if a stimulus is applied. They can be programmed to remember 
...
Read more...
---
The benefits of collaborative robots
Second Quarter 2021, SMC Corporation South Africa , Editor's Choice, Robotics & Mechatronics
While robotics led the way for the rapid growth of automation, cobots are the democratisation of robotics technology. They eliminate the cost and complex programming that robots usually require while providing much greater flexibility.
Read more...
---
Fast, safe transport on the factory floor
Second Quarter 2021, Omron Electronics , Editor's Choice
The Philips site in Klagenfurt produces over 23 million linear cutting elements for hair and beard trimmers each year. These beard trimmers use lift-and-trim technology: the beard hair is first lifted 
...
Read more...
---
SKF bearings help Mars Rover collect rock
Second Quarter 2021, SKF South Africa , Editor's Choice, Shaft power components
Enabling the Mars Rover's core operations in the harsh environment on Mars are Kaydon RealiSlim thin-section ball bearings, designed and manufactured by SKF at the company's global thin-section bearing 
...
Read more...
---