printer friendly version
Land Cruiser wet brakes for mining
First Quarter 2021 Editor's Choice Hydraulic systems & components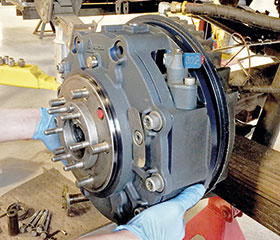 The Toyota Land Cruiser is the vehicle of choice for mining. It is commonly used for moving people, maintenance teams, equipment or emergency response personnel. The toughness of the Land Cruiser is well proven. It is robust, relatively inexpensive, easy to fix, and enjoys excellent parts availability.
Unfortunately, the vehicle's OEM brakes are not built for mining; they compromise safety while suffering frequent and expensive maintenance. Simply put, the brakes were never designed for use in the highly corrosive and abrasive mining world. The linings are exposed to mud, as well as acidic or salty water. The result is brake deterioration and wear. In addition, if the operator forgets to set the parking brake on a steep incline, or if the parking brake is inoperable (a common occurrence), the vehicle can run away. Clearly, a better solution is needed.
Ausco's LC brake system is an ideal alternative. The LC brake is made by Ausco Products in the US. Ausco has a reputation as an expert in brakes for harsh environments. Indeed, it is the number one brake supplier to John Deere and a major supplier to Caterpillar, JCB, CNH, Bell, etc. Ausco manufactures more than thirty different brakes for underground mining equipment worldwide.
The Ausco LC brake is a sealed wet brake system. Similar to other off-highway equipment, the LC uses an oil immersed, multi-disc brake design.
To minimise maintenance and maximise safety, Ausco recognised the need to keep the environment out of the brake. To achieve this, Ausco used its mine-proven Double Grease Barrier sealing system. Experience shows that this is the only sealing system that reliably prevents water and contamination intrusion in mining. Moreover, not only does Ausco's seal design protect the brake, it also protects the axle, as many customers report a dramatic drop in wheel bearing and differential repairs when the LC brake is used.
To keep the brake cool, the LC brake uses an internal cooler that suppresses oil temperatures, even under the heaviest braking conditions. The internal cooler allows the brake to be used at highway speeds, an important feature when a Land Cruiser is required to drive both underground and on-road, for example when used as an ambulance. The LC brake also features high energy capacity carbon linings for maximum life and low maintenance.
The LC features both service and failsafe braking. The service brake works with the OEM master cylinder and booster without the need for intensifiers or other modifications. The failsafe brake ensures that the brake automatically sets to prevent runaways.
The unit comes pre-assembled, ready to drop in and bolt into place. No vehicle modifications or heavy lift equipment are needed for installation or service. The system includes a hose kit that comes with stainless steel lines pre-bent for easy installation. The brakes are designed to allow thirty minute brake replacement for minimal downtime.
The LC brake system also includes a sealed, stainless steel pump pack. The pump kit includes Ausco's patented tow mode, which allows the operator to safely release the failsafe brakes for towing. No jumpers or hand pumps are required, and the system automatically returns to normal operation upon engine startup.
In two recent studies at South African mines, the LC brake outlasted a competitive product by 17:1, lasting 34-36 months compared to the competitor's two-month lifespan.
The Ausco LC brake is approved for both mining and on-road use in South Africa and has SABS 1589 and ECE R13.08 approval. It is now locally available from Axiom Hydraulics in Johannesburg.
For more information contact Lance Tondolo, Axiom Hydraulics, +27 11 334 3068, lance@axiom.org.za, www.axiomsa.co.za
Credit(s)
Further reading:
PC-based control technology for next-generation telescope
First Quarter 2021, Beckhoff Automation , Editor's Choice, Electrical switching & drive systems & components
Key factors were the advantages of EtherCAT for site-wide real-time communication connecting all telescope functions. Various embedded PCs and AM8000 servomotors were also tested and specified, among 
...
Read more...
---
Surfing back to Earth
First Quarter 2021, Horne Technologies , Editor's Choice, Electrical switching & drive systems & components
How did life actually form on Earth? Even today this question still has not been definitively answered. There are, however, signs that asteroids or comets played an important role. In the search for additional 
...
Read more...
---
Treading in the footsteps of the space pioneers
First Quarter 2021, Siemens Digital Industries , Editor's Choice, Electrical switching & drive systems & components
The adventure park Euro Space Centre in Transinne in Belgium is home to a number of different simulators, including the original NASA multi-axis chair dating back to the 1960s which was used to familiarise 
...
Read more...
---
Miniature DC motors drive tattoo machine design forwards
First Quarter 2021 , Editor's Choice, Electrical switching & drive systems & components
All of this places stringent requirements on the motor – the prime mover in the tattoo machine and perhaps the most critical element of the machine design – as Vishal Sapale, assistant manager – design 
...
Read more...
---
The future of automation
First Quarter 2021, SEW-EURODRIVE , Editor's Choice, Electrical switching & drive systems & components
MOVI-C comprises four components: MOVISUITE engineering software, MOVI-C Controller control technology, MOVIDRIVE inverter technology, and MOVIGEAR, MOVIMOT decentralised drive technology comprising the 
...
Read more...
---
IoT communication without batteries
First Quarter 2021 , Editor's Choice, Other technologies
When we talk about IoT, we often gloss over the fact that all these interconnected things need batteries and electronics to carry out the job of collecting and processing data while they're communicating 
...
Read more...
---
From the editor's desk: Life after coal
Fourth Quarter 2020, Technews Publishing , Editor's Choice
Renewable energy has been around for a while. But as attractive as the concept might have been, the hard reality was always that it just did not make economic sense. I remember not so many years ago doing 
...
Read more...
---
Why reinvent the wheel?
Fourth Quarter 2020, Axiom Hydraulics , Hydraulic systems & components
Sun Hydraulics' standard hydraulic solutions are road tested, ready and expanding. With more than 700 ready to order solutions delivering 20 different control functions across multiple settings and flow 
...
Read more...
---
maxon drives are heading to the Red Planet
Third Quarter 2020, DNH Tradeserve , Editor's Choice
NASA is sending its fifth rover to Mars. Its main mission is to collect soil samples that will be analysed on Earth at a later time. The rover will also carry a helicopter that will perform the first flights on the Red Planet. maxon's precision DC and BLDC motors will be used for numerous mission-critical tasks.
Read more...
---
The new mobility: how sensors control the cobots of the future
Third Quarter 2020, SICK Automation Southern Africa , Editor's Choice
The ongoing development of small, powerful and flexibly positionable robots that can collaborate with humans is progressing in leaps and bounds. Sensors from SICK Automation are an important component. 
...
Read more...
---