printer friendly version
Smart positioners of the future
First Quarter 2021
Pneumatic systems & components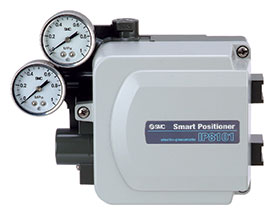 Data analytics are driving the migration to digital factories by assisting manufacturing companies to make smarter operational decisions. The ability to gain a clear understanding of the integrated functionality of the factory, as well as the intelligent use of the gathered information, is proving essential in the quest for competitive advantage.
SMC Corporation has always identified with the term 'keep moving forward'. It is an ethos that is echoed throughout the company, and the heartbeat of a development team which works diligently to bring the most up-to-date and industry relevant components to market.
SMC smart positioners
Achieving considerable success with its electro-pneumatic positioners, the R&D; team was challenged to improve on an already successful existing component. From this, the SMC smart positioner was born.
The new range was designed to pair perfectly with process control valves and actuators. Two versions are currently available, namely:
• IP8001 linear series, which generally pairs with a diaphragm control valve.
• IP8101 rotary series, for valves with oscillating or quarter turn actuators.
Each positioner serves as a source of pneumatic actuating pressure and as a feedback device for the real-time actuator position and valve shutoff.
The driving design concept behind the smart positioner is the ability to do much more than simply control the position of the valve. It enables the user to collect data about the functionality of the valve and assembly performance, automatically alerting the user and enabling faster response times in the event of problems. In addition, it can aid in diagnostics and improve maintenance by means of its built-in microcomputer.
An optional LCD window gives a visual representation of the real-time status of the positioner, while the incorporation of an internal button allows for easy calibration.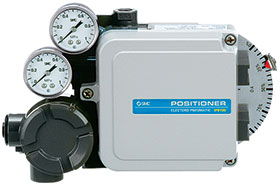 The new IP8001/8101 series positioners
A built-in microcomputer and sensor allow easy remote parameter change and monitoring, while an internal push-button allows for easy parameter setting. Zero point/span adjustment is also easier than with previous mechanical positioners. Other features and benefits include:
• Full output functions: Selecting output functions by model, e.g. alarm point output function (2 points) or analog (4-20 mA DC) continuous output function, allows remote detection of operating abnormalities.
• Control state display: Positioning, deviation, and input value are displayed numerically on the internal LCD, allowing visual verification of the control state.
• Handles 2-line input for current equipment: Control furnished with current 2-line input signal (4-20 mA DC), not requiring separate power source.
• HART transmission function: HART transmission function can be designated by model selection, allowing remote monitoring and setting change of positioner.
• Compatible installation: Dimensions of mounting parts are the same as previous mechanical IP6000/IP8000 series electro-pneumatic positioners. External feedback lever and fork lever-type fitting for joining actuator and positioner are therefore also the same.
• Energy saving: Lever-types feature 60% reduced air flow consumption compared with IP8000.
SMC smart positioners are a perfect fit in most industries, including pulp and paper, food and beverage, and water and wastewater, amongst others. Units with ATEX certification are also available, should the need for intrinsically safe components arise.
For more information contact Andy Banks, SMC Corporation South Africa, +27 10 900 1233, abanks@smcza.co.za, zatechnical@smcza.co.za, www.smcza.co.za
Further reading:
Oil-free air for petrochemical pipelines
Pneumatic systems & components
Rand-Air recently took a bold decision which has changed the way its customers – and Rand Air – will approach future hires. Working in the petrochemical sector requires critical attention to detail, with 
...
Read more...
---
How to embrace the benefits of smart pneumatics
Emerson Automation Solutions Editor's Choice Pneumatic systems & components
Understand how this challenge creates opportunities
It is important to consider how insights from data can help end-users react to real-time events or even predict the future. For example, the Emerson 
...
Read more...
---
Remove water from factory air
Pneumatic systems & components
Read more...
---
New energy efficient, compact compressor range
Pneumatic systems & components
CompAir has launched a new series of energy-efficient oil-lubricated, rotary screw compressors, offering best-in-class performance in a compact design. Part of the CompAir L-Series range, the new compressors 
...
Read more...
---
Use compressed air efficiently
Artic Driers International Pneumatic systems & components
With air compressors being one of the bigger consumers of energy in many plants, it pays to keep tight control of compressor station power costs. Focus points include:   
• Compressor performance testing. • 
...
Read more...
---
Digital transformation: how to embrace the benefits of smart pneumatics
Emerson Automation Solutions Pneumatic systems & components
For end-users responsible for maintaining machines and keeping them running, the path is clear. An IIoT system provides data from the machine, ensuring its systems or components are working within their 
...
Read more...
---
Five reasons why smart pneumatics boosts packaging performance
Emerson Automation Solutions Pneumatic systems & components
The intelligence built into smart pneumatic components unlocks valuable machine data that can transform operations. OEMs and end-users can know more about the performance of their machines and packaging 
...
Read more...
---
Compressed air purity analyser
Artic Driers International Pneumatic systems & components
Compressed air treatment using filters and dryers is an effective barrier to airline contamination. Until recently, auditing the compressed air quality in a system was difficult, but clients and professional 
...
Read more...
---
Critical compressed air on platinum mine
Pneumatic systems & components
The mining industry is a vital cog in the economic workings of South Africa, in particular platinum mines, of which the country has significant reserves, that are among the largest worldwide. Yet, if 
...
Read more...
---
Tectra Automation contracted for PG Bison's MFB press upgrade
Tectra Automation Pneumatic systems & components
Tectra Automation has provided all the pneumatic and vacuum equipment required for the installation and commissioning of PG Bison's sixth melamine-faced board (MFB) press. The press, which came online 
...
Read more...
---