printer friendly version
Lubricant for high temperatures
First Quarter 2021
Other technologies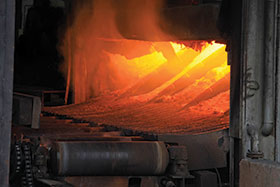 Lubrication Engineers (LE) has developed the 1250 Almasol High Temperature Lubricant, which has one of the highest temperature capabilities of any grease thickener available in the industry. It is designed to withstand extremely high temperatures, while staying in place to provide constant lubrication. It also resists oxidation and vaporisation, ensuring longer lubrication intervals and fewer bearing failures, thereby protecting equipment, improving performance, and saving on maintenance and repair costs.
It uses a base oil with a heavy viscosity and high flashpoint, as well as a high natural viscosity index. The high temperature clay thickener has a high dropping point, making it ideal for applications such as asphalt plants, brick/ceramic kilns, exhaust fans, kiln car bearings, lime kilns, oven conveyors, pellet mills and plastics. Almasol is the solid wear-reducing additive in the product, which is able to withstand extremely heavy loads, chemical attack and temperatures up to 1038°C.
The maximum useful lifetime for a grease in high temperature bearings depends on many factors, from temperature to the size and speed of the bearings, the amount of oxygen available to the grease in the bearing, the load on the bearing and the degree of external contamination. The approximate maximum useful lifetime guidelines for LE's 1250 Almasol High Temperature Lubricant are 10 000 hours at 93°C, 100 hours at 149°C and between one and four hours at 204°C.
For more information contact Callum Ford, Lubrication Engineers, +27 11 464 1735, callum@lubricationengineers.co.za, www.lubricationengineers.co.za
Further reading:
Simultaneously measure vibration, bearing vibration and temperature
Comtest Other technologies
Vibration in rotating machinery is the oscillation of a machine and components such as drive motors, pumps and compressors and the bearings, shafts, gears, belts and other elements that make up mechanical 
...
Read more...
---
Real-time oil condition analysis
Hytec Fluid Technology Other technologies
Oil condition analysis equipment that monitors equipment oil in real-time, enabling any anomalies in the oil to be detected at a very early stage, is now available across Africa from Hytec Fluid Technology 
...
Read more...
---
Superconductivity for aircraft
Editor's Choice Other technologies
In 1911, Dutch physicist Heike Kamerlingh Onnes found himself preoccupied with one question: what happens to the electrical conductivity of pure metals at very low temperatures? During an experiment, 
...
Read more...
---
Reliable preconfigured fail-safe circuit from Festo
Festo South Africa Other technologies
The preconfigured Festo fail-safe circuit in the ready-to-install control cabinet is a safe and low-cost alternative when it comes to fail-safe technology. It replaces a single-acting actuator and guarantees 
...
Read more...
---
Digital twin for oil and gas industry
Other technologies
To achieve zero unplanned downtime in the upstream and downstream oil and gas industries, practical efficiencies using digitisation are essential. The most accurate and efficient digitisation method to 
...
Read more...
---
Robotics and the potential for the lights-out factory
Omron Electronics Editor's Choice Other technologies
However the 100% automated, fully lights-out factory is not a realistic goal for a large proportion of manufacturing businesses currently operating. A key reason is that manufacturing needs people. Human 
...
Read more...
---
New generation of oil condition monitoring technology
Parker Hannifin - Sales Company South Africa Other technologies
Parker Hannifin's innovative oil condition monitoring technology helps marine operators reduce downtime, reduce costs and protect assets. The DIGI Plus offers rapid on-site and on-board oil condition 
...
Read more...
---
Digital condition monitoring for conveyor belts
Other technologies
ABB has launched ABB Ability Condition Monitoring for belts, an advanced digital service to enable mine operators to track speed, misalignment, damage, thickness and wear, slippage and temperature of 
...
Read more...
---
ML based predictive maintenance
SKF South Africa Other technologies
Read more...
---
Aluminium complex greases
Other technologies
While no grease can truly be an all-purpose lubricant, aluminium complex grease is a valuable multifunctional, multipurpose product. Applications include vehicle wheel bearings, manufacturing and assembly 
...
Read more...
---