printer friendly version
IoT communication without batteries
First Quarter 2021 Editor's Choice Other technologies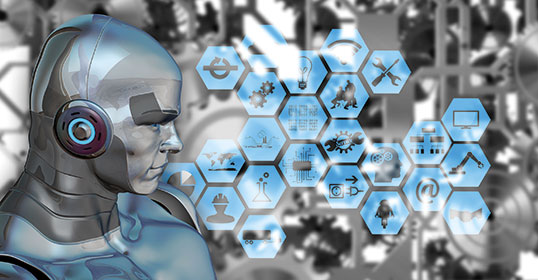 When we talk about IoT, we often gloss over the fact that all these interconnected things need batteries and electronics to carry out the job of collecting and processing data while they're communicating with one another; and many of the objects we would like to connect are made from plastic and do not have electronics embedded into them.
Now researchers at the University of Washington have devised a way of using 3D printed plastic to create objects that communicate with smartphones or other Wi-Fi devices without the need for batteries or electronics. It employs battery-less chips that transmit their bits by either reflecting or not reflecting a Wi-Fi router's signals. With this kind of backscattering, a device communicates by modulating its reflection of the Wi-Fi signal in the space.
The challenge with existing Wi-Fi backscatter systems is that they require multiple electronic components, including RF switches that can toggle between reflective and non-reflective states, digital logic that controls the switch to encode the appropriate data, as well as a power source/harvester that powers all these electronic components.
The University of Washington team has leveraged this Wi-Fi backscatter technology to 3D geometry and created easy to print wireless devices using commodity 3D printers. To achieve this, the researchers built non-electronic and printable analogues for each of these electronic components using plastic filaments and integrated them into a single computational design.
The researchers are making their CAD models available to 3D printing enthusiasts so they can create their own IoT objects. The designs include a battery-free slider that controls music volume, a button that automatically orders more cornflakes from an e-commerce website and a water sensor that sends an alarm to your phone when it detects a leak. "We are using mechanism actuation to transmit information wirelessly from these plastic objects," explains associate professor, Shyam Gollakota.
The researchers have leveraged mechanical motion to provide the power for their objects. For instance, when someone opens a detergent bottle, the mechanical motion of unscrewing the top provides the power for it to communicate data. "We translate this mechanical motion into changes in antenna reflections to communicate data," said Gollakota. "Say there is a Wi-Fi transmitter sending signals. These signals reflect off the plastic object; we can control the amount of reflections arriving from this plastic object by modulating it with the mechanical motion."
To ensure that the plastic objects can reflect Wi-Fi signals, the researchers employ composite plastic filament materials with conductive properties. These take the form of plastic with copper and graphene filings. "These allow us to use off-the-shelf 3D printers to print these objects but also ensure that when there is an ambient Wi-Fi signal in the environment, these plastic objects can reflect them by designing an appropriate antenna using these composite plastics," he added.
Once the reflective material was created, the next challenge for the researchers was to communicate the collected data. The researchers ingeniously translated the 0 and 1 bits of traditional electronics by encoding these bits as 3D printed plastic gears. A 0 and 1 bit are encoded with the presence and absence of tooth on the gear, respectively. These gears reflect the Wi-Fi signal differently, depending on whether they are transmitting a 1 bit or a 0 bit. 
"The way to think of it is that you have two parts of an antenna," explained Gollakota. "As the gear moves, and depending on whether we are using a 0 bit or a 1 bit, we connect or disconnect the two disjointed parts of the antenna. This changes the reflections as seen by a wireless receiver."
In this arrangement, the mechanical nature of many sensors and widgets are leveraged to power the backscatter design. "We have computational designs that use push-buttons to harvest energy from user interaction as well as a combination of circular plastic springs to store energy," added Gollakota.
While the researchers envision a fairly broad commercial market for the technology, Gollakota suggested that e-commerce websites could tell how a user might be interacting with the objects they sell. This could send an alert that a container, for example, needs a refill. The researchers demonstrated a prototype of a detergent bottle that could report when it is empty. This technology could also be used in point-of-care medical situations, such as tracking when a pill bottle is opened or closed, or how much insulin-pen usage occurs.
Gollakota added: "We have showed that we can not only send wireless data, but also store information about how the object was used outside the wireless range, and this information can be uploaded by the push of a button when the person comes into the range of the base station."
Further reading:
Ultra-compact robot-based cake production with PC control
Beckhoff Automation Editor's Choice
"Baking Baumkuchen requires advanced skills and experience from the confectioner," says Mr Matsumoto, managing director of Juchheim's central plant. "However, if the oven's parameters can be captured 
...
Read more...
---
The advantages of robotics and simulation for your business
Editor's Choice Robotics & Mechatronics
The more complex your business is, the more room there is for innovation. At the same time, innovation cannot come at the cost of efficiency, quality and output levels. According to Von Fintel, this is 
...
Read more...
---
Ball screws with nut cooling
Editor's Choice Shaft power components
The machine tool industry uses ball screws to convert the rotary motion of an electric motor into linear motion. Very often, the positioning accuracy, as well as the travel speed and acceleration, have 
...
Read more...
---
Concept to solution the short way
Axiom Hydraulics Editor's Choice Hydraulic systems & components
QuickDesign streamlines your custom design process, delivering complete designs in as little as ten minutes.
Read more...
---
Wireless communication and control of electro-pneumatic manifolds and IO
Editor's Choice
SMC analysed the control of manifolds-in-motion, where the physical removal of communications cables is desirable. Applications include manifolds mounted on robot gripper assemblies or rotating tables. 
...
Read more...
---
Pneumatics and digital transformation: overcome what's holding you back
Emerson Automation Solutions Editor's Choice Pneumatic systems & components
While IIoT offers the promise of a revolutionary impact on manufacturing, implementation of the technology has its challenges. What holds us back from a broader embrace of digital transformation, especially in pneumatics? And how do we move past the challenges to embrace the opportunity for real improvement in productivity and efficiency?
Read more...
---
The world's smallest electric subsea valve actuator
Editor's Choice
The actuator minimises energy consumption and is geared toward delicate ecosystems and installation and operating costs are reduced. When the SVA R2 is used in subsea factories at a depth of up to 4000 metres, 
...
Read more...
---
Reduced costs for packaging process
SICK Automation Southern Africa Editor's Choice Other technologies
To address Tetra Pak's requirements, SICK recommended the utilisation of its sHub sensors with EDS/EDM35 feedback system. This motor feedback system incorporates an acceleration sensor and enables comprehensive 
...
Read more...
---
Festo Process Automation solutions for all production levels
Festo South Africa Editor's Choice Electrical switching & drive systems & components
The first leg of the campaign creates an analogy between the human heart and its Process Automation solutions. The heart is at the centre of the vascular system, which is a network of blood vessels 
...
Read more...
---
Cobot boosts production by 15%
Omron Electronics Editor's Choice Robotics & Mechatronics
Topcustom is situated in central Italy and bases its success on the entrepreneurial tradition of the Le Marche region. Topcustom International was formed in 2018, in partnership with Nicos International 
...
Read more...
---