printer friendly version
HydraForce electro-proportional valves
Second Quarter 2021
Hydraulic systems & components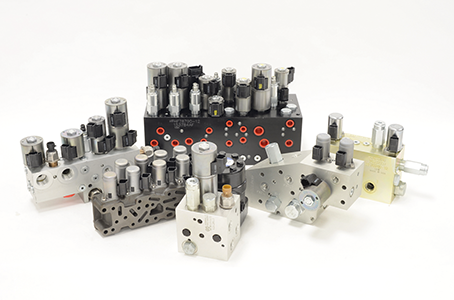 BMG supplies a wide range of HydraForce electro-proportional valves, which are suitable for use in many applications in agriculture, construction, materials handling, fluid conveyance, mining and quarrying. They are proven for dependable operation in heavy-duty conditions. Efficiency, response times and signal integrity are optimised using Pulse Width Modulation (PWM) digital signal logic. PWM works by pulsating DC current and varying the amount of time that each pulse stays on, to control the amount of current that flows to a device. The main advantage of PWM is that power loss in the switching devices is negligible.
BMG's range of Hydraforce proportional valves includes flow control (PV) and pressure compensating flow regulator valves (PFR), directional control (SP) and pressure control (TS) valves, with a focus on proportional control. Unlike directional control valves, which allow full flow when energised, proportional control directional valves control flow proportional to an electrical input signal.
Proportional valves provide a change in output pressure or flow in the same ratio as the change in the input signal. For example, a 4-20 mA input signal may correspond to a 50-200 bar pressure setting. If the input signal is 4 mA, then the output pressure setting will be 50 bar. As it gradually increases to 20 mA, so too does the pressure setting increase to 200 bar. This feature offers machine cycles, which are safely operated at greater speeds, with controlled start and stop characteristics. Regulated acceleration and deceleration results in improved overall machine cycle times and enhanced production rates.
Credit(s)
Further reading:
Drive-based predictive maintenance solutions
Bearing Man Group T/A BMG Electrical switching & drive systems & components
BMG's NORD predictive maintenance solutions offer fast, efficient and comprehensive evaluation of analogue and digital data, to enhance the operational efficiency and safety of machines. The intelligent 
...
Read more...
---
Destructive cavitation in hydraulic systems
Hydrasales Hydraulic systems & components
Cavitation results from excessive vacuum conditions at the inlet to a pump. High vacuum creates vapour bubbles within the oil, which are carried to the discharge (pressure) side. These bubbles then 
...
Read more...
---
Match and Tag for high accuracy in paired chain
Bearing Man Group T/A BMG Shaft power components
Modern machinery often requires chains of precisely the same length to be used in pairs or other multiples. For these applications, BMG specialists recommend Tsubaki Match & Tag chains, which guarantee 
...
Read more...
---
Optimising hydraulic controls
Parker Hannifin - Sales Company South Africa Hydraulic systems & components
Parker Hannifin has launched two components − the Parker Automation Controller PAC120 and the electro-hydraulic controller module PACHC − that together offer an innovative solution for the automation 
...
Read more...
---
Concept to solution the short way
Axiom Hydraulics Editor's Choice Hydraulic systems & components
QuickDesign streamlines your custom design process, delivering complete designs in as little as ten minutes.
Read more...
---
3D printing for hydraulics
Hydraulic systems & components
Hydraulic components are traditionally manufactured through machining or casting. Now hydraulic equipment manufacturers are producing manifolds, servo valves and hydraulic adapter blocks using 3D printing. 
...
Read more...
---
New series of metric roller bearings
Bearing Man Group T/A BMG Shaft power components
BMG's bearings portfolio extends from precision miniature bearings used in machine tools and electronics applications to giant-size bearings that meet high demands in steel and mining. This range has 
...
Read more...
---
Position sensor detection for hydraulic cylinders: a world first
Instrotech Hydraulic systems & components
Instrotech has on offer SIKO's SGH wire-actuated encoders that measure the cylinder stroke as well as its speed in the hydraulic cylinder with impressive efficiency, flexibility and robustness.
...
Read more...
---
Do not neglect to monitor your lube oil system's filtration
Hydrasales Hydraulic systems & components
The viscosity of oil in a lube system can adversely affect the bearings within the system. This is especially so if the maintenance of the hydraulic system is neglected. Failure to filter the oil and 
...
Read more...
---
Safety blocks for hydraulic accumulators
Parker Hannifin - Sales Company South Africa Hydraulic systems & components
Parker Hannifin's new safety block (SB) series for hydraulic accumulators simplifies the selection, installation and maintenance process of these important system components. Safety blocks enable hydraulic 
...
Read more...
---