printer friendly version
SKF bearings help Mars Rover collect rock
Second Quarter 2021 Editor's Choice Shaft power components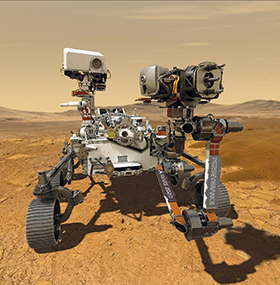 Each time the Perseverance Mars Rover collects or handles rock and regolith samples in Jezero Crater during its multiple-year mission on the surface of the red planet, key components from SKF will facilitate these activities.
Enabling the Mars Rover's core operations in the harsh environment on Mars are Kaydon RealiSlim thin-section ball bearings, designed and manufactured by SKF at the company's global thin-section bearing engineering centre in Muskegon, and its recently expanded manufacturing hub in Sumter, USA. These highly engineered components are contributing to the survival of the Rover's main robotic arm, sample collecting turret, tool bit carousel and sample handling assembly during a months-long trip through space, and its function as intended on the Mars surface. SKF also supplied critical bearings for the mission's launch vehicle which carried the Rover and its lander into space.
SKF bearings will play an integral role in the vital process of sample collection on Mars. When the rover is ready to begin collecting samples on the surface, the robotic arm will manoeuvre into place and the tool bit carousel will whirr into action, deploying tools to drill or abrade material, which will then be collected by the sample collecting turret, aka 'the hand', and transferred to the sample handling assembly for processing onboard the Rover, and eventually a potential return to Earth for analysis via a future Mars mission.
"The bearings we designed and built to help the Rover perform its core science activities were based on several models of Kaydon thin-section ball bearings customised by our engineers to minimise weight and save space, while retaining maximum functionality and reliability for a mission where repair or replacement is simply not an option," said Isidoro Mazzitelli, director of product development and engineering for the Americas. Space applications must be a small fraction of the weight of standard bearing assemblies.
Kaydon bearing solutions are often customised from baseline models for specific customers and commonly used in applications that require a careful balance between strength, weight, size, functionality and reliability – including robotic surgical equipment, automated precision manufacturing, detailed painting, aircraft systems, airport security scanners and medical CT imagers.
In addition to the latest mission, SKF has a decades-long history as a supplier to global space programmes, dating all the way back to NASA's Apollo 11 mission.
"Our company's bearings, seals and other products have helped enable a wide range of spacecraft and missions for more than 40 years," said John Schmidt, president of SKF USA. "Our parts have flown on the previous space missions, dozens of commercial and government satellites, space-borne telescopes, a wide range of rocket launch vehicles and in astronauts' spacesuits. When conditions become critical and applications demanding, engineering knowledge is the only way to success."
For more information contact Samantha Joubert, SKF South Africa, +27 11 821 3500, samantha.joubert@skf.com, www.skf.com
Credit(s)
Further reading:
The top three reasons cylinders fail
Parker Hannifin - Sales Company South Africa Editor's Choice
Cylinder operation requires precise fluid pressure on both sides of the piston. If a seal breaks down and allows fluid to leak from one side of the piston to the other or out of the cylinder altogether, 
...
Read more...
---
Rugged, reliable electro-hydraulics
Axiom Hydraulics Editor's Choice
From simple switching valves to sophisticated closed-loop control, Sun's line of E-H products powers your most demanding applications.
Read more...
---
What you should know about air preparation
Editor's Choice
Compressed air quality has three potential problem areas to consider: particles, water and oil.   
• Dust and other airborne particles: The compressed air leaving the compressor room, which has already 
...
Read more...
---
Superconductivity for aircraft
Editor's Choice Other technologies
In 1911, Dutch physicist Heike Kamerlingh Onnes found himself preoccupied with one question: what happens to the electrical conductivity of pure metals at very low temperatures? During an experiment, 
...
Read more...
---
Yaskawa steps into the future
Editor's Choice Robotics & Mechatronics
Crackett says that Yaskawa Southern Africa has installed more than 2500 Motoman robots. The company's main target market is automotive, having cut its teeth here when Terry Rosenberg first started up 
...
Read more...
---
Cool move for rotor hubs
Editor's Choice Electrical switching & drive systems & components
At the company's new Mechatronic Competence centre, machine houses and rotor hubs are produced for the entire Enercon range of products. After painting, the large volume cast bodies of the rotor 
...
Read more...
---
How to embrace the benefits of smart pneumatics
Emerson Automation Solutions Editor's Choice Pneumatic systems & components
Understand how this challenge creates opportunities
It is important to consider how insights from data can help end-users react to real-time events or even predict the future. For example, the Emerson 
...
Read more...
---
PC-based control runs the stage machinery for Rigoletto
Beckhoff Automation Editor's Choice Electrical switching & drive systems & components
In the production, the court jester Rigoletto becomes a clown. Only the head, encircled by a wide collar, and the hands of the gigantic clown protrude from the lake. Eventually the clown becomes the victim 
...
Read more...
---
Robotics and the potential for the lights-out factory
Omron Electronics Editor's Choice Other technologies
However the 100% automated, fully lights-out factory is not a realistic goal for a large proportion of manufacturing businesses currently operating. A key reason is that manufacturing needs people. Human 
...
Read more...
---
Energy from the power of the moon
SKF South Africa Editor's Choice Shaft power components
It is intended to help reduce climate-damaging CO
2
emissions, slow down global warming and thus build a more sustainable future for generations to come. With the help of modern technology from SKF, 
...
Read more...
---