printer friendly version
Proportional flow control valve
Second Quarter 2021
Hydraulic systems & components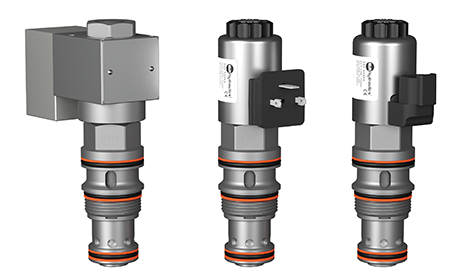 Sun Hydraulics has released the company's first solenoid-operated, three-way proportional flow control valve as part of the expanding line of FLeX Series valves. The patent-pending, compact FREP combines an electro-proportional adjustable orifice and pressure compensator in one valve and can provide a constant priority flow rate independent of load pressures. It is well suited for situations where you need to maintain constant actuator speed regardless of the load on the actuator and it provides excellent variable flow control when using a fixed-displacement pump.
The FREP valve brings precise control to orbital motors on conveyors, spinners or fans for equipment like salt spreaders, agricultural spreaders and seeders. Equipment designers and operators can control material output directly, avoiding excess application of material, saving money, optimising yield and protecting the environment. With these applications in mind, Sun offers a standard assembly for the FREP with the OMP motor interface so it can be mounted easily on an orbital motor, reducing hosing and providing a more compact solution. The benefits of the FREP are:
• Space-saving, pressure compensated flow control in a single-valve solution.
• Very low leakage.
• More compact than competing valves, with comparable flow rates, using a large hit area on port 3 to deliver higher flows.
The FREP's design uses a pull-type solenoid that allows the main throttle spool to be less sensitive to flow forces. This means you get greater efficiencies, with more flow control using less power than similar valves on the market.
Credit(s)
Further reading:
Destructive cavitation in hydraulic systems
Hydrasales Hydraulic systems & components
Cavitation results from excessive vacuum conditions at the inlet to a pump. High vacuum creates vapour bubbles within the oil, which are carried to the discharge (pressure) side. These bubbles then 
...
Read more...
---
Optimising hydraulic controls
Parker Hannifin - Sales Company South Africa Hydraulic systems & components
Parker Hannifin has launched two components − the Parker Automation Controller PAC120 and the electro-hydraulic controller module PACHC − that together offer an innovative solution for the automation 
...
Read more...
---
Concept to solution the short way
Axiom Hydraulics Editor's Choice Hydraulic systems & components
QuickDesign streamlines your custom design process, delivering complete designs in as little as ten minutes.
Read more...
---
3D printing for hydraulics
Hydraulic systems & components
Hydraulic components are traditionally manufactured through machining or casting. Now hydraulic equipment manufacturers are producing manifolds, servo valves and hydraulic adapter blocks using 3D printing. 
...
Read more...
---
Position sensor detection for hydraulic cylinders: a world first
Instrotech Hydraulic systems & components
Instrotech has on offer SIKO's SGH wire-actuated encoders that measure the cylinder stroke as well as its speed in the hydraulic cylinder with impressive efficiency, flexibility and robustness.
...
Read more...
---
Do not neglect to monitor your lube oil system's filtration
Hydrasales Hydraulic systems & components
The viscosity of oil in a lube system can adversely affect the bearings within the system. This is especially so if the maintenance of the hydraulic system is neglected. Failure to filter the oil and 
...
Read more...
---
Safety blocks for hydraulic accumulators
Parker Hannifin - Sales Company South Africa Hydraulic systems & components
Parker Hannifin's new safety block (SB) series for hydraulic accumulators simplifies the selection, installation and maintenance process of these important system components. Safety blocks enable hydraulic 
...
Read more...
---
Regeneration valve assemblies
Axiom Hydraulics Hydraulic systems & components
Sun regeneration valve assemblies are standard products that are easy to order. Regenerative circuits divert the oil from the rod end of a cylinder back to the bore end, instead of channeling the fluid 
...
Read more...
---
More parts for less cost
Axiom Hydraulics Editor's Choice
Dura-Bar's continuous cast ductile iron bar is a cost-saving alternative to low-medium carbon steels. It has similar strengths but with superior machinability and without the defects associated with 
...
Read more...
---
Rugged, reliable electro-hydraulics
Axiom Hydraulics Editor's Choice
From simple switching valves to sophisticated closed-loop control, Sun's line of E-H products powers your most demanding applications.
Read more...
---