printer friendly version
How to embrace the benefits of smart pneumatics
Third Quarter 2021 Editor's Choice Pneumatic systems & components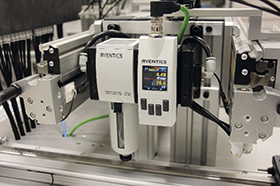 Manufacturing is currently undergoing a digital transformation powered by IIoT. One important aspect of this transformation is smart pneumatics. Integrating smart pneumatic devices into automation systems and equipment is a proven way to collect valuable data that improves productivity and efficiency. However, for some, taking the first steps toward digital transformation may seem challenging. One challenge is data overwhelm - what does all this information mean and how do we turn it into action? There are several ways that OEMs and end-users can overcome this resistance and begin enjoying the advantages that smart pneumatics offers.
Understand how this challenge creates opportunities
It is important to consider how insights from data can help end-users react to real-time events or even predict the future. For example, the Emerson Aventics ST4-2P programmable sensor measures travel distance and velocity for pneumatic cylinders. We can sense the velocity of the piston in the cylinder, but we can also use the sensor data to monitor the performance of cushions and shock absorbers inside the cylinder. This ensures they perform within a certain specification window. If you interpolate that data, you can quickly confirm the cylinder is performing as expected and determine if it needs maintenance.
You can see the data today in the PLC and with an IIoT Edge Device, you can collate, analyse and aggregate the data to create actionable insights to provide continuous real-time monitoring of your machine.
The responsibility to address problems uncovered by the data falls on both the OEM and component manufacturer. Our IIoT approach is not 'IIoT in a Box'. We collaborate with OEMs to create an IIoT architecture that ensures appropriate sensors are in place and are sensing correctly to help keep machines running full time. This maximises the end-user's return on investment by lowering the machine's total cost of ownership.
Involve IT experts early
When we worked with machine designers before IIoT, we discussed things like power and the air connection. Now, we discuss factors such as network connections, security and VPN connections. It is more important than ever to include the IT department in the design architecture and discuss what those connections look like and how data is moving. Security issues are also important, especially to end-users, so involve IT experts early in the design to understand factors like how much data will be processed, where it is going and how it is going to connect.
Leverage partnerships for IIoT success
Component manufacturers outfitting machines need to work together to understand how pneumatics comes into play, creating a true partnership that develops the best IIoT solutions for customers. At the field level, pneumatics, drives, controllers and I/O systems must all work together. The key is knowing how data is passing between those items and making sure that data gets wherever it needs to go, whether locally on a web server or out to a cloud system.
A good example is optimising energy use in a compressed air system. The best way to realise energy savings is to turn off the compressor. Although we may not make compressors or control systems for compressors, we can use smart pneumatics to tell the compressor control system what the demand for air will be over the next 12 hours. The controls can then turn off the compressor accordingly so it only uses the air it needs.
Put the pieces together for better pneumatics performance
How do these pieces come together to benefit manufacturers? One vision is to enable a highly autonomous maintenance process: the pneumatic circuit, or ultimately the machine, has 100% uptime and never fails. Obviously, valves and cylinders go through their specified life cycles and need to be replaced. But the data is there to predict component failure before it happens and prevent costly catastrophic failure.
Data from sensors allows us to predict when a shock absorber on the end of the actuator is deteriorating by sensing an increase in the cycle speed, even by a few milliseconds. This would trigger an alarm or even send an automatic email to the component supplier that maintenance needs to be completed or that the component is ready to be replaced. With the right approach to IIoT technology, you can turn data into actionable information that helps ensure machines are self-diagnosing, provide transparency to end-users and never fail.
For more information contact Giles Wilcox, Emerson Automation Solutions, +27 73 347 1534, giles.wilcox@emerson.com, www.emerson.com
Credit(s)
Further reading:
The top three reasons cylinders fail
Parker Hannifin - Sales Company South Africa Editor's Choice
Cylinder operation requires precise fluid pressure on both sides of the piston. If a seal breaks down and allows fluid to leak from one side of the piston to the other or out of the cylinder altogether, 
...
Read more...
---
Rugged, reliable electro-hydraulics
Axiom Hydraulics Editor's Choice
From simple switching valves to sophisticated closed-loop control, Sun's line of E-H products powers your most demanding applications.
Read more...
---
What you should know about air preparation
Editor's Choice
Compressed air quality has three potential problem areas to consider: particles, water and oil.   
• Dust and other airborne particles: The compressed air leaving the compressor room, which has already 
...
Read more...
---
Superconductivity for aircraft
Editor's Choice Other technologies
In 1911, Dutch physicist Heike Kamerlingh Onnes found himself preoccupied with one question: what happens to the electrical conductivity of pure metals at very low temperatures? During an experiment, 
...
Read more...
---
Yaskawa steps into the future
Editor's Choice Robotics & Mechatronics
Crackett says that Yaskawa Southern Africa has installed more than 2500 Motoman robots. The company's main target market is automotive, having cut its teeth here when Terry Rosenberg first started up 
...
Read more...
---
Cool move for rotor hubs
Editor's Choice Electrical switching & drive systems & components
At the company's new Mechatronic Competence centre, machine houses and rotor hubs are produced for the entire Enercon range of products. After painting, the large volume cast bodies of the rotor 
...
Read more...
---
PC-based control runs the stage machinery for Rigoletto
Beckhoff Automation Editor's Choice Electrical switching & drive systems & components
In the production, the court jester Rigoletto becomes a clown. Only the head, encircled by a wide collar, and the hands of the gigantic clown protrude from the lake. Eventually the clown becomes the victim 
...
Read more...
---
Robotics and the potential for the lights-out factory
Omron Electronics Editor's Choice Other technologies
However the 100% automated, fully lights-out factory is not a realistic goal for a large proportion of manufacturing businesses currently operating. A key reason is that manufacturing needs people. Human 
...
Read more...
---
Energy from the power of the moon
SKF South Africa Editor's Choice Shaft power components
It is intended to help reduce climate-damaging CO
2
emissions, slow down global warming and thus build a more sustainable future for generations to come. With the help of modern technology from SKF, 
...
Read more...
---
Electric motors without magnets
Editor's Choice Electrical switching & drive systems & components
Permanent magnets, though, come with their own baggage. 97% of the world's rare earth metal supply comes out of China and state control over such a crucial resource across a number of high-tech industries 
...
Read more...
---