printer friendly version
Energy from the power of the moon
Third Quarter 2021 Editor's Choice Shaft power components
The development of tidal power is supported by the global drive to transition from fossil fuels to more sustainable alternatives.
It is intended to help reduce climate-damaging CO2 emissions, slow down global warming and thus build a more sustainable future for generations to come.
With the help of modern technology from SKF, another source of power from nature besides sun and wind will be tapped there from now on: that of the moon. This can be felt on earth in the tidal currents of the sea created by its gravitational pull. Strong currents arise where the ebb and flow of tide squeeze between islands. These are particularly powerful off the Orkney Islands, which is why experiments with tidal current power plants have been carried out here for several years and specifically at the European Marine Energy Centre (EMEC).
Today EMEC is Europe's leading test site for tidal and wave energy projects. Orbital Marine Power, the Scottish-based developer of the world's leading floating tidal turbine technology, has now launched its first commercial 2 MW unit, the Orbital O2. This will soon be installed at EMEC, where it will become the world's most powerful operational tidal turbine.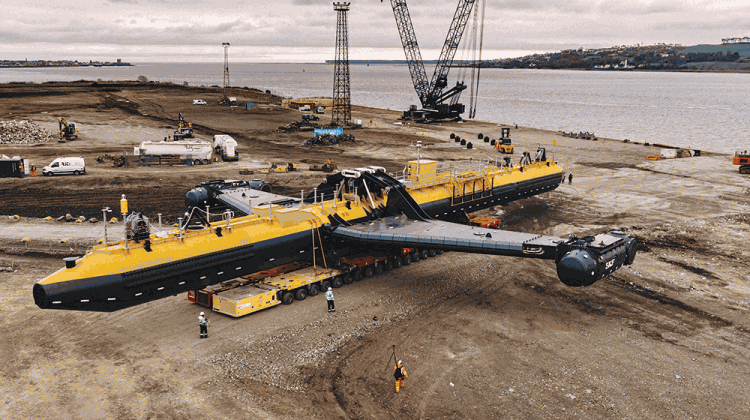 About 15 metres below the O2's 72 metre long superstructure, two fully integrated power trains from SKF are attached on two wing-like legs. Here the twin-bladed rotors rotate, each with a diameter of 21 metres, the largest ever on a single generating platform to date, driven by the tidal current. The electricity generated in the generators is conducted ashore via a subsea cable, where it can be fed directly into the grid, stored or processed into 'green hydrogen'.
SKF as an holistic system integrator
SKF delivered the fully integrated holistic power trains as plug-and-play modules to Scotland. The 1 MW power trains, as used in the Scottish Orbital project, complement the generation of electricity from solar and wind power. The tides are reliable, the flow of electricity is predictable and the energy density due to the working medium seawater is very high.
Within the Orbital O2 power trains, SKF core competence is not only found in the main bearings, gearbox bearings and in the slewing bearings for pitching the rotor blades, but also in the seawater seals of the main shafts between the rotor hub and the nacelle housing; and SKF also provides the CoMo condition monitoring for the entire system and various lubrication systems.
Ocean energy: tremendous potential
Experts see ocean energy devices that generate energy from wave or tidal power as an important pillar of the renewable energy transition. In its current offshore strategy, the EU Commission is aiming for 40 gigawatts of ocean energy by 2050 − generated from ocean energy devices, floating photovoltaic systems and by using algae to produce biofuels.
The O2 project has also received funding from the European Union's Horizon 2020 research and innovation programme under the FloTEC project, as well as the European Regional Development Fund through the Interreg North West Europe programme under the ITEG project.
SKF offers solutions that reduce friction and CO2 emissions, whilst at the same time increasing machine uptime and performance. The company's products and services around the rotating shaft include bearings, seals, lubrication management, artificial intelligence and wireless condition monitoring. SKF is represented in more than 130 countries and has around 17 000 distributor locations worldwide. Annual sales in 2020 were R125 billion.
For more information contact Samantha Joubert, SKF South Africa, +27 11 821 3500, samantha.joubert@skf.com, www.skf.com
Credit(s)
Further reading:
Ultra-compact robot-based cake production with PC control
Beckhoff Automation Editor's Choice
"Baking Baumkuchen requires advanced skills and experience from the confectioner," says Mr Matsumoto, managing director of Juchheim's central plant. "However, if the oven's parameters can be captured 
...
Read more...
---
The advantages of robotics and simulation for your business
Editor's Choice Robotics & Mechatronics
The more complex your business is, the more room there is for innovation. At the same time, innovation cannot come at the cost of efficiency, quality and output levels. According to Von Fintel, this is 
...
Read more...
---
Ball screws with nut cooling
Editor's Choice Shaft power components
The machine tool industry uses ball screws to convert the rotary motion of an electric motor into linear motion. Very often, the positioning accuracy, as well as the travel speed and acceleration, have 
...
Read more...
---
Concept to solution the short way
Axiom Hydraulics Editor's Choice Hydraulic systems & components
QuickDesign streamlines your custom design process, delivering complete designs in as little as ten minutes.
Read more...
---
Wireless communication and control of electro-pneumatic manifolds and IO
Editor's Choice
SMC analysed the control of manifolds-in-motion, where the physical removal of communications cables is desirable. Applications include manifolds mounted on robot gripper assemblies or rotating tables. 
...
Read more...
---
Pneumatics and digital transformation: overcome what's holding you back
Emerson Automation Solutions Editor's Choice Pneumatic systems & components
While IIoT offers the promise of a revolutionary impact on manufacturing, implementation of the technology has its challenges. What holds us back from a broader embrace of digital transformation, especially in pneumatics? And how do we move past the challenges to embrace the opportunity for real improvement in productivity and efficiency?
Read more...
---
The world's smallest electric subsea valve actuator
Editor's Choice
The actuator minimises energy consumption and is geared toward delicate ecosystems and installation and operating costs are reduced. When the SVA R2 is used in subsea factories at a depth of up to 4000 metres, 
...
Read more...
---
Reduced costs for packaging process
SICK Automation Southern Africa Editor's Choice Other technologies
To address Tetra Pak's requirements, SICK recommended the utilisation of its sHub sensors with EDS/EDM35 feedback system. This motor feedback system incorporates an acceleration sensor and enables comprehensive 
...
Read more...
---
Festo Process Automation solutions for all production levels
Festo South Africa Editor's Choice Electrical switching & drive systems & components
The first leg of the campaign creates an analogy between the human heart and its Process Automation solutions. The heart is at the centre of the vascular system, which is a network of blood vessels 
...
Read more...
---
Cobot boosts production by 15%
Omron Electronics Editor's Choice Robotics & Mechatronics
Topcustom is situated in central Italy and bases its success on the entrepreneurial tradition of the Le Marche region. Topcustom International was formed in 2018, in partnership with Nicos International 
...
Read more...
---