printer friendly version
Energy from the power of the moon
Third Quarter 2021 Editor's Choice Shaft power components
The development of tidal power is supported by the global drive to transition from fossil fuels to more sustainable alternatives.
It is intended to help reduce climate-damaging CO2 emissions, slow down global warming and thus build a more sustainable future for generations to come.
With the help of modern technology from SKF, another source of power from nature besides sun and wind will be tapped there from now on: that of the moon. This can be felt on earth in the tidal currents of the sea created by its gravitational pull. Strong currents arise where the ebb and flow of tide squeeze between islands. These are particularly powerful off the Orkney Islands, which is why experiments with tidal current power plants have been carried out here for several years and specifically at the European Marine Energy Centre (EMEC).
Today EMEC is Europe's leading test site for tidal and wave energy projects. Orbital Marine Power, the Scottish-based developer of the world's leading floating tidal turbine technology, has now launched its first commercial 2 MW unit, the Orbital O2. This will soon be installed at EMEC, where it will become the world's most powerful operational tidal turbine.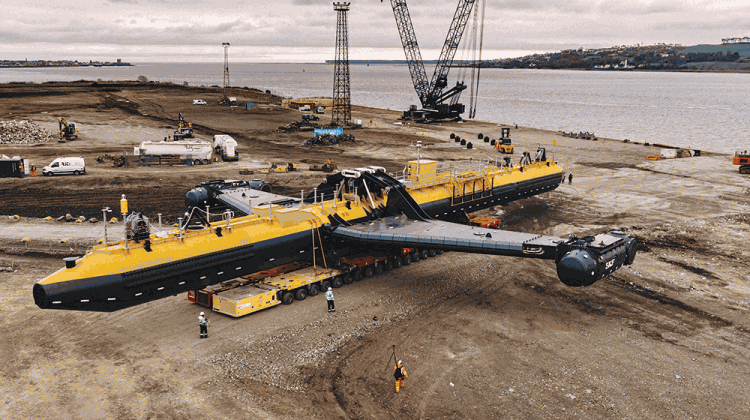 About 15 metres below the O2's 72 metre long superstructure, two fully integrated power trains from SKF are attached on two wing-like legs. Here the twin-bladed rotors rotate, each with a diameter of 21 metres, the largest ever on a single generating platform to date, driven by the tidal current. The electricity generated in the generators is conducted ashore via a subsea cable, where it can be fed directly into the grid, stored or processed into 'green hydrogen'.
SKF as an holistic system integrator
SKF delivered the fully integrated holistic power trains as plug-and-play modules to Scotland. The 1 MW power trains, as used in the Scottish Orbital project, complement the generation of electricity from solar and wind power. The tides are reliable, the flow of electricity is predictable and the energy density due to the working medium seawater is very high.
Within the Orbital O2 power trains, SKF core competence is not only found in the main bearings, gearbox bearings and in the slewing bearings for pitching the rotor blades, but also in the seawater seals of the main shafts between the rotor hub and the nacelle housing; and SKF also provides the CoMo condition monitoring for the entire system and various lubrication systems.
Ocean energy: tremendous potential
Experts see ocean energy devices that generate energy from wave or tidal power as an important pillar of the renewable energy transition. In its current offshore strategy, the EU Commission is aiming for 40 gigawatts of ocean energy by 2050 − generated from ocean energy devices, floating photovoltaic systems and by using algae to produce biofuels.
The O2 project has also received funding from the European Union's Horizon 2020 research and innovation programme under the FloTEC project, as well as the European Regional Development Fund through the Interreg North West Europe programme under the ITEG project.
SKF offers solutions that reduce friction and CO2 emissions, whilst at the same time increasing machine uptime and performance. The company's products and services around the rotating shaft include bearings, seals, lubrication management, artificial intelligence and wireless condition monitoring. SKF is represented in more than 130 countries and has around 17 000 distributor locations worldwide. Annual sales in 2020 were R125 billion.
For more information contact Samantha Joubert, SKF South Africa, +27 11 821 3500, samantha.joubert@skf.com, www.skf.com
Credit(s)
Further reading:
How to embrace the benefits of smart pneumatics
Third Quarter 2021, Emerson Automation Solutions , Editor's Choice, Pneumatic systems & components
Understand how this challenge creates opportunities
It is important to consider how insights from data can help end-users react to real-time events or even predict the future. For example, the Emerson 
...
Read more...
---
PC-based control runs the stage machinery for Rigoletto
Third Quarter 2021, Beckhoff Automation , Editor's Choice, Electrical switching & drive systems & components
In the production, the court jester Rigoletto becomes a clown. Only the head, encircled by a wide collar, and the hands of the gigantic clown protrude from the lake. Eventually the clown becomes the victim 
...
Read more...
---
Robotics and the potential for the lights-out factory
Third Quarter 2021, Omron Electronics , Editor's Choice, Other technologies
However the 100% automated, fully lights-out factory is not a realistic goal for a large proportion of manufacturing businesses currently operating. A key reason is that manufacturing needs people. Human 
...
Read more...
---
ML based predictive maintenance
Third Quarter 2021, SKF South Africa , Other technologies
Read more...
---
Electric motors without magnets
Third Quarter 2021 , Editor's Choice, Electrical switching & drive systems & components
Permanent magnets, though, come with their own baggage. 97% of the world's rare earth metal supply comes out of China and state control over such a crucial resource across a number of high-tech industries 
...
Read more...
---
A very smart material
Second Quarter 2021 , Editor's Choice, Electrical switching & drive systems & components
Shape memory materials (SMMs) are strong, lightweight materials that have the ability to recover their original shape after being deformed if a stimulus is applied. They can be programmed to remember 
...
Read more...
---
The benefits of collaborative robots
Second Quarter 2021, SMC Corporation South Africa , Editor's Choice, Robotics & Mechatronics
While robotics led the way for the rapid growth of automation, cobots are the democratisation of robotics technology. They eliminate the cost and complex programming that robots usually require while providing much greater flexibility.
Read more...
---
Fast, safe transport on the factory floor
Second Quarter 2021, Omron Electronics , Editor's Choice
The Philips site in Klagenfurt produces over 23 million linear cutting elements for hair and beard trimmers each year. These beard trimmers use lift-and-trim technology: the beard hair is first lifted 
...
Read more...
---
SKF bearings help Mars Rover collect rock
Second Quarter 2021, SKF South Africa , Editor's Choice, Shaft power components
Enabling the Mars Rover's core operations in the harsh environment on Mars are Kaydon RealiSlim thin-section ball bearings, designed and manufactured by SKF at the company's global thin-section bearing 
...
Read more...
---
Hacking for a difference
Second Quarter 2021, RS Components SA , Editor's Choice, News & events
The annual Geekulcha Hackathon recently saw more than 100 coders, developers and programmers challenge each other in an online contest.The event has become a highlight in the African developer world. 
...
Read more...
---