printer friendly version
Digital condition monitoring for conveyor belts
Third Quarter 2021
Other technologies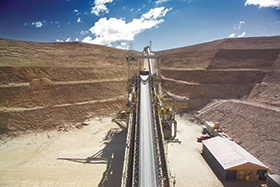 ABB has launched ABB Ability Condition Monitoring for belts, an advanced digital service to enable mine operators to track speed, misalignment, damage, thickness and wear, slippage and temperature of conveyor belts in real-time and therefore, anticipate maintenance, avoid unplanned downtime and improve belt reliability and lifetime. This offers a complete overview of asset condition through continuous monitoring of belt health, generating alarms and warnings in the event of deterioration. By moving from preventative to predictive maintenance, it enables operators to avoid the costly failures that can occur between physical inspections and personnel can be removed from dangerous areas.
The technology is based on sensors installed in strategic points of the conveyor belt equipment and is designed to withstand harsh environments. Ability Condition Monitoring provides easy access to informative dashboards. Fault trend analysis, event alarms, data logs and reports can be monitored for single or multiple conveyors and by remote connection, SMS and email.
"Real-time monitoring of the actual belt performance prompts the necessary corrective actions ahead of failure or further and more costly damage," said global material handling service product manager, Eduardo Botelho. "With equipment condition continuously assessed, operators can plan necessary maintenance only when certain indicators give the signal that the equipment is deteriorating and the probability of failure is increasing. It will consistently catch misalignment or speed issues online, long before failure and pre-empt issues such as falling material, energy waste, excessive belt wear, rupture or fire."
For more information contact Chris Brand, ABB, +44 752 391 9978, chris.g.brand@gb.abb.com, www.abb.com
Further reading:
Robotics and the potential for the lights-out factory
Third Quarter 2021, Omron Electronics , Editor's Choice, Other technologies
However the 100% automated, fully lights-out factory is not a realistic goal for a large proportion of manufacturing businesses currently operating. A key reason is that manufacturing needs people. Human 
...
Read more...
---
New generation of oil condition monitoring technology
Third Quarter 2021, Parker Hannifin - Sales Company South Africa , Other technologies
Parker Hannifin's innovative oil condition monitoring technology helps marine operators reduce downtime, reduce costs and protect assets. The DIGI Plus offers rapid on-site and on-board oil condition 
...
Read more...
---
ML based predictive maintenance
Third Quarter 2021, SKF South Africa , Other technologies
Read more...
---
Aluminium complex greases
Third Quarter 2021 , Other technologies
While no grease can truly be an all-purpose lubricant, aluminium complex grease is a valuable multifunctional, multipurpose product. Applications include vehicle wheel bearings, manufacturing and assembly 
...
Read more...
---
Gimatic's modular design philosophy
Second Quarter 2021, Gimatic , Other technologies
All vacuum pumps, cartridges, suspensions, suction cups and accessories have been designed to combine with a range of mounting elements and extrusions.
Read more...
---
World-first sensor platform for mobile machines
Second Quarter 2021, Instrotech , Other technologies
However dire or adverse the conditions are, mobile machines must work reliably under the harshest of conditions, including heat, cold, shock, vibration, water, mud or dust.       To ensure uninterrupted 
...
Read more...
---
Lubrication filter carts for flushing systems
Second Quarter 2021 , Other technologies
When a lubricant becomes contaminated it affects the entire machinery system, which then needs to be flushed to prevent further damage to costly equipment. Lubrication Engineers (LE) offers a solution 
...
Read more...
---
Swagefast lockbolt pins and collars
Second Quarter 2021, Bearing Man Group T/A BMG , Other technologies
BMG's locally manufactured Swagefast lockbolt pins and collars ensure increased productivity and reliability in heavy duty, high vibration applications, especially where structural integrity is critical 
...
Read more...
---
Addressing the challenges of food grade lubrication
First Quarter 2021 , Other technologies
Keeping food processing equipment well lubricated can be a challenge. Callum Ford, national marketing manager at Lubrication Engineers (LE), outlines the challenges associated with the lubrication of 
...
Read more...
---
Robust ergonomic cable extension reels
First Quarter 2021 , Other technologies
Powermite's range of robust cable extension reels is packed with features to provide customers with reliable, robust and safe performance. The Gen 2 plastic XREEL series is manufactured from Polyamide 
...
Read more...
---