printer friendly version
Aluminium complex greases
Third Quarter 2021
Other technologies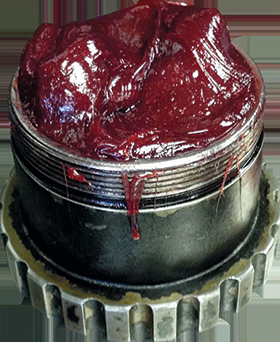 While no grease can truly be an all-purpose lubricant, aluminium complex grease is a valuable multifunctional, multipurpose product. Applications include vehicle wheel bearings, manufacturing and assembly plants, steel mills, boat trailers, paper mills and the rubber, textile and agricultural and construction industries. Aluminium complex greases are easy to pump at low temperatures because of their relatively low soap content and higher oil content. They readily accept extreme pressure additives, plus all the usual rust and oxidation inhibitors and speciality additives. Formulations of specially selected oils and additives can also be made to produce sophisticated lubricants for different temperature conditions.
Lubrication Engineers' aluminium complex greases include the company's proprietary and exclusive wear-reducing additives. The products also offer good heat reversion characteristics. This is the ability of the grease to revert to its normal consistency after it has been heated and cooled repeatedly.
Many industrial and automotive applications involve intermittent temperatures within a bearing that will approach or exceed the dropping point of the grease. If the grease in such an application does not maintain very nearly its initial consistency, the bearing is a candidate for failure. Aluminium complex greases also excel in resistance to both washing out of a bearing and being washed off a flat surface. This resistance to water washout is very important where it is necessary to prevent lubricating grease from entering plant discharge water. It also cuts down on lubricant consumption. The shear stability of aluminium complex grease is only moderately affected by water in the grease.
For more information contact Callum Ford, Lubrication Engineers, +27 11 464 1735, callum@lubricationengineers.co.za, www.lubricationengineers.co.za
Further reading:
Encoders with SAE J1939 interface
Turck Banner Other technologies
Turck Banner has extended its encoder portfolio with new encoders featuring the SAE J1939 interface, which is used particularly in mobile equipment.
Read more...
---
Expansion modules for functional safety
Parker Hannifin - Sales Company South Africa Other technologies
Parker Hannifin, the global leader in motion and control technologies, now offers its IQAN-XC41, -XC42 and -XC43 expansion modules with certification according to IEC 61508 safety integrity level 2 (SIL2). 
...
Read more...
---
Vibration and temperature monitor
Comtest Other technologies
Vibration testing in rotating machinery − such as drive motors, driven devices and the bearings, shafts, gears, belts and other elements that make up mechanical systems − provides a way to determine where 
...
Read more...
---
Reduced costs for packaging process
SICK Automation Southern Africa Editor's Choice Other technologies
To address Tetra Pak's requirements, SICK recommended the utilisation of its sHub sensors with EDS/EDM35 feedback system. This motor feedback system incorporates an acceleration sensor and enables comprehensive 
...
Read more...
---
Mini-mobile encoder for construction and agriculture
Instrotech Other technologies
When it comes to construction machinery, whether agricultural technology or forklift trucks, design engineers are often challenged with space limitations when fitting existing rotary encoders and measurement 
...
Read more...
---
Impact of innovative technologies on the mining industry
Parker Hannifin - Sales Company South Africa Other technologies
"Harnessing the complex data from a connected mine's equipment is key to maximising uptime. Parker's Mobile IoT makes it easy to identify usage trends and field-based problems with unparalleled intellectual 
...
Read more...
---
Experience-based diagnosis of machine mechanical problems
Comtest Other technologies
Comtest is offering the unique Fluke 810 vibration tester. This is the most advanced troubleshooting instrument available for vibration, enabling maintenance teams to rapidly collect data and diagnose 
...
Read more...
---
Digital prototyping grows sales 500%
Siemens South Africa Editor's Choice Other technologies
"Solid Edge has enabled us to enter a new world of product design and manufacturing," says Reid. "With its 3D design and sheet metal capabilities, we can now design equipment that is far more functional 
...
Read more...
---
High-quality contact lubricants
Vepac Electronics Other technologies
CG53A is part of the CG series of contact lubricants, designed as an extension of the extremely popular 2X range. The main advantages of these products are reduced contact resistance, even on extremely 
...
Read more...
---
HFT appointed distributor of Femco oil drain equipment
Hytec Fluid Technology Other technologies
Hytec Fluid Technology (HFT) has been appointed a distributor of Femco oil drainage equipment in South Africa. Femco oil drain plugs deliver spill-free, toolless oil changes. They are ideal for use across 
...
Read more...
---