printer friendly version
Aluminium complex greases
Third Quarter 2021
Other technologies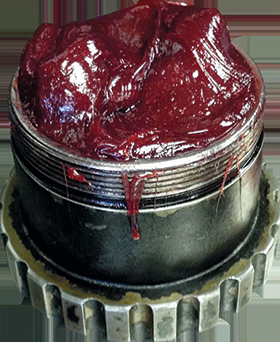 While no grease can truly be an all-purpose lubricant, aluminium complex grease is a valuable multifunctional, multipurpose product. Applications include vehicle wheel bearings, manufacturing and assembly plants, steel mills, boat trailers, paper mills and the rubber, textile and agricultural and construction industries. Aluminium complex greases are easy to pump at low temperatures because of their relatively low soap content and higher oil content. They readily accept extreme pressure additives, plus all the usual rust and oxidation inhibitors and speciality additives. Formulations of specially selected oils and additives can also be made to produce sophisticated lubricants for different temperature conditions.
Lubrication Engineers' aluminium complex greases include the company's proprietary and exclusive wear-reducing additives. The products also offer good heat reversion characteristics. This is the ability of the grease to revert to its normal consistency after it has been heated and cooled repeatedly.
Many industrial and automotive applications involve intermittent temperatures within a bearing that will approach or exceed the dropping point of the grease. If the grease in such an application does not maintain very nearly its initial consistency, the bearing is a candidate for failure. Aluminium complex greases also excel in resistance to both washing out of a bearing and being washed off a flat surface. This resistance to water washout is very important where it is necessary to prevent lubricating grease from entering plant discharge water. It also cuts down on lubricant consumption. The shear stability of aluminium complex grease is only moderately affected by water in the grease.
For more information contact Callum Ford, Lubrication Engineers, +27 11 464 1735, callum@lubricationengineers.co.za, www.lubricationengineers.co.za
Further reading:
Robotics and the potential for the lights-out factory
Third Quarter 2021, Omron Electronics , Editor's Choice, Other technologies
However the 100% automated, fully lights-out factory is not a realistic goal for a large proportion of manufacturing businesses currently operating. A key reason is that manufacturing needs people. Human 
...
Read more...
---
New generation of oil condition monitoring technology
Third Quarter 2021, Parker Hannifin - Sales Company South Africa , Other technologies
Parker Hannifin's innovative oil condition monitoring technology helps marine operators reduce downtime, reduce costs and protect assets. The DIGI Plus offers rapid on-site and on-board oil condition 
...
Read more...
---
Digital condition monitoring for conveyor belts
Third Quarter 2021 , Other technologies
ABB has launched ABB Ability Condition Monitoring for belts, an advanced digital service to enable mine operators to track speed, misalignment, damage, thickness and wear, slippage and temperature of 
...
Read more...
---
ML based predictive maintenance
Third Quarter 2021, SKF South Africa , Other technologies
Read more...
---
Gimatic's modular design philosophy
Second Quarter 2021, Gimatic , Other technologies
All vacuum pumps, cartridges, suspensions, suction cups and accessories have been designed to combine with a range of mounting elements and extrusions.
Read more...
---
World-first sensor platform for mobile machines
Second Quarter 2021, Instrotech , Other technologies
However dire or adverse the conditions are, mobile machines must work reliably under the harshest of conditions, including heat, cold, shock, vibration, water, mud or dust.       To ensure uninterrupted 
...
Read more...
---
Lubrication filter carts for flushing systems
Second Quarter 2021 , Other technologies
When a lubricant becomes contaminated it affects the entire machinery system, which then needs to be flushed to prevent further damage to costly equipment. Lubrication Engineers (LE) offers a solution 
...
Read more...
---
Swagefast lockbolt pins and collars
Second Quarter 2021, Bearing Man Group T/A BMG , Other technologies
BMG's locally manufactured Swagefast lockbolt pins and collars ensure increased productivity and reliability in heavy duty, high vibration applications, especially where structural integrity is critical 
...
Read more...
---
Addressing the challenges of food grade lubrication
First Quarter 2021 , Other technologies
Keeping food processing equipment well lubricated can be a challenge. Callum Ford, national marketing manager at Lubrication Engineers (LE), outlines the challenges associated with the lubrication of 
...
Read more...
---
Robust ergonomic cable extension reels
First Quarter 2021 , Other technologies
Powermite's range of robust cable extension reels is packed with features to provide customers with reliable, robust and safe performance. The Gen 2 plastic XREEL series is manufactured from Polyamide 
...
Read more...
---