printer friendly version
The top three reasons cylinders fail
Fourth Quarter 2021
Editor's Choice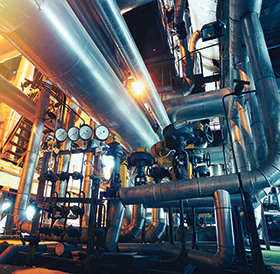 Cylinders can fail for a number of reasons, from wrong specifications to operator error. However, despite the number of engineering tools available to help reduce specification errors, one of the leading causes of cylinder failure is still seals. Whether the seals are sized wrong, incorrect material is specified, or just installed wrong, error in sealing can have a major effect on the entire cylinder operation.
Cylinder operation requires precise fluid pressure on both sides of the piston. If a seal breaks down and allows fluid to leak from one side of the piston to the other or out of the cylinder altogether, the pressures change and the cylinder will no longer operate as intended. Seal issues tend to fall into three main categories: hardening, bad installation and erosion.
Hardening
A seal can solidify and dry out, making it hard and brittle. The most common reason for this is exposure to temperatures that are too high for the seal to handle. This is not just ambient temperature around the cylinder. The piston itself can generate substantial heat through motion and friction, causing wear to the seal. This heat can be monitored by measuring the temperature of the hydraulic fluid entering and exiting the cylinder. There are several methods to combat hardening, including insulation and cooling, but the best way is to use materials that are suited to the temperature requirements of the application. Parker offers a number of high temperature class seals to meet these heat requirements.
 Bad installation
It takes precise installation of several parts to ensure that a cylinder will operate correctly for its entire life cycle. The seals are an integral part of this and if they are misaligned hydraulic fluid can leak past the seals. This can cause problems in cylinder operation leading to major failures, resulting in costly downtime. Parker provides cylinders with the proper seals properly installed, as well as universal seal kits to help ensure ease of installation on replacements.
Erosion
Erosion arises from three main sources. One cause is the general wear from the normal back and forth motion of the cylinder. Parker's Engineered Materials Group develops and manufactures innovative sealing solutions to meet the challenges of today's rapidly changing industries and provides a wide range of specialty elastomers to satisfy unique sealing requirements.
Another source of erosion is pressure buildup, which can cause wear if the seal used in a cylinder is not specified to the appropriate pressure. Recently, Parker cylinder engineers identified an issue of a piston seal getting blow-by and causing the cylinder to drift in an hydraulic press application. They were able to identify that the seal thickness was varied from about 0,8 mm under to almost 16 mm underprint dimensions and that there was a slight amount of extrusion on the side of the seal facing towards the cap end of the cylinder. These indicated higher pressure on the rod end of the cylinder that was getting trapped underneath the seal and pushing it against the cylinder body, causing wear. Parker recommended switching from the KP piston seal to the HP that is made of polyurethane, a tougher material, with reliefs moulded into the sides of the seal to allow venting excess pressure underneath. This helped the customer identify an issue early that could have grown into a much bigger problem.
 The Parker HP energised bi-directional piston seal improves upon the low friction and long wear of lip seals by including excellent low pressure sealing performance. Specially formulated polyurethane is long-wearing and abrasion-resistant with running friction comparable to lip seals. An O-ring energiser ensures virtually zero leakage in low pressure applications. Parker's HP piston seal is an excellent choice for most industrial applications operating with mineral-based hydraulic oil and is available in Seal Classes 1 and 4.
 The Parker KP bronze-filled PTFE seal ring material has low running friction for accurate positioning in closed loop servo applications. When combined with a fluorocarbon energising ring, the Parker KP seal is rated for 200°C and will increase service intervals in high temperature applications when compared to fluorocarbon lip seals.
The final main source of erosion is use with an incompatible fluid. Hydraulic systems use a relatively incompressible fluid and given the application environment, different types of hydraulic fluids may be required. For example, the use of synthetic hydraulic fluid may be used for highly flammable applications. Not every seal will work with every application. Parker offers seven classes of seals that are designed to work with standard hydraulic fluids through to some that are highly corrosive.
For more information contact Lisa de Beer, Parker Hannifin SA, +27 11 961 0700, lisa.debeer@parker.com, www.parker.com/za
Credit(s)
Further reading:
Rugged, reliable electro-hydraulics
Axiom Hydraulics Editor's Choice
From simple switching valves to sophisticated closed-loop control, Sun's line of E-H products powers your most demanding applications.
Read more...
---
What you should know about air preparation
Editor's Choice
Compressed air quality has three potential problem areas to consider: particles, water and oil.   
• Dust and other airborne particles: The compressed air leaving the compressor room, which has already 
...
Read more...
---
Superconductivity for aircraft
Editor's Choice Other technologies
In 1911, Dutch physicist Heike Kamerlingh Onnes found himself preoccupied with one question: what happens to the electrical conductivity of pure metals at very low temperatures? During an experiment, 
...
Read more...
---
Yaskawa steps into the future
Editor's Choice Robotics & Mechatronics
Crackett says that Yaskawa Southern Africa has installed more than 2500 Motoman robots. The company's main target market is automotive, having cut its teeth here when Terry Rosenberg first started up 
...
Read more...
---
Cool move for rotor hubs
Editor's Choice Electrical switching & drive systems & components
At the company's new Mechatronic Competence centre, machine houses and rotor hubs are produced for the entire Enercon range of products. After painting, the large volume cast bodies of the rotor 
...
Read more...
---
Parker Hannifin announces new two-day online oil and gas event
Parker Hannifin - Sales Company South Africa News & events
Parker Hannifin has announced that it will hold an online trade show dedicated to the oil and gas industry, on 6 and 7 October.
Read more...
---
How to embrace the benefits of smart pneumatics
Emerson Automation Solutions Editor's Choice Pneumatic systems & components
Understand how this challenge creates opportunities
It is important to consider how insights from data can help end-users react to real-time events or even predict the future. For example, the Emerson 
...
Read more...
---
PC-based control runs the stage machinery for Rigoletto
Beckhoff Automation Editor's Choice Electrical switching & drive systems & components
In the production, the court jester Rigoletto becomes a clown. Only the head, encircled by a wide collar, and the hands of the gigantic clown protrude from the lake. Eventually the clown becomes the victim 
...
Read more...
---
Robotics and the potential for the lights-out factory
Omron Electronics Editor's Choice Other technologies
However the 100% automated, fully lights-out factory is not a realistic goal for a large proportion of manufacturing businesses currently operating. A key reason is that manufacturing needs people. Human 
...
Read more...
---
Energy from the power of the moon
SKF South Africa Editor's Choice Shaft power components
It is intended to help reduce climate-damaging CO
2
emissions, slow down global warming and thus build a more sustainable future for generations to come. With the help of modern technology from SKF, 
...
Read more...
---