printer friendly version
Rugged, reliable electro-hydraulics
Fourth Quarter 2021
Editor's Choice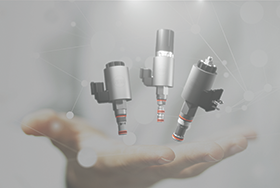 Sun Hydraulics has applied more than 50 years of valve design experience to its rapidly expanding line of electro-hydraulic products. It has studied the future of fluid power, benchmarked the competition on performance and price and applied what it learned to develop some of the most reliable, hard-working solutions in the market today.
Sun builds your solutions from the ground up, starting with a wide range of pressure control, flow control, directional and proportional valves with pilot-flow, full-flow and high-capacity versions available. It drives those electro-hydraulic valves with more than 100 different high-power, low-power and explosion-proof coils, providing precise control over millions of machine cycles.
And then it puts you in charge, combining the XMD valve driver with its CANpoint Configuration Software to make implementation of your next solution simpler, more powerful and a lot smarter. Choose from open- and closed-loop configurations, with PID closed-loop pressure, position and speed control, variable-speed fan drive control and cylinder, pump and motor control.
The valves
It all starts with the valves. Sun offers more than 80 base model electro-hydraulic valves and hundreds of configuration options to give you the flexibility you need to configure the perfect solution for your application. Models include pressure and flow control; directional 2-, 3-, 4- and 6-way control; and a range of electro-proportional valves.
Choose the DTAF 2-way directional blocking poppet valve – a small, powerful workhorse with extremely low leakage that delivers more than 10 million operational cycles and can be used to pilot larger Sun valves for higher flow rates in mobile applications. Or consider the patent-pending RVC family of two-stage, fully adjustable, ventable and blockable reliefs that reduce circuit complexity by combining two functions in one valve and provide convenient field-adjustable relief settings. They offer precise, dependable pressure regulation with flow rates up to 100 l/min.
Recently, Sun introduced the space-saving, pressure-compensated FREP flow control valve, combining an electro-proportional orifice and pressure compensator. This is ideal for situations where you need to maintain constant actuator speed regardless of the load on the actuator. This innovative design provides excellent variable flow control when using a fixed-displacement pump.
The coils
Every solenoid-operated valve needs a coil. Sun offers a full range of coil options to support your system requirements. Models are available in low- and high-power versions with options for 12-, 14-, 24- and 28- V DC and for 115- and 230 V AC. Connector options include DIN, Deutsch, AMP Junior, Metripack and twin leads. For hazardous locations, Sun offers explosion-proof coils that are ATEX, IECEx and CSA certified, with 90° and 180° connector options and in Vdc and Vac versions. Sun has the coils to drive your application in any direction.
The drivers
Sun makes it easy to control it all with the XMD electro-hydraulic driver. The XMD gives you the power and flexibility you need for demanding applications. Available in single- and dual-output versions, it is compact, incredibly rugged and can be configured quickly and easily using a smartphone and Sun's XMD Mobile app or on a PC using Sun's new CANpoint XMD Configuration Software.
The XMD driver is CAN configurable and designed for extreme conditions – perfect for demanding mobile environments. It is powerful, affordable, dependable and flexible. In addition to the discrete XMD driver, Sun offers a line of configurable IR embedded amplifiers that includes proportional and switching coil/controller models in 12 and 24 V DC versions with either current or voltage command.
The software
CANpoint Configuration Software is what brings it all together. It taps into the full capabilities of the XMD driver, providing quick, easy configuration over CAN bus using a computer. It allows XMD-02 users to implement open-loop, closed-loop (PID) and hydraulic fan drive control using pre-programmed modes for Sun's dual-output driver.
CANpoint is a free software configuration program for the XMD mobile drivers that simplifies advanced hydraulic control using a clear, simple software interface that allows for point-and-click output shaping with excellent resolution and predictable results. It requires no programming to take you from connecting to configuring to completing your application setup.
The solutions
Sun makes it easy to build your own electro-hydraulic solutions using its QuickDesign browser-based schematic tool. You can take your idea from product specification to design using drag-and-drop, point-and-click tools. Once you are satisfied with your circuit, you can submit it and get a finished package design in as little as 10 minutes.
Credit(s)
Further reading:
The top three reasons cylinders fail
Parker Hannifin - Sales Company South Africa Editor's Choice
Cylinder operation requires precise fluid pressure on both sides of the piston. If a seal breaks down and allows fluid to leak from one side of the piston to the other or out of the cylinder altogether, 
...
Read more...
---
What you should know about air preparation
Editor's Choice
Compressed air quality has three potential problem areas to consider: particles, water and oil.   
• Dust and other airborne particles: The compressed air leaving the compressor room, which has already 
...
Read more...
---
Superconductivity for aircraft
Editor's Choice Other technologies
In 1911, Dutch physicist Heike Kamerlingh Onnes found himself preoccupied with one question: what happens to the electrical conductivity of pure metals at very low temperatures? During an experiment, 
...
Read more...
---
Yaskawa steps into the future
Editor's Choice Robotics & Mechatronics
Crackett says that Yaskawa Southern Africa has installed more than 2500 Motoman robots. The company's main target market is automotive, having cut its teeth here when Terry Rosenberg first started up 
...
Read more...
---
Cool move for rotor hubs
Editor's Choice Electrical switching & drive systems & components
At the company's new Mechatronic Competence centre, machine houses and rotor hubs are produced for the entire Enercon range of products. After painting, the large volume cast bodies of the rotor 
...
Read more...
---
How to embrace the benefits of smart pneumatics
Emerson Automation Solutions Editor's Choice Pneumatic systems & components
Understand how this challenge creates opportunities
It is important to consider how insights from data can help end-users react to real-time events or even predict the future. For example, the Emerson 
...
Read more...
---
PC-based control runs the stage machinery for Rigoletto
Beckhoff Automation Editor's Choice Electrical switching & drive systems & components
In the production, the court jester Rigoletto becomes a clown. Only the head, encircled by a wide collar, and the hands of the gigantic clown protrude from the lake. Eventually the clown becomes the victim 
...
Read more...
---
Robotics and the potential for the lights-out factory
Omron Electronics Editor's Choice Other technologies
However the 100% automated, fully lights-out factory is not a realistic goal for a large proportion of manufacturing businesses currently operating. A key reason is that manufacturing needs people. Human 
...
Read more...
---
Energy from the power of the moon
SKF South Africa Editor's Choice Shaft power components
It is intended to help reduce climate-damaging CO
2
emissions, slow down global warming and thus build a more sustainable future for generations to come. With the help of modern technology from SKF, 
...
Read more...
---
Electric motors without magnets
Editor's Choice Electrical switching & drive systems & components
Permanent magnets, though, come with their own baggage. 97% of the world's rare earth metal supply comes out of China and state control over such a crucial resource across a number of high-tech industries 
...
Read more...
---