printer friendly version
Fuchs Lubricants sees major growth in Africa
Fourth Quarter 2021
News & events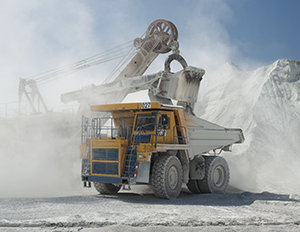 Moving to a centralised new head office in Isando, Johannesburg and launching a new unified product brand image in mid-November is all part of a long-term strategy for sustained growth and expansion at Fuchs Lubricants South Africa, the 100% owned subsidiary of Fuchs Germany. Sales director, Andrew Cowling, says 2021 has proven to be a record year for the company. The group has a range of over 10 000 products covering the six main categories: automotive lubricants, industrial lubricants, lubricating greases, metal processing lubricants, special application lubricants and related services.
"We are 100% focused on leveraging this extensive portfolio across our main markets, which include mining, construction, automotive and heavy engineering," adds Cowling. "We are a one-stop shop offering customised solutions," he elaborates. "We can supply everything from cleaners to gear, engine and transmission oils and coolants and greases."
Cowling explains that the new packaging launch is a global campaign to repackage the Fuchs core automotive brands into a unified range in line with the entire group product line, including Titan, Agrifarm and Maintain, to name but a few. "We believe that there is a huge opportunity for us in Africa, especially with the move to green energy. This is why we are looking very carefully at market segmentation to allow us to tailor specific strategies to cater for such developments and to introduce them into our entire approach, from product to customer focus, across Africa," he concludes.
For more information contact Kayla Van Vught, Fuchs Lubricants South Africa, +27 11 565 9738, kayla.vanvught@fuchs.com, www.fuchs.com/za
Further reading:
From the editor's desk: Would you like an NFT?
Technews Publishing News & events
One of my favourite light-hearted books is called Fifty Flippen Brilliant South Africans and Elon Musk stands out as one of the giants. He is one of the most iconic inventors and entrepreneurs of our 
...
Read more...
---
Hytec Rustenburg establishes permanent site in Marikana
News & events
Hytec Rustenburg has established its first 24/7 satellite mine site at a prominent mine in the North West province. This enables Hytec SA to provide a tailored maintenance programme and stock a selection 
...
Read more...
---
Danfoss acquires Eaton's hydraulics business
Danfoss News & events
Danfoss has officially finalised its $3,3 billion acquisition of Eaton's hydraulics business. The move will see the Danfoss Group grow in size by a third and establish itself as a global leader in mobile 
...
Read more...
---
Festo Didactic helps customers unpack their full learning potential
Festo News & events
Technological changes are continually transforming tasks in companies today. Investment in technologies and machines alone is not enough to ensure success. Festo recognises that skilled employees are 
...
Read more...
---
Engineering Solutions Group achieves Level 2 B-BEEE status
News & events
Invicta Holdings' Engineering Solutions Group (ESG) − distributors of engineering consumables, automotive components, technical services and related solutions − has achieved recognition as a Level 2 contributor 
...
Read more...
---
BMG opens new branch in Maun
News & events
BMG has extended its service in Botswana, with the opening of a new branch in Maun. "BMG now has two dedicated branches in Botswana – one in Gaborone, which was established in 1998 to service and supply 
...
Read more...
---
Fuchs Lubricants achieves top certification
News & events
Fuchs Lubricants South Africa has achieved IATF 16949:2016 certification, which aims at providing improved quality products to automotive customers worldwide. IATF 16949, specified by The International 
...
Read more...
---
Festo's life science webinar on gas handling opens up new horizons
Festo News & events
How piezo technology more efficiently regulates flow rate and pressure.
Read more...
---
Parker Hannifin announces new two-day online oil and gas event
Parker Hannifin - Sales Company South Africa News & events
Parker Hannifin has announced that it will hold an online trade show dedicated to the oil and gas industry, on 6 and 7 October.
Read more...
---
From the Editor's desk: Building the telescopes of tomorrow
Technews Publishing News & events
There are times when the news can get us down. Sadly the Bloodhound project aimed at breaking the world landspeed record at Hakskeen Pan in the Northern Cape has stalled, but there is other magic happening 
...
Read more...
---