printer friendly version
Africa is ripe for investment
Fourth Quarter 2021
Electrical switching & drive systems & components
The South African Department of Trade and Industry recently met with SEW-EURODRIVE to discuss its R200 million investment into the country at the organisation's new headquarters in Aeroton, Johannesburg. According to Deputy Minister Fikile Majola, a dynamic manufacturing base is critical for increasing the economic multiplier in an economy and helps to expand its technological base, creating jobs that foster inclusive growth. South Africa has implemented a number of policies and interventions aimed at growing its manufacturing base away from a mere provider of raw materials and unprocessed products to the rest of the world to becoming a manufacturing hub on the African continent. "This cutting edge SEW-EURODRIVE expansion is a testament to the progress we have made and the opportunities present in this market," he said.
Considered a hopeless continent by The Economist a little more than two decades ago, today Africa is widely regarded as the world's next growth market. Home to 17% of the global population in 2020, the continent is expected to account for 26% of the world's population by 2050 and an estimated $16,2 trillion of combined consumer and business spending.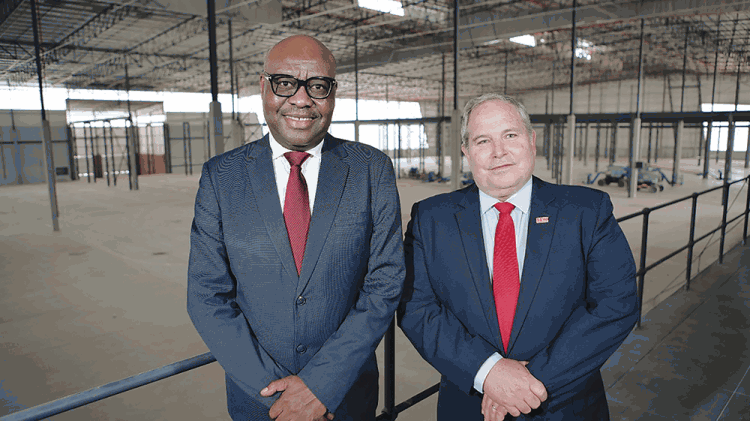 From l: Fikile Majola, Deputy Minister, South African Department of Trade and Industry; Raymond Obermeyer, MD, SEW-EURODRIVE South Africa.
Managing director of SEW-EURODRIVE South Africa, Raymond Obermeyer, said there is no question that South Africa and the broader continent offer numerous opportunities. Despite a persistent infrastructure deficit, the continent is making progress in mobilising resources for infrastructure development and bridging the gaps in the provision of ICT, energy, water, sanitation and transport.
"The continent boasts the fastest growing and second-largest mobile phone market globally and Fourth Industrial Revolution (4IR) technologies are starting to play a growing role on the continent," he pointed out. Obermeyer further noted that for Africa to realise a sustainable economic recovery it will require investments into those sectors that have the potential to positively impact the continent's growth in both the short and long term. An investment in renewable energy capacity, for example, could put the continent at the forefront globally and help build a climate-resilient and low-carbon economy.
"Strategically harnessing investment into growth sectors such as natural resource beneficiation, agro-processing, clothing and textiles, services and the digital economy have the potential to help the continent address the many challenges it faces, including youth employment, skills development, industrialisation and infrastructure development," he said.
An example of the type of investment required is SEW-EURODRIVE's new 25 000 m2 headquarters based in Aeroton, Johannesburg. The high-tech facility, constructed at a cost of R200 million, includes a larger warehousing facility which will allow the company to increase its local stockholding, alleviating potential import delays and an assembly factory. The new facilities have been modelled on the organisation's factory in Graben-Neudorf in Germany which uses Industry 4.0 technologies − intelligently networking people, things, processes, services and data. The facility will offer a comprehensive range of solutions for the entire value chain, including engineering and selection to startup and maintenance.
The organisation has long recognised the inherent opportunities available on the African continent. The reality is that foreign direct investment (FDI) flows into Africa in the last two decades have increasingly diversified away from extractive sectors into manufacturing, IT services, logistics, communications and renewable energy.
The African Continental Free Trade Area (AfCFTA) protocol, which came into effect in January this year, is expected to stimulate trade on the continent. AfCFTA aims to facilitate and promote intra-African trade by reducing and eliminating tariffs, integrating markets and economies, address non-tariff barriers to trade, enhance trade and investment policy certainty and contribute to greater economic growth across the continent.
"There is certainly no question that it offers the potential for investment, including in infrastructure and logistics as the continent gears up to expand its e-commerce potential. Over a three to five year period our factory will be fitted with many of these same technologies at an anticipated cost of an additional R200 million, providing the company with an opportunity to showcase our extensive capabilities," he continued.
The implementation of AfCFTA will make it easier for the company to service customers beyond South Africa's borders in the future. SEW-EURODRIVE currently services 23 countries throughout the African continent and expects the African markets to account for 50% of its turnover within the next few years. The new factory is key to the company's objective of more efficiently servicing its customers in South Africa and on the African continent.
For more information contact Jana Klut, SEW-EURODRIVE, +27 11 248 7000, jklut@sew.co.za, www.sew-eurodrive.co.za
Further reading:
Air operated diaphragm pumps
Bearing Man Group T/A BMG Electrical switching & drive systems & components
BMG's range of Ingersoll Rand ARO fluid management equipment comprises FDA-compliant air operated diaphragm pumps that provide solutions for the food and beverage sector, as well as in pharmaceutical 
...
Read more...
---
Conditioning monitoring with intelligent drives
Danfoss Electrical switching & drive systems & components
Industry 4.0 refers to the combination of physical assets and advanced digital technologies that communicate, analyse and act upon information. This in turn enables organisations and consumers to be flexible 
...
Read more...
---
Passenger trains with traction motors
Electrical switching & drive systems & components
It is important that commuter trains waste as little time as possible when leaving platforms, not only to save passengers time when travelling from station to station, but also to allow for trains to 
...
Read more...
---
Quick and easy simulation of drives
Siemens Digital Industries Electrical switching & drive systems & components
The new Sinamics DriveSim Basic software solution from Siemens allows drive constellations and their behaviour in machines and plants to be simulated, adapted and optimised. With the new solution, Siemens 
...
Read more...
---
Total drive solutions
Electrical switching & drive systems & components
Hudaco Power Transmissions, formerly Bauer Geared Motors South Africa, delivers total drive solutions to customers across the southern African region. The company has southern Africa distributor agreements 
...
Read more...
---
Faster and more flexible digital printing
Beckhoff Automation Electrical switching & drive systems & components
In just a few years Danish machine builder, Refine Finishing, has created a secure position among the world's leading suppliers of machines that convert digitally printed labels. Equipped with PC-based 
...
Read more...
---
Tailoring the motor to the application through coil selection
Electrical switching & drive systems & components
During the selection of a miniature DC motor, the design engineer will consider the dimensions needed to fit the desired space as well as the working point (the torque and speed at which the motor is 
...
Read more...
---
Powerful and extremely miniaturised
Horne Technologies Electrical switching & drive systems & components
With the new MC3001 motion controllers, available as MC 3001 B (board-to-board connectors) or MC3001P (28-pin plug connector), Faulhaber rounds out the MC V3.0 generation of controllers at the lower end 
...
Read more...
---
Cool move for rotor hubs
Editor's Choice Electrical switching & drive systems & components
At the company's new Mechatronic Competence centre, machine houses and rotor hubs are produced for the entire Enercon range of products. After painting, the large volume cast bodies of the rotor 
...
Read more...
---
Eliminating resonance in stepper motor applications
Electrical switching & drive systems & components
Engineers are increasingly turning to stepper motors for a simple and cost-effective positioning solution. However, due to the design of these motors and the way they are driven, there is an inherent 
...
Read more...
---