printer friendly version
Festo Didactic helps customers unpack their full learning potential
Fourth Quarter 2021
News & events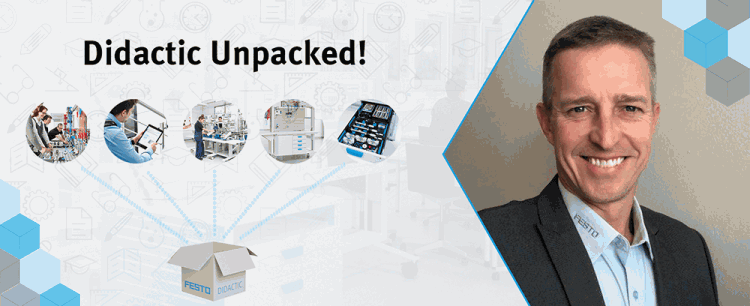 Technological changes are continually transforming tasks in companies today. Investment in technologies and machines alone is not enough to ensure success. Festo recognises that skilled employees are the key factor in productivity. Therefore, it is pivotal for them to contend with the continuous technological changes that require an unprecedented level of adaptability. As a global provider of technical education, Festo develops CPD accredited face-to-face training, online courses and webinars. For the first time, they are giving their customers an opportunity to unbox these training courses through fun and interactive games in their latest, unique campaign themed 'Didactic Unpacked'.
Each week, Festo releases a game on their Facebook and LinkedIn pages. To participate, interested individuals simply need to watch the Festo Didactic Unpacked videos and unlock the different informative games. They have lots of prizes up for grabs on each game level. Furthermore, participants that play all three levels will be entered into a lucky draw worth R10 000! The campaign games are valid until the 31st January 2022. Visit www.festo.co.za to participate and stand a chance to win. All the face-to-face courses and webinars that participants will unbox have been designed to train industry professionals to perform in highly dynamic and complex environments.
You are always at the right place for Festo training
Festo has expanded its training offering to online training courses and webinars – allowing them to reach customers all over the world without geographical barriers. This means that their customers can attend practical training courses in the safety and comfort of their home or workplace. Using the right software and methods, the company's trained experts convey the latest learning industrial content. Furthermore, their online courses prepare customers and form a foundation for their face-to-face courses.
Face-to-face training courses with state-of-the-art equipment
Although the world is advancing to online learning, Festo still comprehends the importance of online and face-to-face blended learning. Their hands-on, face-to-face practical training allows personal interaction and ensures that every participant receives additional guidance. Participants also have the opportunity to apply their newfound skills using industrial equipment during the practical sessions. Festo makes every effort to commit time and resources to educate as well as empower industry professionals in Africa for productivity and employability. Festo Didactic offers training courses in areas that play key roles in everyday industrial life. Hannes Otto, automation skills consultant, gives an overview of their modular training courses below.
Pneumatics training courses
"In recognition of the demand for advanced skills levels within the pneumatics industry, Festo Didactic helps customers understand and operate complex pneumatic machines," said Hannes. Their range of pneumatic courses covers modern industrial pneumatic concepts and applications necessary to understand, install and maintain pneumatic automation systems and machines.
Hydraulics courses for seamless flow
"Our hydraulic courses provide insight into hydraulic hardware technology and its functions," said Hannes. On the Basic Hydraulics course, attendees get to learn how to design, read circuit diagrams and set the speed, pressure and position for hydraulic drives. More advanced topics are covered by the follow-up hydraulic courses.
Electrics/electronics courses
The increasing use of electrical drives in the industry has led to a skills gap that can have a negative impact on productivity. "With the skills and knowledge that is gained on their electric courses, customers can make informed decisions on the best technology option for their applications," added Hannes.
Digitalisation/Industry 4.0
To establish Industry 4.0 in a company, the training and qualifications of its skilled workers must be adapted to meet the new requirements of this interdisciplinary approach. "Festo Didactic prepares industry professionals for these rapid changes through their intuitive training curriculum and hands-on exposure to I4.0 applications and equipment," explains Hannes.
Customised training courses
Festo focuses on customer needs and requirements. "Our experienced trainers pride themselves in developing and presenting customised training that is designed to address specific customer needs and improve skill sets ranging from basic through to advanced levels," concluded Hannes.
Festo Learning Experience (LX)
According to Festo, every person is unique; therefore, learning should be adapted to the individual needs of the learner. That is why they have developed Festo LX, also referred to as Festo Learning Experience. The digital learning portal for technical education and training picks up current and future learning trends at an early stage and offers comprehensive learning content for many areas of technical education and training. Festo LX combines industry expertise with didactic know-how.
Skills shortages can slow down the entire operating cycle, negatively impacting productivity and competitiveness. Ongoing industry training from Festo Didactic can help individuals, employees and managers meet the changing requirements that today's automation environment demands from them. Their years of experience have familiarised them with the industrial work environment and its challenges – making Festo the ideal training partner.
For more information contact Festo South Africa, 0860 033 786, marketing.za@festo.com, www.festo.co.za
Credit(s)
Further reading:
Obituary: Steven James Meyer
January 1957 - January 2022
Technews Publishing News & events
It is with deep sadness and shock that we announce the sudden death of SA Instrumentation & Control Editor, Steven Meyer. Steven joined Technews in October 2007 in the position of Deputy Editor. His 
...
Read more...
---
From the editor's desk: Would you like an NFT?
Technews Publishing News & events
One of my favourite light-hearted books is called Fifty Flippen Brilliant South Africans and Elon Musk stands out as one of the giants. He is one of the most iconic inventors and entrepreneurs of our 
...
Read more...
---
Fuchs Lubricants sees major growth in Africa
News & events
Moving to a centralised new head office in Isando, Johannesburg and launching a new unified product brand image in mid-November is all part of a long-term strategy for sustained growth and expansion at 
...
Read more...
---
Hytec Rustenburg establishes permanent site in Marikana
News & events
Hytec Rustenburg has established its first 24/7 satellite mine site at a prominent mine in the North West province. This enables Hytec SA to provide a tailored maintenance programme and stock a selection 
...
Read more...
---
Danfoss acquires Eaton's hydraulics business
Danfoss News & events
Danfoss has officially finalised its $3,3 billion acquisition of Eaton's hydraulics business. The move will see the Danfoss Group grow in size by a third and establish itself as a global leader in mobile 
...
Read more...
---
Engineering Solutions Group achieves Level 2 B-BEEE status
News & events
Invicta Holdings' Engineering Solutions Group (ESG) − distributors of engineering consumables, automotive components, technical services and related solutions − has achieved recognition as a Level 2 contributor 
...
Read more...
---
BMG opens new branch in Maun
News & events
BMG has extended its service in Botswana, with the opening of a new branch in Maun. "BMG now has two dedicated branches in Botswana – one in Gaborone, which was established in 1998 to service and supply 
...
Read more...
---
Fuchs Lubricants achieves top certification
News & events
Fuchs Lubricants South Africa has achieved IATF 16949:2016 certification, which aims at providing improved quality products to automotive customers worldwide. IATF 16949, specified by The International 
...
Read more...
---
Festo's life science webinar on gas handling opens up new horizons
Festo News & events
How piezo technology more efficiently regulates flow rate and pressure.
Read more...
---
Parker Hannifin announces new two-day online oil and gas event
Parker Hannifin - Sales Company South Africa News & events
Parker Hannifin has announced that it will hold an online trade show dedicated to the oil and gas industry, on 6 and 7 October.
Read more...
---