printer friendly version
Engineering Solutions Group achieves Level 2 B-BEEE status
Fourth Quarter 2021
News & events
Invicta Holdings' Engineering Solutions Group (ESG) − distributors of engineering consumables, automotive components, technical services and related solutions − has achieved recognition as a Level 2 contributor to Broad-Based Black Economic Empowerment (B-BBEE). ESG has been formally assessed by Ingkwazi, an accredited B-BBEE verification agency that bases ratings on the Codes of Good Practice and Gazetted Sector Charters.
"ESG's B-BBEE strategy has had a powerful impact on the expansion and improvement of business operations and we believe our new status will be a sound springboard for future growth of group companies," says ESG group human resources executive, Ruth Black. "This evaluation involves the company's compliance with empowerment factors identified by the DTI, which include ownership, management and control, skills development, enterprise and supplier development, as well as socio-economic development.
"ESG is committed to an integrated B-BBEE strategy, continually seeking ways to improve all aspects of the scorecard and strategically linking socio-economic investments to skills development and progressive employment equity, to ensure sustainable business performance. Our latest verification certificate and newly accredited Level 2 status means ESG customers can claim B-BBEE procurement recognition of 125% against all purchases."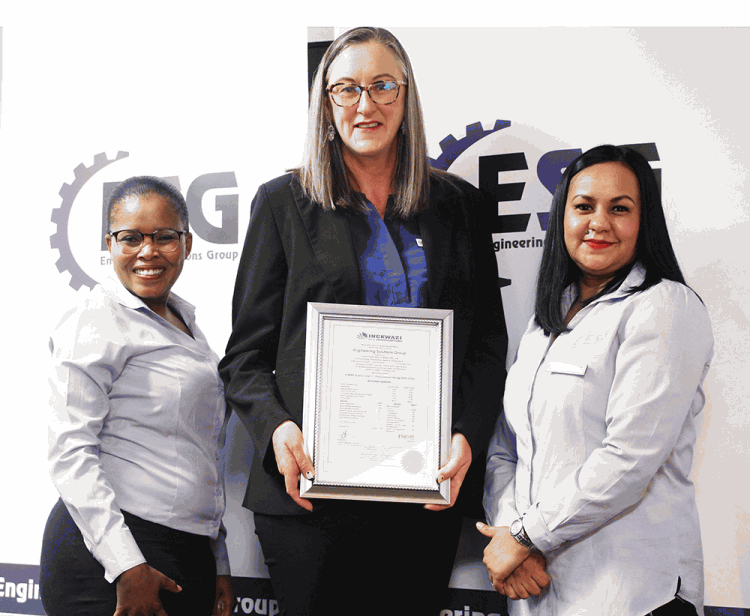 From l: Audrey Kgampe, B-BBEE coordinator; Ruth Black, group human resources executive; Joanne Danster, transformation manager.
The company believes in sustainable development and instils in its team a responsibility for health, safety and the environment, as well as empowering local communities. Skills training is also important at ESG and forms a critical part of the group's investment in staff upliftment.
ESG has expanded its operations significantly and now incorporates BMG (Africa's industrial leader in engineering consumables and services), INDUSTRI Tools & Equipment, Screen Doctor (vibrating equipment and material handling solutions), OST-Africa (vibrator motors, tensioners and suspension systems), Rustenburg Engineers & Foundry (major players in the foundry industry) and Abrasive Flow Solutions (specialists in the design and manufacture of slurry related valves).
Group companies also comprise Universal Parts Group (ESG's reach into the automotive after-market), incorporating Autobax and Driveshaft Parts; Belt Brokers (manufacturers and suppliers of quality conveyor components); and ESG Exports (which exports group products into Africa and globally).
Support to local industry during Covid-19
"In spite of challenging economic conditions, which have been exacerbated by the effects of the Covid-19 pandemic and ongoing strike action, the ESG team has worked hard to maintain its leading position in a highly competitive sector," explains Darryn Wright, group marketing executive, ESG. "Recent highlights for ESG companies include the launch of BMG's B2B and B2C online shopping platforms, which were designed to make the purchase of engineering consumables for the business sector and consumers even easier. Although these platforms offer new opportunities for doing business, digital shopping is merely another channel and does not detract from the technical support and personal care that BMG is well known for.
"The BMG team continues to provide critical engineering support to all sectors affected by Covid-19, with a particular focus on agriculture and food production. The BMG team is also currently assisting essential service customers in other sectors, including water and wastewater treatment facilities, coal mines and petrochemical plants. The company also works closely with service providers to power generation and pharmaceutical plants, as well as in ports, rail and road facilities."
Another highlight for ESG was the establishment a year ago of Abrasive Flow Solutions (AFS) as part of the Group's strategy to strengthen its position in the valves sector. The AFS team works closely with sister company, BMG, to extend its services in Africa, through the design, distribution, supply and support of a broad range of slurry related valves that comply with stringent quality and safety standards.
Through BMG's broad branch and distributor network, industry now has easy access to a comprehensive portfolio of locally manufactured and imported valves. This range includes AFS Klep diaphragm valves and wedge gate valves, AFS FPV non-return valves, pinch valves and knife gate valves. These highly skilled teams have a thorough understanding of the processes where valves are installed and are able to specify the correct valves required for every application. The company also assists customers in solving the problems of difficult installations and applications.
The ESG team is resolute that its broad customer base throughout Africa is able to continue operating as efficiently and as safely as possible at all times, even during difficult periods.
For more information contact Ruth Black, Engineering Solutions Group, +27 11 620 1646, ruthb@esggroup.net, www.invictaholdings.co.za/engineering-solutions-group/
Further reading:
Obituary: Steven James Meyer
January 1957 - January 2022
Technews Publishing News & events
It is with deep sadness and shock that we announce the sudden death of SA Instrumentation & Control Editor, Steven Meyer. Steven joined Technews in October 2007 in the position of Deputy Editor. His 
...
Read more...
---
From the editor's desk: Would you like an NFT?
Technews Publishing News & events
One of my favourite light-hearted books is called Fifty Flippen Brilliant South Africans and Elon Musk stands out as one of the giants. He is one of the most iconic inventors and entrepreneurs of our 
...
Read more...
---
Fuchs Lubricants sees major growth in Africa
News & events
Moving to a centralised new head office in Isando, Johannesburg and launching a new unified product brand image in mid-November is all part of a long-term strategy for sustained growth and expansion at 
...
Read more...
---
Hytec Rustenburg establishes permanent site in Marikana
News & events
Hytec Rustenburg has established its first 24/7 satellite mine site at a prominent mine in the North West province. This enables Hytec SA to provide a tailored maintenance programme and stock a selection 
...
Read more...
---
Danfoss acquires Eaton's hydraulics business
Danfoss News & events
Danfoss has officially finalised its $3,3 billion acquisition of Eaton's hydraulics business. The move will see the Danfoss Group grow in size by a third and establish itself as a global leader in mobile 
...
Read more...
---
Festo Didactic helps customers unpack their full learning potential
Festo News & events
Technological changes are continually transforming tasks in companies today. Investment in technologies and machines alone is not enough to ensure success. Festo recognises that skilled employees are 
...
Read more...
---
BMG opens new branch in Maun
News & events
BMG has extended its service in Botswana, with the opening of a new branch in Maun. "BMG now has two dedicated branches in Botswana – one in Gaborone, which was established in 1998 to service and supply 
...
Read more...
---
Fuchs Lubricants achieves top certification
News & events
Fuchs Lubricants South Africa has achieved IATF 16949:2016 certification, which aims at providing improved quality products to automotive customers worldwide. IATF 16949, specified by The International 
...
Read more...
---
Festo's life science webinar on gas handling opens up new horizons
Festo News & events
How piezo technology more efficiently regulates flow rate and pressure.
Read more...
---
Parker Hannifin announces new two-day online oil and gas event
Parker Hannifin - Sales Company South Africa News & events
Parker Hannifin has announced that it will hold an online trade show dedicated to the oil and gas industry, on 6 and 7 October.
Read more...
---