printer friendly version
Fuchs Lubricants achieves top certification
Fourth Quarter 2021
News & events
Fuchs Lubricants South Africa has achieved IATF 16949:2016 certification, which aims at providing improved quality products to automotive customers worldwide. IATF 16949, specified by The International Automotive Task Force (IATF), defines the QMS standards specifically for the automotive industry. IATF 16949:2016 emphasises the development of a process-oriented quality management system to facilitate continual improvement, defect prevention and waste reduction in the supply chain.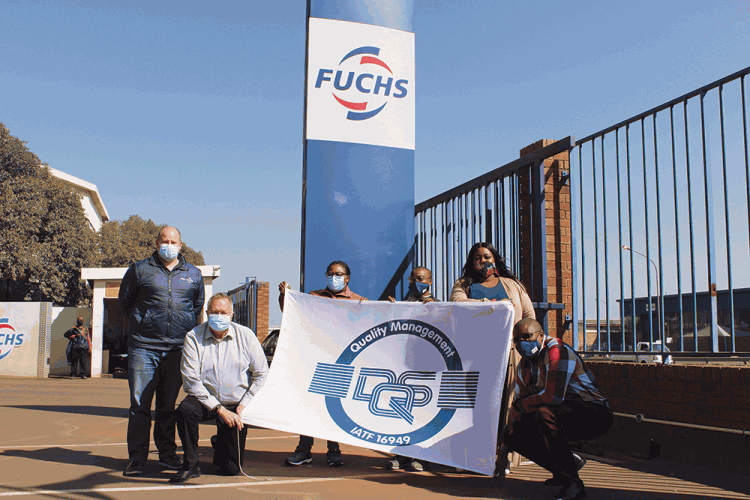 From l: Andrew Cowling; Paul Deppe; Neo Pooe; Zandile Xulu; Dr Siphilisiwe Ndlovu; Lesley Mabaso.
Dr Siphilisiwe Ndlovu, technical director at Fuchs Lubricants South Africa, said that the certification covers product design, production quality and risk and all processes that impact delivery of a product to the customer. He added that the focus is on minimising risk and errors from a quality system perspective and identifying opportunities to improve process efficiencies. "IATF creates awareness of what can go wrong in the overall manufacturing process, implementing error-proofing measures and focuses on meeting customer requirements and delivering what the customer wants," he explained. "It places greater emphasis on top level management for QMS ownership, with the focus on customer satisfaction. This approval demonstrates our ability to consistently provide products that meet customer needs and meet statutory, regulatory and product safety requirements. The aim is therefore to enhance customer satisfaction through the effective application of our processes."
For more information contact Ronald Maluleke, Sha-Izwe Communications/CharlesSmithAssoc, +27 073 716 2117, ronald@csa.co.za, csa.co.za
Further reading:
Obituary: Steven James Meyer
January 1957 - January 2022
Technews Publishing News & events
It is with deep sadness and shock that we announce the sudden death of SA Instrumentation & Control Editor, Steven Meyer. Steven joined Technews in October 2007 in the position of Deputy Editor. His 
...
Read more...
---
From the editor's desk: Would you like an NFT?
Technews Publishing News & events
One of my favourite light-hearted books is called Fifty Flippen Brilliant South Africans and Elon Musk stands out as one of the giants. He is one of the most iconic inventors and entrepreneurs of our 
...
Read more...
---
Fuchs Lubricants sees major growth in Africa
News & events
Moving to a centralised new head office in Isando, Johannesburg and launching a new unified product brand image in mid-November is all part of a long-term strategy for sustained growth and expansion at 
...
Read more...
---
Hytec Rustenburg establishes permanent site in Marikana
News & events
Hytec Rustenburg has established its first 24/7 satellite mine site at a prominent mine in the North West province. This enables Hytec SA to provide a tailored maintenance programme and stock a selection 
...
Read more...
---
Danfoss acquires Eaton's hydraulics business
Danfoss News & events
Danfoss has officially finalised its $3,3 billion acquisition of Eaton's hydraulics business. The move will see the Danfoss Group grow in size by a third and establish itself as a global leader in mobile 
...
Read more...
---
Festo Didactic helps customers unpack their full learning potential
Festo News & events
Technological changes are continually transforming tasks in companies today. Investment in technologies and machines alone is not enough to ensure success. Festo recognises that skilled employees are 
...
Read more...
---
Engineering Solutions Group achieves Level 2 B-BEEE status
News & events
Invicta Holdings' Engineering Solutions Group (ESG) − distributors of engineering consumables, automotive components, technical services and related solutions − has achieved recognition as a Level 2 contributor 
...
Read more...
---
BMG opens new branch in Maun
News & events
BMG has extended its service in Botswana, with the opening of a new branch in Maun. "BMG now has two dedicated branches in Botswana – one in Gaborone, which was established in 1998 to service and supply 
...
Read more...
---
Festo's life science webinar on gas handling opens up new horizons
Festo News & events
How piezo technology more efficiently regulates flow rate and pressure.
Read more...
---
Parker Hannifin announces new two-day online oil and gas event
Parker Hannifin - Sales Company South Africa News & events
Parker Hannifin has announced that it will hold an online trade show dedicated to the oil and gas industry, on 6 and 7 October.
Read more...
---