printer friendly version
Industrial gearboxes for DRC mine
Fourth Quarter 2021
Electrical switching & drive systems & components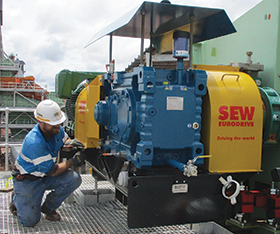 When a greenfields project for a major copper mine in the Democratic Republic of the Congo required 55 conveyor drive packages and 25 spare industrial gear units for its underground in-plant and above-ground conveyors, the mine turned to SEW-EURODRIVE to meet its needs in a highly demanding environment.
Mining, whether underground or above ground, is always a challenging operating environment for precision-engineered industrial gearboxes. SEW-EURODRIVE South Africa found its well established capabilities and extensive experience tested to the full when it was contracted by a new copper mine in the DRC to supply conveyer drives capable of operating in an extremely hot and humid environment where heavy downpours of rain are also common.
Whereas in South Africa and many other parts of sub-Saharan Africa, dust is typically the main challenge, this project required the company's engineers to develop bespoke solutions to cope with the particular needs of the DRC location.
"One of the key considerations was to ensure cooling was sufficient," explains head of department, Andreas Meid. "Fortunately, our upgraded X.e-Series gearbox, together with the different cooling fans that we have available, were up to the task." The X.e-Series was improved some two years ago, with the enhancements including better thermal characteristics and a longer operating life for the gearboxes. "In all, there were six aspects which SEW-EURODRIVE looked at on the gearbox and improved. We are finding that these upgrades are benefiting our clients by getting more out of the gearboxes," Meid emphasises.
The high humidity in the DRC also meant the standard breather used in the typical Southern African environment, for example, was unsuitable.
"If we had used a standard breather – where the main consideration is keeping dust out of the gearbox – there would have been a risk of getting moisture inside the unit and reducing the life of the oil and components," he says. "Our solution was a Des-Case breather that removes the moisture from the air and prevents it from entering the gearbox."
SEW-EURODRIVE'S journey with the DRC mine began in 2018, when it was contracted to provide gearbox units for the underground conveyors bringing the ore out of the mine. There were subsequent orders for processing plant conveyors and above ground conveyors. The project was one of many large projects undertaken by SEW-EURODRIVE on African soil. "We offered what we call a 'power pack', which comprises a gearbox, a motor and high-speed, low-speed couplings. These are then mounted on a common base plate," explains Meid. "We imported the gearboxes from Germany and manufactured the base plates and everything else in South Africa to meet customer requirements. Then we put all of that together and shipped it up to the DRC. Since this success, among many others, SEW-EURODRIVE has extended its capabilities to localise assembly of these products and more in our new facility earmarked for January 2022 in Johannesburg."
Prior to shipping, testing and special packaging was conducted at an independent facility with the client present. This gave peace of mind before the packs left South Africa for the long journey to site. Once the packages arrived at the mine – in some cases a three- to four-week road trip exacerbated by Covid-19 border regulations – SEW-EURODRIVE technicians were there to oversee installation and commissioning. The mine began operating in June 2021 and all is proceeding to plan with the next phase being planned. "It was not a simple project as the client's requirements were stringent and there were a large number of units involved," says Meid. "But, ultimately, we delivered to requirement."
Credit(s)
Further reading:
Air operated diaphragm pumps
Bearing Man Group T/A BMG Electrical switching & drive systems & components
BMG's range of Ingersoll Rand ARO fluid management equipment comprises FDA-compliant air operated diaphragm pumps that provide solutions for the food and beverage sector, as well as in pharmaceutical 
...
Read more...
---
Conditioning monitoring with intelligent drives
Danfoss Electrical switching & drive systems & components
Industry 4.0 refers to the combination of physical assets and advanced digital technologies that communicate, analyse and act upon information. This in turn enables organisations and consumers to be flexible 
...
Read more...
---
Passenger trains with traction motors
Electrical switching & drive systems & components
It is important that commuter trains waste as little time as possible when leaving platforms, not only to save passengers time when travelling from station to station, but also to allow for trains to 
...
Read more...
---
Africa is ripe for investment
Electrical switching & drive systems & components
The South African Department of Trade and Industry recently met with SEW-EURODRIVE to discuss its R200 million investment into the country at the organisation's new headquarters in Aeroton, Johannesburg. 
...
Read more...
---
Quick and easy simulation of drives
Siemens Digital Industries Electrical switching & drive systems & components
The new Sinamics DriveSim Basic software solution from Siemens allows drive constellations and their behaviour in machines and plants to be simulated, adapted and optimised. With the new solution, Siemens 
...
Read more...
---
Total drive solutions
Electrical switching & drive systems & components
Hudaco Power Transmissions, formerly Bauer Geared Motors South Africa, delivers total drive solutions to customers across the southern African region. The company has southern Africa distributor agreements 
...
Read more...
---
Faster and more flexible digital printing
Beckhoff Automation Electrical switching & drive systems & components
In just a few years Danish machine builder, Refine Finishing, has created a secure position among the world's leading suppliers of machines that convert digitally printed labels. Equipped with PC-based 
...
Read more...
---
Tailoring the motor to the application through coil selection
Electrical switching & drive systems & components
During the selection of a miniature DC motor, the design engineer will consider the dimensions needed to fit the desired space as well as the working point (the torque and speed at which the motor is 
...
Read more...
---
Powerful and extremely miniaturised
Horne Technologies Electrical switching & drive systems & components
With the new MC3001 motion controllers, available as MC 3001 B (board-to-board connectors) or MC3001P (28-pin plug connector), Faulhaber rounds out the MC V3.0 generation of controllers at the lower end 
...
Read more...
---
Cool move for rotor hubs
Editor's Choice Electrical switching & drive systems & components
At the company's new Mechatronic Competence centre, machine houses and rotor hubs are produced for the entire Enercon range of products. After painting, the large volume cast bodies of the rotor 
...
Read more...
---