printer friendly version
Spherical roller bearings for continuous casting
Fourth Quarter 2021
Shaft power components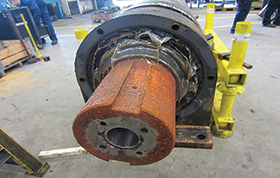 The bearings used in continuous casting machines have to endure arduous operating conditions that include high temperatures, heavy loads, ultra-low speeds, water/water vapour and scale. As a result, bearing failures such as wear, flaking and fracture are commonplace, prompting increasing numbers of steel manufacturing plants to adopt NSK Super Wear Resistant (SWR) spherical roller bearings. These advanced bearings provide several times more wear resistance, flaking life and outer ring toughness than standard counterparts made from AISI 52100 bearing steel.
Among those enjoying the benefits of the NSK SWR series is an international steel manufacturing plant that was previously experiencing regular bearing failures in a continuous casting machine. The machine produces steel slabs, a process involving the application of heavy loads that were compromising the life of standard bearings due to wear and fatigue. Indeed, the average life of the machine's bearings was just 40 to 50 weeks.
In order to extend bearing life and reduce maintenance costs, the plant requested the assistance of NSK's expert engineers, who duly commenced a full application review. The experienced team noticed that the failure modes were consistent with others seen in continuous casting machines featuring standard spherical roller bearings. NSK's bearing condition report contained a recommendation to adopt SWR series spherical roller bearings, which take advantage of a specially developed steel with far higher wear and fatigue resistance. Proven in continuous casting applications since 2001, the wear resistance of SWR bearings is three times that of AISI 52100 bearing steel, while both flaking life and outer ring toughness are five times greater. Furthermore, NSK SWR bearings can replace standard SRB bearings in continuous casting machines without modifying the axle, and work effectively with or without seals.
Notably, minimised outer ring friction helps to extend bearing life. This factor is important as friction due to differential sliding can promote uneven wear, flaking and fracture, which together constitute around 80% of defects found in the outer ring of spherical roller bearings at steel manufacturing plants.
For the customer, NSK suggested commencing a durability trial with SWR spherical roller bearings. Such was its success that the bearings delivered 60% longer operating life, leading to impressive annual savings of R2,4m. This is a result of the elimination of both downtime due to bearing failures and labour costs for bearing replacement. Results of this magnitude are easily achievable in continuous casting machines, where PR Ref. B132021-N | 1/4 standard spherical roller bearings are simply not robust enough to withstand the harsh operating conditions. In these applications, NSK's team of experts can help identify the source of the issue and recommend a solution based on its proven SWR series.
For more information contact Geraldene Govender, NSK South Africa, +27 11 458 3600, nsk-sa@nsk.com, www.nsk.com
Further reading:
Bearing solution for demanding applications
Shaft power components
The latest bearing solution for arduous and demanding industries has been launched by Bearings International (BI). The new Rexnord RN series of metric bearings offers cutting edge design with unmatched 
...
Read more...
---
Power transmission components
Bearing Man Group T/A BMG Shaft power components
BMG's comprehensive range of Tsubaki encompasses pin gear drive units that replace conventional gear rack systems. Tsubaki standard series (steel) and the S series (stainless steel) pin gear drive units 
...
Read more...
---
Energy from the power of the moon
SKF South Africa Editor's Choice Shaft power components
It is intended to help reduce climate-damaging CO
2
emissions, slow down global warming and thus build a more sustainable future for generations to come. With the help of modern technology from SKF, 
...
Read more...
---
Spindle screw pumps
Bearing Man Group T/A BMG Shaft power components
BMG supplies and supports the full range of SEIM spindle screw pumps, flow meters and in-line relief valves. "These robust pumps and related products – which are manufactured to stringent quality specifications 
...
Read more...
---
Complete solutions for the mining value chain
Shaft power components
Bearings International (BI) has products for the entire mining value chain, from the beginning of mining operations to their end of life. This encompasses all types of mining operations, from opencast 
...
Read more...
---
Common gear problems to look out for
Shaft power components
Like any mechanical element, gears are subject to wear and if this is not addressed, even failure. Callum Ford, national marketing manager at Lubrication Engineers (LE) South Africa, says that during 
...
Read more...
---
Components for submerged chain conveyors
Bearing Man Group T/A BMG Shaft power components
BMG's extensive power transmission range encompasses HEKO conveyor components, including round link chains which have been designed for dependable use in many harsh environments. "High wear-resistant 
...
Read more...
---
The unforeseen costs of counterfeit bearings
Shaft power components
Downtime, consequential damage, reduced lifespan, poor performance and safety are just some of the dangers of using counterfeit bearings, which are increasingly prevalent across South African industry, 
...
Read more...
---
SKF bearings help Mars Rover collect rock
SKF South Africa Editor's Choice Shaft power components
Enabling the Mars Rover's core operations in the harsh environment on Mars are Kaydon RealiSlim thin-section ball bearings, designed and manufactured by SKF at the company's global thin-section bearing 
...
Read more...
---
Lubrication-free roller chain
Bearing Man Group T/A BMG Shaft power components
BMG's extensive range of Tsubaki chain products encompasses the Lambda lubrication-free roller chain series, which has been designed for industries where clean working environments are required and where 
...
Read more...
---