printer friendly version
Experience-based diagnosis of machine mechanical problems
First Quarter 2022
Other technologies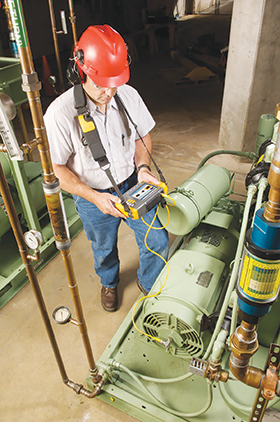 Comtest is offering the unique Fluke 810 vibration tester. This is the most advanced troubleshooting instrument available for vibration, enabling maintenance teams to rapidly collect data and diagnose and solve mechanical problems. The handheld Fluke 810 is designed and programmed to diagnose the most common mechanical problems of unbalance, looseness, misalignment and bearing failures in a wide variety of mechanical equipment, including motors, fans, blowers, belts and chain drives, gearboxes, couplings, pumps, compressors, close coupled machines and spindles.
When it detects a fault, the Fluke 810 identifies the problem and rates its severity on a four-level scale to help the maintenance professional prioritise maintenance tasks. It also recommends repairs. Context-sensitive on-board help menus provide new users with real-time guidance and tips.
The vibration tester uses a simple step-by-step process to report on machine faults the first time measurements are taken, without prior measurement history. The combination of plain-text diagnoses, severity ratings and repair recommendations helps users make better maintenance decisions and address critical problems first. Typical vibration analysers and software are intended for monitoring machine condition over the longer term, but require special training and investment that may not be possible in many companies. The Fluke 810 is designed specifically for maintenance professionals who need to troubleshoot mechanical problems and quickly understand the root cause of equipment condition.
Mechanical diagnosis with the Fluke 810 begins when the user places the Fluke tri-axial TEDS accelerometer on the machine under test. The accelerometer has a magnetic mount and can also be installed by attaching a mounting pad using adhesive. A quick-disconnect cable connects the accelerometer to the Fluke 810 test unit. As the machine under test operates, the accelerometer detects its vibration along three planes of movement and transmits that information to the Fluke 810. Using a set of advanced algorithms, the vibration tester then provides a plain text diagnosis of the machine with a recommended solution.
A new approach to machine diagnosis
Evaluating mechanical equipment typically requires comparing its condition over time to a previously established baseline condition. Vibration analysers used in condition-based monitoring or predictive maintenance programs rely upon these baseline conditions to evaluate machine condition and estimate remaining operating life. By contrast, the diagnostic technology in the Fluke 810 analyses machinery operation and identifies faults by comparing vibration data to an extensive set of rules developed over years of field experience. It determines fault severity using a unique technology to simulate a fault-free condition and establish a baseline for instant comparison to gathered data. This means that every measurement taken is compared to a 'like new' machine.
Viewer application software
The vibration tester includes Viewer PC software compatible with Windows XP and Vista to expand its data storage and tracking capability. With Viewer the user can:
• Create machine setups at the computer keyboard and transfer the data to the 810 vibration tester.
• Generate diagnostic reports in a .pdf file format.
• View vibration spectra in greater detail.
• Import and store JPEG images and Fluke .IS2 thermal images for a more complete view of a machine's condition.
The 810 comes with embedded diagnostic technology; tri-axial TEDS accelerometer; accelerometer magnet mount; accelerometer mounting pad kit with adhesive; accelerometer quick-disconnect cable; laser tachometer and storage pouch; smart battery pack with cable and adapters; shoulder strap; adjustable hand strap; Viewer PC application software; mini-USB to USB cable; Getting Started Guide; illustrated Quick Reference Guide; User Manual CD-ROM; and a hard carrying case.
Credit(s)
Further reading:
Encoders with SAE J1939 interface
Turck Banner Other technologies
Turck Banner has extended its encoder portfolio with new encoders featuring the SAE J1939 interface, which is used particularly in mobile equipment.
Read more...
---
Expansion modules for functional safety
Parker Hannifin - Sales Company South Africa Other technologies
Parker Hannifin, the global leader in motion and control technologies, now offers its IQAN-XC41, -XC42 and -XC43 expansion modules with certification according to IEC 61508 safety integrity level 2 (SIL2). 
...
Read more...
---
Vibration and temperature monitor
Comtest Other technologies
Vibration testing in rotating machinery − such as drive motors, driven devices and the bearings, shafts, gears, belts and other elements that make up mechanical systems − provides a way to determine where 
...
Read more...
---
Reduced costs for packaging process
SICK Automation Southern Africa Editor's Choice Other technologies
To address Tetra Pak's requirements, SICK recommended the utilisation of its sHub sensors with EDS/EDM35 feedback system. This motor feedback system incorporates an acceleration sensor and enables comprehensive 
...
Read more...
---
Mini-mobile encoder for construction and agriculture
Instrotech Other technologies
When it comes to construction machinery, whether agricultural technology or forklift trucks, design engineers are often challenged with space limitations when fitting existing rotary encoders and measurement 
...
Read more...
---
Impact of innovative technologies on the mining industry
Parker Hannifin - Sales Company South Africa Other technologies
"Harnessing the complex data from a connected mine's equipment is key to maximising uptime. Parker's Mobile IoT makes it easy to identify usage trends and field-based problems with unparalleled intellectual 
...
Read more...
---
Digital prototyping grows sales 500%
Siemens South Africa Editor's Choice Other technologies
"Solid Edge has enabled us to enter a new world of product design and manufacturing," says Reid. "With its 3D design and sheet metal capabilities, we can now design equipment that is far more functional 
...
Read more...
---
High-quality contact lubricants
Vepac Electronics Other technologies
CG53A is part of the CG series of contact lubricants, designed as an extension of the extremely popular 2X range. The main advantages of these products are reduced contact resistance, even on extremely 
...
Read more...
---
HFT appointed distributor of Femco oil drain equipment
Hytec Fluid Technology Other technologies
Hytec Fluid Technology (HFT) has been appointed a distributor of Femco oil drainage equipment in South Africa. Femco oil drain plugs deliver spill-free, toolless oil changes. They are ideal for use across 
...
Read more...
---
Honingcraft in the digital realm
Honingcraft Other technologies
Honingcraft distributes the finest steel products and components used for manufacturing hydraulic cylinders, including honed tube, chrome bar and cylinder kits. The company owns and operates highly-specialised 
...
Read more...
---