printer friendly version
From the editor's desk: Another dimension
First Quarter 2022
Editor's Choice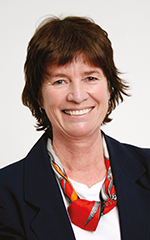 Kim Roberts, Editor
It is with great sadness that I am communicating the news of the passing of my colleague Steven Meyer, who was the editor of our sister publication, SA Instrumentation & Control. It was a privilege to have assisted him as associate editor over the years. He may have been quiet but Steven was a very cool guy with a huge intellect. I will miss his links to funky 90s rock music, our companiable journeys to conferences and functions and our chats about the latest developments in the world of automation. When I first knew him we hadn't even heard of IIoT. A highlight for me was the afternoon we spent in a flight simulator at OR Tambo, courtesy of Beckhoff, where we somehow narrowly missed crashing the plane. Go well Steven, I'll miss you.
The speed with which Covid vaccines have been developed by drawing on decades of earlier research is one example of the power of science and technology – 'it takes years to create an overnight success'. Steven loved new technology trends and he would have enjoyed The Economist's recent list of '22 emerging technologies worth watching in 2022'. They range from 3D-printed housing, to flying electric taxis (oh my goodness), to solar geoengineering, to meetings in the metaverse, to wireless electricity (charge your electric car while its sitting in your driveway).
Having recently built a house the traditional way, I have to say that 3D-printed houses caught my eye. They are created by extruding concrete through nozzles to gradually build up layers to form the structure of a house. There is no difference in the walls built by a 3D printer and the walls built by a normal construction crew; but builders can get the measurements wrong – a robot can't. A project that would usually take weeks can now be done in hours and at a fraction of the cost. Material waste is next to nothing as the printer uses exactly the amount of material it needs. Producing buildings layer by layer with a lattice structure inside also results in big reductions in cost; and the impact on the environment is greatly reduced. A home created with 3D printing has a 70% lower carbon footprint. Its early days but the possibilities are endless. How cool would that be to have a 3D-printed house?
There is also huge potential for 3D printing in the world of hydraulics and its already taking off. According to Bosch-Rexroth, some of the trends shaping the hydraulics industry are energy efficiency, noise reduction and reduced installation space and the benefits of 3D fit right in here. Many hydraulic equipment manufacturers are starting to explore this technology and the possibility for using it to produce hydraulic components like manifolds, servo valves and adapter blocks. Advanced designs using 3D printing make it possible to include new features, reduce the weight and size of the components and improve the overall performance of the hydraulic system. It allows manufacturers to make parts lighter and smaller and to redesign the internal geometries of a hydraulic component to optimise fluid flow and reduce pressure drop.
 Complex geometries and internal configurations that are not possible with traditional CNC machining processes can be created. For example engineers can position fluid flow channels inside a manifold right where they are needed and in a variety of shapes and sizes. This means flow channels can have curved shapes and be spaced closer together than with normal manifolds, which makes the manifold lighter and more compact. Curved flow paths can improve flow efficiency by 30 to 70%. Meanwhile the elimination of auxiliary drilling takes away the chance of fluid leaks.
In addition to reducing weight, 3D printing also allows for more compact parts that better fit into space-constrained areas. This advantage makes them ideal for applications that require high precision and light weight without compromising on strength or wear resistance. The ability to rapidly produce multiple prototypes also results in faster product development, reduces the time to market and lowers costs.
So what else does the future hold? BBC Science Focus magazine has more to say. There are innovations happening right now that are straight out of science fiction. Around the corner are robots that can read minds to help tetraplegic patients interact with the world; environmentally-friendly lab-grown dairy products; artificial eyes; 3D-printed bones; planes powered by hydrogen; airports for drones, energy storing bricks; digital twins that track your health; and smartwatches that are powered by your sweat. There is plenty to look forward to in the world of future technology. I think I'll fasten my seatbelt.
Credit(s)
Further reading:
Ultra-compact robot-based cake production with PC control
Beckhoff Automation Editor's Choice
"Baking Baumkuchen requires advanced skills and experience from the confectioner," says Mr Matsumoto, managing director of Juchheim's central plant. "However, if the oven's parameters can be captured 
...
Read more...
---
The advantages of robotics and simulation for your business
Editor's Choice Robotics & Mechatronics
The more complex your business is, the more room there is for innovation. At the same time, innovation cannot come at the cost of efficiency, quality and output levels. According to Von Fintel, this is 
...
Read more...
---
Ball screws with nut cooling
Editor's Choice Shaft power components
The machine tool industry uses ball screws to convert the rotary motion of an electric motor into linear motion. Very often, the positioning accuracy, as well as the travel speed and acceleration, have 
...
Read more...
---
From the editor's desk: Making sense of the metaverse
Technews Publishing News & events
It wasn't so long ago that nobody had heard of IIoT. Then the hype began and now it's an integral part of the manufacturing environment. Recently I've been hearing more and more about the metaverse 
...
Read more...
---
Concept to solution the short way
Axiom Hydraulics Editor's Choice Hydraulic systems & components
QuickDesign streamlines your custom design process, delivering complete designs in as little as ten minutes.
Read more...
---
Wireless communication and control of electro-pneumatic manifolds and IO
Editor's Choice
SMC analysed the control of manifolds-in-motion, where the physical removal of communications cables is desirable. Applications include manifolds mounted on robot gripper assemblies or rotating tables. 
...
Read more...
---
Pneumatics and digital transformation: overcome what's holding you back
Emerson Automation Solutions Editor's Choice Pneumatic systems & components
While IIoT offers the promise of a revolutionary impact on manufacturing, implementation of the technology has its challenges. What holds us back from a broader embrace of digital transformation, especially in pneumatics? And how do we move past the challenges to embrace the opportunity for real improvement in productivity and efficiency?
Read more...
---
The world's smallest electric subsea valve actuator
Editor's Choice
The actuator minimises energy consumption and is geared toward delicate ecosystems and installation and operating costs are reduced. When the SVA R2 is used in subsea factories at a depth of up to 4000 metres, 
...
Read more...
---
Reduced costs for packaging process
SICK Automation Southern Africa Editor's Choice Other technologies
To address Tetra Pak's requirements, SICK recommended the utilisation of its sHub sensors with EDS/EDM35 feedback system. This motor feedback system incorporates an acceleration sensor and enables comprehensive 
...
Read more...
---
Festo Process Automation solutions for all production levels
Festo South Africa Editor's Choice Electrical switching & drive systems & components
The first leg of the campaign creates an analogy between the human heart and its Process Automation solutions. The heart is at the centre of the vascular system, which is a network of blood vessels 
...
Read more...
---