printer friendly version
Honingcraft in the digital realm
First Quarter 2022
Other technologies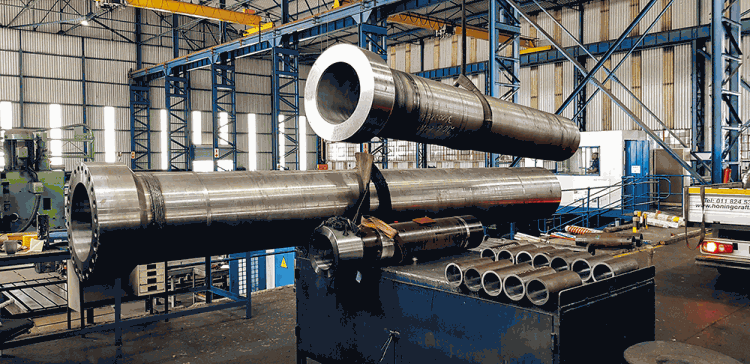 Honingcraft distributes the finest steel products and components used for manufacturing hydraulic cylinders, including honed tube, chrome bar and cylinder kits. The company owns and operates highly-specialised surface finishing and electroplating technology which adds value to commodity materials during the component manufacturing process. This includes boring, deep hole drilling, honing and precision internal and external grinding, to name a few. 
The company constantly focuses its time and energy on innovation and has fully embraced the fourth industrial revolution by conceptualising and implementing a digital transformation strategy, embarking on a three-phase plan to transform the business. The goal was simple: make the company easier to manage while maintaining and eventually improving profitability. 
Honingcraft brought Bydrae digital marketing agency on board in 2018. The engineering industry typically focuses on a sales-centric approach, so introducing digital marketing as a leading strategy was a contrarian idea at the time. Using a content marketing strategy meant initial gains were slow and no significant benefit was evident for the first 12 months of the project. Gerhard Pretorius, CTO of Bydrae Marketing Agency, says: "As with many things, we experienced improvement gradually, then suddenly. We started out by monitoring all the communication channels and consolidating the communication channels that were already in place. Using this data, we could determine which channels were benefiting the company most." 
In 2019 Honingcraft continued its digital transformation journey, upgrading its physical infrastructure by commissioning a dedicated fibre connection with ADSL and wireless backup systems to ensure redundant connectivity. The communications networks on site were improved and renewable solar energy solutions were rolled out to keep ICT running at all times. This upgrade made it possible for Honingcraft to move its administrative operations to the cloud. Downtime to attend to customers' needs is virtually non-existent at this point. 
Real advantages started becoming evident once the team embraced digital. Gerhard Hauptfleisch, CEO of Honingcraft, says: "The members of our team are the real stars. Without their flexibility and willingness to adopt new ideas, we wouldn't have been able to do any of this."
Honingcraft is now at the beginning stage of its third phase. The plan is to go completely virtual and paperless in 2022. Hauptfleisch continues: "Our ultimate goal is to make the company easier to manage while improving profitability. We've investigated several
cloud ERP solutions by performing soft launches and comparing productivity results in closed experiments. We've made this possible by digitising our marketing and improving our infrastructure to enable cloud-based operations." 
What does this mean for the industry? Digital transformation has assisted in consolidating information and resources with appropriate business tools. Honingcraft will be able to collect data and integrate it fully for business intelligence, from the moment someone decides to look for a product through to the day that product gets delivered and even afterwards in polls and surveys. 
Customer insights have become more sophisticated, allowing Honingcraft to offer a better customer experience. Furthermore, the digitisation of Honingcraft encourages a digital culture with improved collaboration and most notably, increased profits and efficiency. 
Embracing the digital strategy has proved successful. Pretorius explains: "In the last 12 months, Honingcraft generated 775 236 impressions, which led to 45 705 interactions and 230 conversions. To clarify, we counted an impression anytime someone saw the brand online and an interaction when anybody clicked on a link that directed them to Honingcraft's website, Facebook, LinkedIn or Youtube. Conversions are actual quotes requested for services or products through the website and exclude RFQs done via direct email and phones".
Pretorius further adds: "It seems counter-intuitive, but the interesting thing about this project is that the website gets fewer visitors than it did in 2019. The big difference is that we are converting far more often, which has made the whole marketing department more efficient. We do a lot with a much smaller budget because we had a long-term approach that takes advantage of compounding improvement." Hauptfleisch concludes: "At the end of the day, we want to serve our customers better. We wouldn't know how to serve them if we couldn't listen to them. Each phase of our digital transformation plan continues to grow our capabilities to listen to the voice of the customer and the market is rewarding us. We are humbled and grateful because without our team, we wouldn't be able to pull any of this off."
Credit(s)
Further reading:
Encoders with SAE J1939 interface
Turck Banner Other technologies
Turck Banner has extended its encoder portfolio with new encoders featuring the SAE J1939 interface, which is used particularly in mobile equipment.
Read more...
---
Expansion modules for functional safety
Parker Hannifin - Sales Company South Africa Other technologies
Parker Hannifin, the global leader in motion and control technologies, now offers its IQAN-XC41, -XC42 and -XC43 expansion modules with certification according to IEC 61508 safety integrity level 2 (SIL2). 
...
Read more...
---
Vibration and temperature monitor
Comtest Other technologies
Vibration testing in rotating machinery − such as drive motors, driven devices and the bearings, shafts, gears, belts and other elements that make up mechanical systems − provides a way to determine where 
...
Read more...
---
Reduced costs for packaging process
SICK Automation Southern Africa Editor's Choice Other technologies
To address Tetra Pak's requirements, SICK recommended the utilisation of its sHub sensors with EDS/EDM35 feedback system. This motor feedback system incorporates an acceleration sensor and enables comprehensive 
...
Read more...
---
Mini-mobile encoder for construction and agriculture
Instrotech Other technologies
When it comes to construction machinery, whether agricultural technology or forklift trucks, design engineers are often challenged with space limitations when fitting existing rotary encoders and measurement 
...
Read more...
---
Impact of innovative technologies on the mining industry
Parker Hannifin - Sales Company South Africa Other technologies
"Harnessing the complex data from a connected mine's equipment is key to maximising uptime. Parker's Mobile IoT makes it easy to identify usage trends and field-based problems with unparalleled intellectual 
...
Read more...
---
Experience-based diagnosis of machine mechanical problems
Comtest Other technologies
Comtest is offering the unique Fluke 810 vibration tester. This is the most advanced troubleshooting instrument available for vibration, enabling maintenance teams to rapidly collect data and diagnose 
...
Read more...
---
Digital prototyping grows sales 500%
Siemens South Africa Editor's Choice Other technologies
"Solid Edge has enabled us to enter a new world of product design and manufacturing," says Reid. "With its 3D design and sheet metal capabilities, we can now design equipment that is far more functional 
...
Read more...
---
High-quality contact lubricants
Vepac Electronics Other technologies
CG53A is part of the CG series of contact lubricants, designed as an extension of the extremely popular 2X range. The main advantages of these products are reduced contact resistance, even on extremely 
...
Read more...
---
HFT appointed distributor of Femco oil drain equipment
Hytec Fluid Technology Other technologies
Hytec Fluid Technology (HFT) has been appointed a distributor of Femco oil drainage equipment in South Africa. Femco oil drain plugs deliver spill-free, toolless oil changes. They are ideal for use across 
...
Read more...
---