printer friendly version
Digital prototyping grows sales 500%
First Quarter 2022 Editor's Choice Other technologies
From apple orchards and citrus groves to table grape vineyards and pecan farms, farmers across southern Africa use Red Ant Agri Engineering machines. "We have spent over a decade developing highly complex, niche agricultural equipment," says James Reid, owner of Red Ant Agri Engineering. "Yes, we build agricultural hardware, but we don't see ourselves as equipment builders. We offer solutions to our customers." Red Ant Agri's products are produced in small to medium production runs. Needing to design and build increasingly complex machines, the company turned to Solid Edge software to support its rapid growth. This is part of the Xcelerator software and services portfolio from Siemens Digital Industries Software.
"Solid Edge has enabled us to enter a new world of product design and manufacturing," says Reid. "With its 3D design and sheet metal capabilities, we can now design equipment that is far more functional and cost-effective. We have migrated from a local repair workshop to a recognised manufacturer of quality machinery in the agricultural space." A single product can include more than 500 components; being able to model and assemble the parts to check the fit and function of the machines has cut down on development time and cost. Sheet metal functionality improves the manufacturability of designs and allows easy integration with cutting and bending tools on the manufacturing floor. 3D renderings and models also assist with customer communication during the design phase and collaboration with subsystem providers and contract manufacturers.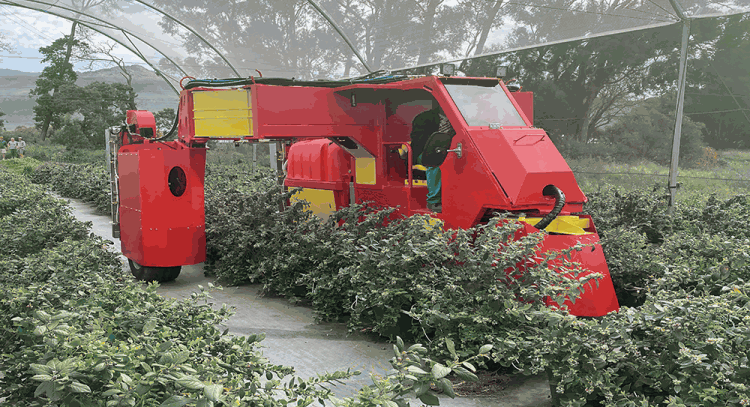 Many of Red Ant Agri's customers are looking for a completely new custom solution. This requires the company to focus its design capabilities on projects that can be turned into a product line. With Solid Edge, the company can collaborate with customers on a digital model, developing new solutions and fine-tuning a digital prototype before the first metal piece is cut. This has resulted in a 300% improvement in new product release success. "In the past we would be happy with one in four projects progressing to commercial viability. Today we expect 75% of the new products to achieve commercial success," says Reid. "In addition the software has enhanced the aesthetics of our products as we can make subtle changes in design proportions and the look and feel of the product while it is still in the modelling environment," he explains, "We now sell 10 times more of each design we complete. Before using Solid Edge, we were happy to produce 10 to 20 units of a specific machine. We now have over 300 units of two of our products in the market."
As a small company, Red Ant Agri needs to get designs right the first time and keep design costs low, even with larger and more complex machines. "With Solid Edge we can go from design to production without time-consuming and costly prototyping stages. While every product is different, I can safely say that we now deliver a working solution twice as fast as before," he continues. "Creating digital prototypes also helps the company sell its vision to potential customers and secure sales before building starts. In our environment farmers like to buy with their eyes."
The current situation with the supply and logistics around components internationally has put pressure on most manufacturers. Being able to verify form, fit and function on alternate components has become more necessary than ever. "We secured the supply of six hydraulic components across three products with a 30 to 50% cost saving for each component," he continues. "Hydraulic components are expensive, so this has a significant effect on the final product cost. We now deliver a working solution more than twice as fast as we did before."
As the Red Ant Agri team's capabilities and confidence have grown, it is taking on more ambitious projects and competing in the market with new, relevant and innovative designs. This helps the company adapt from smaller batch, seasonally-driven orders to the proactive introduction of new products into new markets, anticipating changes in the industry and spurring growth. "We try to introduce two to three new products a year. My design time is very limited, so being able to develop new ideas fast is critical. Solid Edge has allowed a small- to medium-sized company do big things. The development of the Red Ant product range has added significantly to our growth over the last eight years. This would not have been possible without Solid Edge."
For more information contact Jennifer Naidoo, Siemens South Africa, jennifer.naidoo@siemens.com, www.siemens.co.za
Credit(s)
Further reading:
Ultra-compact robot-based cake production with PC control
Beckhoff Automation Editor's Choice
"Baking Baumkuchen requires advanced skills and experience from the confectioner," says Mr Matsumoto, managing director of Juchheim's central plant. "However, if the oven's parameters can be captured 
...
Read more...
---
New motors for servo drive system
Siemens South Africa Electrical switching & drive systems & components
The servo motor thus meets all hygienic conditions and can be used for mixing and stirring, dosing and filling, as well as conveying, packaging and storing a wide variety of end products.       The 
...
Read more...
---
The advantages of robotics and simulation for your business
Editor's Choice Robotics & Mechatronics
The more complex your business is, the more room there is for innovation. At the same time, innovation cannot come at the cost of efficiency, quality and output levels. According to Von Fintel, this is 
...
Read more...
---
Ball screws with nut cooling
Editor's Choice Shaft power components
The machine tool industry uses ball screws to convert the rotary motion of an electric motor into linear motion. Very often, the positioning accuracy, as well as the travel speed and acceleration, have 
...
Read more...
---
Concept to solution the short way
Axiom Hydraulics Editor's Choice Hydraulic systems & components
QuickDesign streamlines your custom design process, delivering complete designs in as little as ten minutes.
Read more...
---
Wireless communication and control of electro-pneumatic manifolds and IO
Editor's Choice
SMC analysed the control of manifolds-in-motion, where the physical removal of communications cables is desirable. Applications include manifolds mounted on robot gripper assemblies or rotating tables. 
...
Read more...
---
Pneumatics and digital transformation: overcome what's holding you back
Emerson Automation Solutions Editor's Choice Pneumatic systems & components
While IIoT offers the promise of a revolutionary impact on manufacturing, implementation of the technology has its challenges. What holds us back from a broader embrace of digital transformation, especially in pneumatics? And how do we move past the challenges to embrace the opportunity for real improvement in productivity and efficiency?
Read more...
---
The world's smallest electric subsea valve actuator
Editor's Choice
The actuator minimises energy consumption and is geared toward delicate ecosystems and installation and operating costs are reduced. When the SVA R2 is used in subsea factories at a depth of up to 4000 metres, 
...
Read more...
---
Reduced costs for packaging process
SICK Automation Southern Africa Editor's Choice Other technologies
To address Tetra Pak's requirements, SICK recommended the utilisation of its sHub sensors with EDS/EDM35 feedback system. This motor feedback system incorporates an acceleration sensor and enables comprehensive 
...
Read more...
---
Festo Process Automation solutions for all production levels
Festo South Africa Editor's Choice Electrical switching & drive systems & components
The first leg of the campaign creates an analogy between the human heart and its Process Automation solutions. The heart is at the centre of the vascular system, which is a network of blood vessels 
...
Read more...
---