printer friendly version
Cummins offers a lifeline to the mining industry
First Quarter 2022
News & events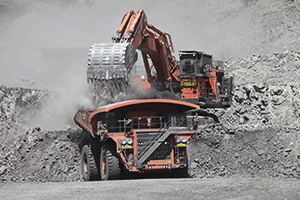 With the bulk of its business in Africa driven by mining, Cummins has continued to support its major mining clients throughout the Covid-19 pandemic. From blasthole drills and front-end loaders to 360 ton haul trucks and 1000 ton excavators, Cummins' mining platform delivers engine power from 8 to 47 kW. This is coupled with 80 years of experience in the mining industry globally, developing fuel-efficient and emissions-compliant technology to ensure the lowest cost per ton in the most demanding applications.
"The mining industry has kept the pedal to the metal throughout the Covid-19 pandemic," notes Dave Rehse, director of Mining Africa, Cummins Africa Middle East. "Business has largely carried on as usual. We are entering some very good rebuild cycles right now. Overall, I would say that the industry has remained buoyant throughout this difficult period."
Specific commodity sectors such as diamonds are showing green shoots, while the open-cast mining sector has also proven quite resilient. Rehse highlights that a particular challenge has been the restrictions on travel and having to deal with problems on client sites remotely. However, these restrictions are easing globally, signalling a slow return to normal for the mining industry.
Marco Gouveia, parts marketing director, says that a particular achievement for Cummins during the pandemic has been ensuring a consistent supply of parts and spares, despite the global constraints in this regard. Cummins has manufacturing facilities worldwide and different countries have been impacted by Covid-19 at different times and also responded differently in how they have dealt with the pandemic.
A major headache has been circulating manufactured goods around the globe, with airplane and shipping space at a premium due to a reduced number of flights and even a shortage of shipping containers to contend with. Despite these challenges, Cummins' resilient supply chain network has ensured a steady supply of parts and spares globally. "It is imperative that our mining clients are up and running at all times, as any parts-supply issues can impact rebuild or service times and have a major impact on uptime. In this regard, the global Cummins team has done a sterling job in literally keeping our engines running worldwide," adds Rehse.
"Genuine Cummins ReCon engines and parts remain a critical component of this global supply chain," notes Gouveia. "It is important that our mining clients adhere to their rebuild cycles, as this directly affects the total cost of ownership in terms of their equipment fleets. We are also able to tailor-make packages to suit specific requirements. We do have clients who prefer to carry out the work themselves and here we strive to ensure that parts are always on hand when any major interventions are required with their engines on site."
A key to Cummins' continued success in the mining industry is the longstanding relationships it has forged with major mining houses, from Zambia to Mozambique and even Namibia. "We have good relationships with key clients throughout southern Africa and this has really stood us in good stead to get through any rough patches," adds Gouveia.
Commenting on the mining industry's response to the Covid-19 pandemic, Rehse stresses that no expense has been spared to ensure the safety of all employees, which extends to third-party suppliers such as Cummins when its technicians are required to go on-site. "As a key supplier, we are part of the mining fraternity and all safety measures and protocols for mineworkers are extended to us to ensure a 'zero harm' working environment."
As to the future and the possible negative effects of new variants breaking out in major mining regions, Rehse believes that the mining industry has already done its homework and has a good foundation in place to deal with any contingencies. "We have refined our own internal processes and procedures throughout the pandemic, so we are in a strong position to continue to support the mining industry as it recovers and shows renewed growth going forward."
For more information contact Sbu Gule, Cummins Africa Middle East, +27 11 451 3400, [email protected], www.cummins.com
Further reading:
Port and rail upgrades essential for SA
News & events
Bearings International (BI) has welcomed the assertion by President Cyril Ramaphosa in his State of the Nation address on 10 February that the economy cannot grow without efficient ports and railways. 
...
Read more...
---
From the editor's desk: Making sense of the metaverse
Technews Publishing News & events
It wasn't so long ago that nobody had heard of IIoT. Then the hype began and now it's an integral part of the manufacturing environment. Recently I've been hearing more and more about the metaverse 
...
Read more...
---
Innovation for sustainable agriculture
News & events
Panasonic Industry has announced the Gold sponsorship of ETH Zurich's Robotic Weeding System (Rowesys) project and will assist the student team with engineering know-how, as well as components and products 
...
Read more...
---
New head office and warehouse for Fuchs Lubricants
News & events
The new head office and warehouse for Fuchs Lubricants South Africa is on track to be completed this month. The company is investing over R250 million in the expansion at its existing location in Isando, 
...
Read more...
---
Bosch Rexroth Africa Development appoints Tanzanian distributor
News & events
Bosch Rexroth Africa Development has appointed a Tanzanian company as its in-country distributor. Transec is a general mining equipment supplier with an established countrywide presence. In line with 
...
Read more...
---
YES to youth employment
News & events
Bosch Rexroth South Africa has participated in local government's 2021 Youth Employment Service (YES) Programme, which took place from 1 March 2021 to 28 February 2022. This experiential learning programme 
...
Read more...
---
Appointments
News & events
Read more...
---
Appointments
News & events
Read more...
---
WorldSkills Africa collaborates with Festo to host the 2022 competitions
News & events
WorldSkills is a global competition organisation that raises the profile of skilled individuals worldwide. This organisation also demonstrates how skills are essential in achieving economic growth. Their 
...
Read more...
---
Bosch Ulwazi's new accredited training programmes
News & events
Bosch Ulwazi has been endorsed by ECSA as its first Certified Training Academy. "This ECSA initiative was a direct response to stakeholders' concerns, to rectify the lack of support regarding development 
...
Read more...
---