printer friendly version
Innovation for sustainable agriculture
Second Quarter 2022
News & events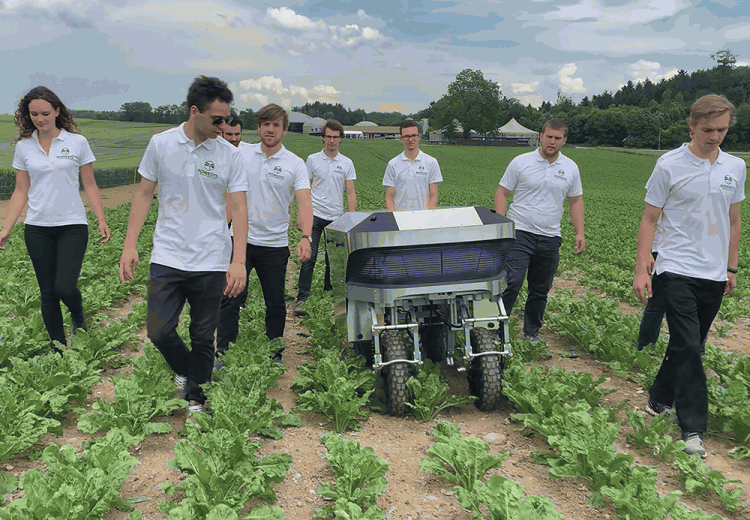 Panasonic Industry has announced the Gold sponsorship of ETH Zurich's Robotic Weeding System (Rowesys) project and will assist the student team with engineering know-how, as well as components and products from its portfolio.
With a vision of combining robotics and agriculture to develop an autonomous smart farming solution, it took the students of the Rowesys team only ten months to build the prototype. The goal is to use the robot as a mechanical weed control device and drastically reduce the use of herbicides, resulting in a more sustainable farming method. "Innovative solutions for a sustainable future are engrained into the Panasonics philosophy of contributing to society. The idea and commitment of the students convinced us to support these young talents," says Daniel Prohart, global brand manager, Panasonic.
Cameras underneath the battery-powered and GPS-guided vehicle scan the field and the crops, allowing it to navigate through the rows and identify weeds. Thanks to small ploughs mounted on the back of the robot, the roots of the weeds are pulled from the soil and thereafter dry out. As a result, the farmer can reduce the use of herbicides, which is beneficial for the crop and the soil.
"New ideas, innovative solutions and a goal to increase sustainability – these three pillars are the core values of Panasonic Industry and the Rowesys team. We are very happy to engage in this partnership and are looking forward to working with the students of ETH Zurich," concludes Panasonic Industry division head, Alexander Schultz-Storz.
For more information contact Moritz Cehak, Panasonic Industry, +49 89 45354 1228, [email protected], www.industry.panasonic.eu
Further reading:
Port and rail upgrades essential for SA
News & events
Bearings International (BI) has welcomed the assertion by President Cyril Ramaphosa in his State of the Nation address on 10 February that the economy cannot grow without efficient ports and railways. 
...
Read more...
---
From the editor's desk: Making sense of the metaverse
Technews Publishing News & events
It wasn't so long ago that nobody had heard of IIoT. Then the hype began and now it's an integral part of the manufacturing environment. Recently I've been hearing more and more about the metaverse 
...
Read more...
---
New head office and warehouse for Fuchs Lubricants
News & events
The new head office and warehouse for Fuchs Lubricants South Africa is on track to be completed this month. The company is investing over R250 million in the expansion at its existing location in Isando, 
...
Read more...
---
Bosch Rexroth Africa Development appoints Tanzanian distributor
News & events
Bosch Rexroth Africa Development has appointed a Tanzanian company as its in-country distributor. Transec is a general mining equipment supplier with an established countrywide presence. In line with 
...
Read more...
---
YES to youth employment
News & events
Bosch Rexroth South Africa has participated in local government's 2021 Youth Employment Service (YES) Programme, which took place from 1 March 2021 to 28 February 2022. This experiential learning programme 
...
Read more...
---
Appointments
News & events
Read more...
---
Appointments
News & events
Read more...
---
Cummins offers a lifeline to the mining industry
News & events
With the bulk of its business in Africa driven by mining, Cummins has continued to support its major mining clients throughout the Covid-19 pandemic. From blasthole drills and front-end loaders to 360 
...
Read more...
---
WorldSkills Africa collaborates with Festo to host the 2022 competitions
News & events
WorldSkills is a global competition organisation that raises the profile of skilled individuals worldwide. This organisation also demonstrates how skills are essential in achieving economic growth. Their 
...
Read more...
---
Bosch Ulwazi's new accredited training programmes
News & events
Bosch Ulwazi has been endorsed by ECSA as its first Certified Training Academy. "This ECSA initiative was a direct response to stakeholders' concerns, to rectify the lack of support regarding development 
...
Read more...
---