printer friendly version
The world's smallest electric subsea valve actuator
Second Quarter 2022
Editor's Choice
Bosch Rexroth has engineered a disruptive innovation for electrically actuating valves in the subsea process industry. Called the SVA R2 Subsea Valve Actuator, it is the world's first electric actuator that can replace conventional hydraulic cylinders with field-proven safety technology – and without taking up additional space. It has an integrated electric controller that offers precise motion control and due to condition monitoring and a safety spring, it satisfies Safety Integrity Level (SIL) 3 in accordance with IEC 61508 and IEC 61511.
The actuator minimises energy consumption and is geared toward delicate ecosystems and installation and operating costs are reduced. When the SVA R2 is used in subsea factories at a depth of up to 4000 metres, hydraulic pipes or power units are no longer required. The electric supply pipes which are already installed for sensors are adequate to ensure the reliable operation of the actuators. These functions, the operating life and actuator safety have been successfully tested in accordance with international standards.
Previously, process systems operators have mainly relied on hydraulic cylinders to open and close subsea valves with a quarter turn and a defined force. With offshore installations like oil and gas production, these cylinders are supplied by a central hydraulic power unit with hydraulic pipes several kilometres long. This uses a great deal of energy to compensate for the cumulated losses and cannot control the movement with precision.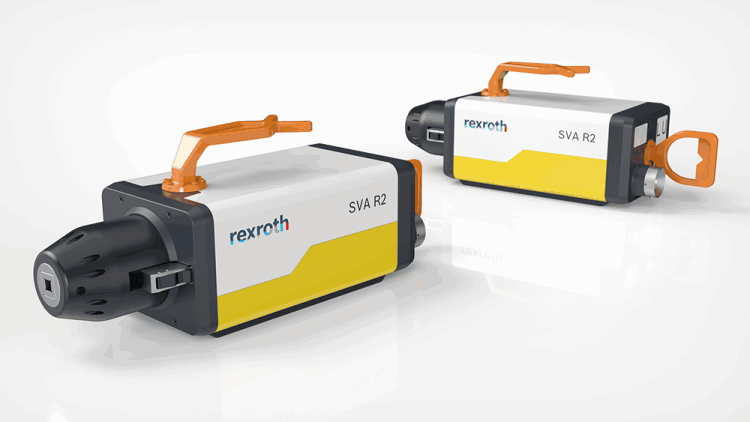 Plant engineers and operators relied on hydraulic cylinders because they are the only components to offer field-proven safety systems with a mechanical spring in a compact design. Conventional electric actuators do not have a safety function like this due to the size and weight requirements. Other designs to ensure safety using subsea batteries cannot guarantee the reliable closing of valves over the required operating life of up to 25 years.
For the agile development of the SVA R2, the Bosch Rexroth team worked closely with suppliers and operators of offshore installations and international universities. The new module comprises a pressure-compensated container incorporating an electric drive, a motion control system and a safety device – and can replace the hydraulic cylinders previously used on a 1:1 basis. It requires only one cable for the power supply and communication. The SVA R2 is designed to actuate valves reliably with the power supply that is commonly used for subsea sensors. Switching to compact and safe electric actuators means that hydraulic pipes several kilometres long and the associated power units and controllers are no longer required.
Designed for high volume production, the electronics for the motion control system offer proven robustness and reliability. The SVA R2 is protected by a number of patents and is designed to operate for 25 years. Bosch Rexroth relies on globally accepted interfaces throughout and supports plant engineers, operators and offshore service providers when standardising equipment. The actuators for rotary adjustment complement the SVA L2 Subsea Valve Actuator for linear movements, which received the Spotlight On Technology Award from the renowned Offshore Technology Conference (OTC) in 2020.
The SVA R2 Subsea Valve Actuator was nominated for and won the Hermes Award 2021, the most important international industry award. The jury chair, Professor Reimund Neugebauer, said: "With the SVA R2, the developers at Bosch Rexroth combine economic and ecological aspects into a sustainably innovative product for the maritime process industry."
Bosch Rexroth tests full scale prototypes on a specially built test stand in accordance with the most stringent international standards for subsea applications. Compared to other applications, they set the highest requirements with regards to the functions and safety of the components and modules used. As a result, the SVA R2 is suitable for other applications both below and above water such as hydrogen production, CO2 storage and general applications in the process industry. The first pilot tests began in the third quarter of this year.
For more information contact Gillian Allin, Bosch Rexroth South Africa, +27 11 979 4630, [email protected], www.boschrexroth.africa
Further reading:
The best of hydraulics meets the advantages of electric
Parker Hannifin - Sales Company South Africa Editor's Choice Hydraulic systems & components
Electrification is not new. The difference is the convergence of three powerful forces: stricter governmental regulations; ESG initiatives by the top companies in the world; and TCO. As adoption 
...
Read more...
---
The world's lightest electric mountain bike
DNH Tradeserve Editor's Choice Electrical switching & drive systems & components
The barely noticeable additional weight of the maxon drive of only 3,5 kg, in combination with superior carbon technology from Thömus, delivers a ride that feels as natural on the trail as on the 
...
Read more...
---
The strength of your machine is defined by its pivot joints
Bearing Man Group T/A BMG Editor's Choice Shaft power components
"Through Nord-Lock's advanced Expander System, which consists of a comprehensive range of components, BMG specialists are able to supply the correct pivot to prevent the problems that lug wear causes 
...
Read more...
---
Common myths about machine safety
Omron Electronics Editor's Choice Other technologies
The consequences of inadequate machine safety practices can be severe, and there are many misunderstandings that put facilities and their employees at risk. Omron assesses and evaluates over 3000 machines 
...
Read more...
---
Hägglunds Fusion: the power of one
Editor's Choice Electrical switching & drive systems & components
Hägglunds Fusion provides unbeatable torque from zero speed and includes built-in torque limitation. This enables the machine to start, stop and reverse as often as needed to serve low-power applications, 
...
Read more...
---
Expanding the market for Dura-Bar
Axiom Hydraulics Editor's Choice Hydraulic systems & components
Dura-Bar is the largest producer of 5 to 66 cm diameter iron bar in the world. The company is unique in the industry in creating the iron bar stock in a horizontal, continuous casting process without 
...
Read more...
---
Saving energy and protecting the impact on the environment
Editor's Choice Pneumatic systems & components
In the first quarter of 2022, short-term gas prices on the largest European exchange were five times higher than the 2021 average, and future markets are pricing European gas at up to three times its 2021 levels 
...
Read more...
---
Ultra-compact robot-based cake production with PC control
Beckhoff Automation Editor's Choice
"Baking Baumkuchen requires advanced skills and experience from the confectioner," says Mr Matsumoto, managing director of Juchheim's central plant. "However, if the oven's parameters can be captured 
...
Read more...
---
The advantages of robotics and simulation for your business
Editor's Choice Robotics & Mechatronics
The more complex your business is, the more room there is for innovation. At the same time, innovation cannot come at the cost of efficiency, quality and output levels. According to Von Fintel, this is 
...
Read more...
---
Ball screws with nut cooling
Editor's Choice Shaft power components
The machine tool industry uses ball screws to convert the rotary motion of an electric motor into linear motion. Very often, the positioning accuracy, as well as the travel speed and acceleration, have 
...
Read more...
---