printer friendly version
Reduced costs for packaging process
Second Quarter 2022 Editor's Choice Other technologies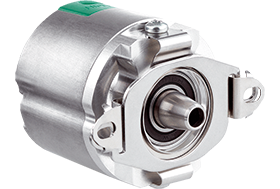 Sensor specialist SICK collaborated with packaging giant, Tetra Pak when the company sought a solution that would prevent unscheduled downtime in its packaging plants, maximise productivity and reduce operating costs. The solution has enabled Tetra Pak to carry out condition monitoring and predictive maintenance more efficiently.
To address Tetra Pak's requirements, SICK recommended the utilisation of its sHub sensors with EDS/EDM35 feedback system. This motor feedback system incorporates an acceleration sensor and enables comprehensive condition monitoring of electrical drives on a machine. It monitors position and speed as well as measuring vibration, for example. Equipped with HIPERFACE DSL infrastructure, the sHub sensors are easily integrated.
The sensors enable a self-optimised process that detects acute issues, allowing for early intervention and preventative maintenance. It is not possible to forecast component failure with a high degree of accuracy. This increases the reliability of drive systems in any packaging processing plant for effective and efficient function, through its connected devices and machines. For instance, SICK can predict ball bearing failure, a critical component in a servomotor that is statistically the leading cause of motor failure.
"SICK is proud to have participated in the development of revolutionary technology during the 4th industrial revolution. Packing processing plants can now maximise their return on investment through optimised technology to enable early intervention and avoid unscheduled downtime," said SICK managing director, Grant Joyce.
Credit(s)
Further reading:
Ultra-compact robot-based cake production with PC control
Beckhoff Automation Editor's Choice
"Baking Baumkuchen requires advanced skills and experience from the confectioner," says Mr Matsumoto, managing director of Juchheim's central plant. "However, if the oven's parameters can be captured 
...
Read more...
---
The advantages of robotics and simulation for your business
Editor's Choice Robotics & Mechatronics
The more complex your business is, the more room there is for innovation. At the same time, innovation cannot come at the cost of efficiency, quality and output levels. According to Von Fintel, this is 
...
Read more...
---
Ball screws with nut cooling
Editor's Choice Shaft power components
The machine tool industry uses ball screws to convert the rotary motion of an electric motor into linear motion. Very often, the positioning accuracy, as well as the travel speed and acceleration, have 
...
Read more...
---
Concept to solution the short way
Axiom Hydraulics Editor's Choice Hydraulic systems & components
QuickDesign streamlines your custom design process, delivering complete designs in as little as ten minutes.
Read more...
---
Wireless communication and control of electro-pneumatic manifolds and IO
Editor's Choice
SMC analysed the control of manifolds-in-motion, where the physical removal of communications cables is desirable. Applications include manifolds mounted on robot gripper assemblies or rotating tables. 
...
Read more...
---
Pneumatics and digital transformation: overcome what's holding you back
Emerson Automation Solutions Editor's Choice Pneumatic systems & components
While IIoT offers the promise of a revolutionary impact on manufacturing, implementation of the technology has its challenges. What holds us back from a broader embrace of digital transformation, especially in pneumatics? And how do we move past the challenges to embrace the opportunity for real improvement in productivity and efficiency?
Read more...
---
The world's smallest electric subsea valve actuator
Editor's Choice
The actuator minimises energy consumption and is geared toward delicate ecosystems and installation and operating costs are reduced. When the SVA R2 is used in subsea factories at a depth of up to 4000 metres, 
...
Read more...
---
Festo Process Automation solutions for all production levels
Festo South Africa Editor's Choice Electrical switching & drive systems & components
The first leg of the campaign creates an analogy between the human heart and its Process Automation solutions. The heart is at the centre of the vascular system, which is a network of blood vessels 
...
Read more...
---
Cobot boosts production by 15%
Omron Electronics Editor's Choice Robotics & Mechatronics
Topcustom is situated in central Italy and bases its success on the entrepreneurial tradition of the Le Marche region. Topcustom International was formed in 2018, in partnership with Nicos International 
...
Read more...
---
How smart pneumatics enhances machine safety and operation
Emerson Automation Solutions Editor's Choice Pneumatic systems & components
Pneumatics and safety
Machine manufacturers and end-users have always used pneumatic devices to provide cost-effective and efficient motion and actuation on a wide range of systems; pneumatics has also 
...
Read more...
---