printer friendly version
3D printing for hydraulics
Second Quarter 2022
Hydraulic systems & components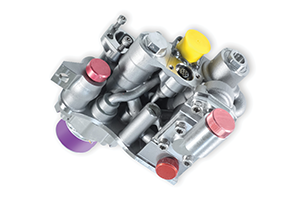 Hydraulic components are traditionally manufactured through machining or casting. Now hydraulic equipment manufacturers are producing manifolds, servo valves and hydraulic adapter blocks using 3D printing. This is bringing in a new generation of hydraulic systems going beyond the limits of today's hydraulic components.
3D printing builds up layers of material to create a three-dimensional object. Direct metal laser sintering is typically used for hydraulics. A laser traces a micron-thin cross-section of a part, selectively melting and fusing a metal powder layer by layer. This allows control of the amount of material that goes into the part. Previously, hydraulics was outside the scope of 3D printing due to the limited materials available; but developments in powder bed processes have been a game-changer, enabling manufacturers to rethink the design of hydraulic components. New applications requiring higher load and pressure handling capabilities are now possible. Products can be printed in materials such as stainless steel, aluminum, titanium or platinum.
Parts can now be made lighter and smaller. Current manufacturing is a subtractive process, where material is machined from a block of metal to get the required shape. Removing excess metal is expensive and often the excess is not removed, resulting in a part that weighs more than necessary. 3D printing builds the part layer by layer so there is no extra material and the part is lighter. Printed parts weigh 50 to 75% less than conventional parts.
3D printing also makes components more compact by integrating many parts into one. This eliminates complex assemblies of components, and improves the structural integrity since there are fewer weak joining points that can cause leaks. They also fit better into small spaces. These advantages make 3D-printed hydraulic components sought after in applications that require high precision and light weight.
It also offers new opportunities for hydraulic valves and makes more complex internal geometry possible that optimises for higher fluid flow and reduced pressure drop in a smaller space. Engineers can place internal flow channels exactly where needed in a variety of shapes and sizes, and configurations that are impossible using conventional manufacturing techniques can be achieved. This means flow channels can be curved, and spaced closer together than with conventional manifolds. Curved flow paths can improve flow efficiency by 30 to 70%. Redesigning the shape of the cross-section of the flow channel in valve spools also makes a difference, increasing flow capacity by up to 20% and reducing pressure drop.
Traditional manifolds often require auxiliary holes drilled to connect internal passageways and these need to be plugged to prevent cross-channel flow and oil leakage. This creates potential leak paths that can cause system failure, while sharp corner connection points generate turbulent flow, resulting in energy inefficiencies. Unused horizontal channels can accumulate dirt, lowering the operational life of the hydraulic system. 3D printing removes the need to create cross-drilled passages.
3D printing lets Italian manufacturer, Aidro produce fast prototypes, spare parts and functional products that reduce size and weight by 75%. It is being used to make high-pressure manifolds, valve blocks, heat exchangers, hydraulic spools and many other components. GKN Additive has 3D printed a hydraulic adapter block linking valves, pumps and actuators. The weight of the hydraulic block was reduced from 30 to 5,5 kg, without sacrificing any of the functionality.
Liebherr Aerospace redesigned a high-pressure spoiler actuator valve block used in aircraft to make it lighter and more efficient by integrating ten functional elements, eliminating the complex system of pipework. The titanium valve block provides primary flight control functions on the Airbus A380 and was successfully put through a test flight. It has the same performance as the existing valve block but is 35% lighter and has fewer parts. The manufacturing process is less complex and extremely material-efficient compared to the traditional milling process.
UK-based hydraulic systems manufacturer, Domin has redeveloped its high-performance direct drive servo valves using 3D printing. Domin says this gives it the ability to build complex parts, faster and free of tooling. For example, one of its drives is 25% of its original size and 25% more powerful. The part was produced for a third of the cost, and the manufacturing time reduced from 5,5 hours to one hour.
There is huge untapped potential in both the application of 3D printing to hydraulic equipment and the opportunities for mass customisation. While it is not suited for every application, acceptance is growing. For now it ideal for low-volume applications such as parts for prototyping and small series in special machinery; but printing machines are getting bigger and faster, and it is set to become a viable alternative to traditional manufacturing.
Further reading:
Destructive cavitation in hydraulic systems
Hydrasales Hydraulic systems & components
Cavitation results from excessive vacuum conditions at the inlet to a pump. High vacuum creates vapour bubbles within the oil, which are carried to the discharge (pressure) side. These bubbles then 
...
Read more...
---
Optimising hydraulic controls
Parker Hannifin - Sales Company South Africa Hydraulic systems & components
Parker Hannifin has launched two components − the Parker Automation Controller PAC120 and the electro-hydraulic controller module PACHC − that together offer an innovative solution for the automation 
...
Read more...
---
Concept to solution the short way
Axiom Hydraulics Editor's Choice Hydraulic systems & components
QuickDesign streamlines your custom design process, delivering complete designs in as little as ten minutes.
Read more...
---
Position sensor detection for hydraulic cylinders: a world first
Instrotech Hydraulic systems & components
Instrotech has on offer SIKO's SGH wire-actuated encoders that measure the cylinder stroke as well as its speed in the hydraulic cylinder with impressive efficiency, flexibility and robustness.
...
Read more...
---
Do not neglect to monitor your lube oil system's filtration
Hydrasales Hydraulic systems & components
The viscosity of oil in a lube system can adversely affect the bearings within the system. This is especially so if the maintenance of the hydraulic system is neglected. Failure to filter the oil and 
...
Read more...
---
Safety blocks for hydraulic accumulators
Parker Hannifin - Sales Company South Africa Hydraulic systems & components
Parker Hannifin's new safety block (SB) series for hydraulic accumulators simplifies the selection, installation and maintenance process of these important system components. Safety blocks enable hydraulic 
...
Read more...
---
Regeneration valve assemblies
Axiom Hydraulics Hydraulic systems & components
Sun regeneration valve assemblies are standard products that are easy to order. Regenerative circuits divert the oil from the rod end of a cylinder back to the bore end, instead of channeling the fluid 
...
Read more...
---
Testing flow and system pressure
Hydrasales Hydraulic systems & components
A Business Day headline recently cried: 'Oil prices rise as energy markets tighten'. The price of Brent Crude has soared from $20 a barrel in April 2020 to $85 a barrel currently − an increase of 325% 
...
Read more...
---
Mechanical flange system
Parker Hannifin - Sales Company South Africa Hydraulic systems & components
Parker Hannifin's mechanical flange system for machines and plants − the HPF-Parker High Performance Flange System − has gained DNV GL approval for marine applications. This certifies the use of Parker's 
...
Read more...
---
Electro-proportional relief valve
Axiom Hydraulics Hydraulic systems & components
The new RPEI provides smooth, precise control of fan speed with full-flow relief to protect the system if the fan motor stalls. It combines an electro-proportional adjustable pilot stage and high-capacity 
...
Read more...
---